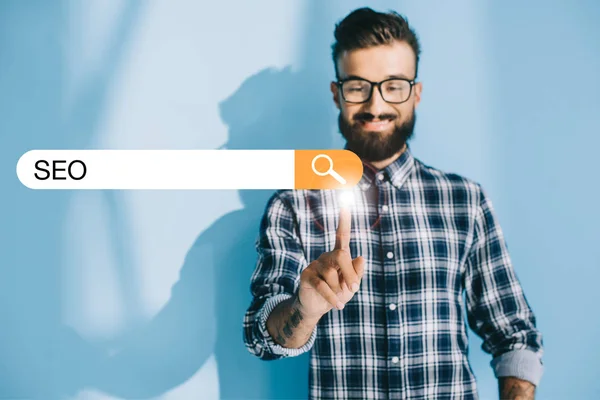 Traditional online marketing strategies, such as paid digital advertising, are effective, but advertising costs have made it difficult for small businesses to compete. Search engine optimisation (SEO) is a cost-effective alternative to paid advertising that allows your small business to remain competitive at a low cost. Only the seeds of a robust strategy, some effort, and time are required for the fruits of your labour to materialise.
What is SEO & how it Works?
SEO is a technique for increasing the organic online visibility of a website. The objective is to position your website as close to the top of the first page of search engine results as possible (such as Google). Effective SEO can increase website traffic without the need for advertising.
Multiple factors can contribute to increased organic visibility. Important factors include the page's content, targeting the appropriate keywords, and backlinks. Some technical aspects, such as site speed and mobile optimisation, are also crucial for effective SEO.
Organic Search Results: This is also referred to as the SERP (Search Engine Results Page) (SERP). A list of results is generated when a user types a query or search term into a search engine such as Google. This list contains the pages that are most relevant to the specified keyword.
Keyword Position: This is the exact position of your website in search engine results for a particular keyword. The majority of web searches yield hundreds of pages of results, with typically ten or more results per page. The closer you are to the top spot on the first page, the more people will visit your website, resulting in increased traffic.
Local SEO: This SEO component is used to promote local businesses online. For instance, if a user enters "shoe store Boston" into a search engine, the search results will list the websites of any shoe stores in Boston that rank highly for that keyword. This is very different from simply typing "shoe store" into a search engine, which would likely return non-geographically specific online retailers.
Backlinks: These are external links to your website. Backlinks can increase the authority and keyword ranking of your page. However, if you are not cautious, they can reduce both and harm your website's ranking. Verify that only backlinks from reputable sources are driving traffic to your page. Every few months, keep an eye out for anything that appears to be spam and disavow the links to prevent them from lowering your ranking. 
Technical SEO: As opposed to the content side of SEO, the technical side ensures that search engines can crawl and index your website (i.e., "read" your content and know how to rank it relative to similar content). Technical SEO focuses on backend elements such as HTML code, site speed and mobile optimisation (see below), sitemap, and website architecture.
Website Speed Optimization:  How long does it take to load your website? This is your site's load time. This is a factor that Google considers crucial when ranking websites in search results. The search engine favours websites that load faster and more efficiently because it enhances the user experience. If your website is not designed to load quickly and is weighed down by images or videos, for instance, it will suffer in search results.
Mobile Optimization: The way your website renders on mobile devices is an additional ranking factor. If you created your website on a desktop without testing its responsiveness on multiple mobile devices, your site's search engine rankings will suffer.
Read Also: How much does CCNA Certification Costs
Five Tips for Effective Small Business SEO 
SEO is not limited to Google: As a small and expanding company, your website should rank well on Google. Nevertheless, depending on your target audience, Amazon, Reddit, Yelp, YouTube, and Instagram, as well as other websites with their own SEO strategies, may be equally (or even more) valuable. Determine where you wish to concentrate the majority of your efforts and begin there.
Effective SEO strategy is not instant: SEO is neither free nor instant, but it is effective. How long SEO takes to work depends on your starting point. Expect at least six months to see results if you are in the early stages of developing your SEO strategy, and even longer if you are building a new website. Keep in mind that SEO is an ongoing process that builds upon itself. The groundwork you lay in the first few months will make the process simpler in the future. The more effort you invest in SEO, the more difficult it will be for competitors to surpass you.
Look for Potential Keywords: Plan your online content with business-specific keywords in mind. Uncertain about the keywords to target? Try out keyword research tool, such as Ahrefs, SEMRush, or BuzzSumo; there are several affordable options. This will aid the appropriate audience in discovering your most pertinent content and website.
Utilize local search to its fullest potential: Your small business can achieve tremendous success by focusing on local searches. According to the statistics, local searchers are potential customers awaiting conversion. According to data from Sagapixel, nearly half of all Google searches have a local intent. And searches for "near me" doubled in 2020. 72% of local search users visit a store within 5 miles of their current location. Claim your Google Business page when performing local search optimisation. This will increase your visibility in Google maps and "near me" search results. For more localised results, interweave your city or state with the keyword you're targeting. Check out this article for detailed Local SEO tips by Paul Browning. 
Write first for humans and then for search engines: People will remain on your website, read for longer, and interact with more content if it contains high-quality, engaging, and relevant content that contains the targeted keyword. If possible, consider answering frequently asked questions pertinent to your business. Display the solutions that your customers would like to see. Do not include irrelevant keywords or content that is stuffed to the brim with the same keyword, regardless of how tempting it may be. Your human readers will not tolerate this, and it will harm your search engine visibility. This factor is heavily considered by search engines when determining which results to display.