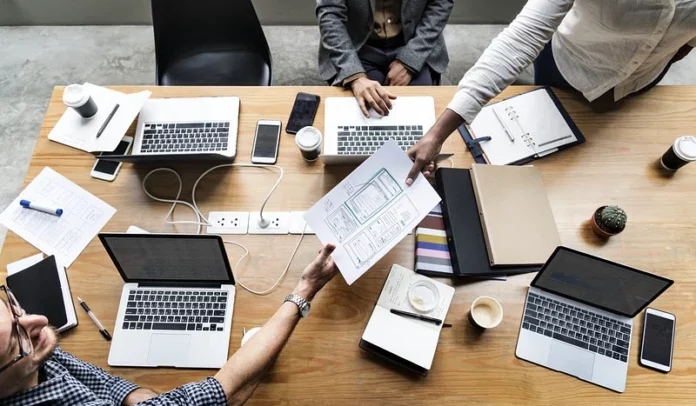 Cost benchmarks for developing apps
Applications come in a wide variety of categories. including those for the web, Android, and iOS. How much does hiring an app developer cost? This is often one of the first inquiries managers or businesses make before starting a new app development project.
There are around 9,132 mobile app developers working in the US. The cost to hire app developers and the total budget for the development make up the bulk of any app development budget.
Let's dive in deep.
How the cost of a software developer is calculated
First of all, be aware that the pricing needs to be seen in light of the developer's efforts. Hire dedicated developers is not your main objective. It concerns using software to resolve a specific issue. And the developer, whoever is working to find a solution to this issue. Creating a mobile application is one example. The amount of $55 per hour is meaningless by itself. You need to consider the wider picture and fully comprehend what a developer performs in order to comprehend the economy of software development.
There are just two costs involved in developing software:
Application cost = Developer's hourly rate * Total Development Time
The second factor dramatically alters how we think about price. Because a developer who at first glance seems more costly may work on an application more quickly. His final cost will be cheaper as a result, and the code's quality will also improve.
40 ($ per hour) * 180 (hours) = $7200
50 ($ per hour) * 140 (hours) = $7000
What it Costs to hire app developers
When a company decides to hire dedicated developers, it should also take the cost of such recruiting into account.
Due to the disparity in economies between continents, it is typically more affordable to engage a mobile app development company in India and other subcontinental areas. However, a firm should not hire app developers just based on the cost of services; other considerations, such as prior client feedback and experience in particular technological areas, should also be taken into account.
According to Indeed, hiring app developers with a US base costs businesses $89,000 annually. With $76,000 and $66,000, respectively, Australia and Germany finish in second and third after being converted from a local currency to USD.
It's time to learn more about the benchmarks for mobile app development costs so you can estimate the cost of hiring app developers now that you are aware of the app developers' prices.
Cost benchmarks for developing apps
The price of creating iOS software versus an Android app was substantially different several years ago. According to several studies conducted by reputable mobile app development companies, this gap is currently negligible.
A mobile app's complexity, which may be classified as simple, medium, or sophisticated, is a key element of the current landscape. It is crucial to investigate the costs connected with creating apps based on their complexity, as well as the costs related to selecting American app developers. Let's examine the US recruiting costs for qualified app developers and the costs associated with app development.
A straightforward software will cost $16,000 to $32,000 to develop.
A medium-complexity app will cost between $32,000 and $48,000 to develop.
A complicated software will cost at least $72,000 to create.
The cost of hiring an American software developer is $105,000.
The above-mentioned cost of app creation does not include the price of app updates, which are an essential component of the lifecycle of any mobile app and differ greatly depending on the version and significance of each update.
Please note that the following expenditures, including the cost to hire app developers, are merely estimates. They are made to offer you a general idea of what the complexity of the app can mean for your app development budget.
Factors impacting the cost of app maintenance
The process' upkeep costs cover hosting, monitoring, participation, marketing, upgrades, and license. Software maintenance often costs 15% to 20% more than the initial development cost.
Hosting
Depending on a number of variables, the monthly cost of hosting a web server for apps might be anywhere from $70 and $320. Evaluation of these factors becomes crucial when accounting for the costs related to data management for mobile apps.
Additionally, the expenses related to storing and maintaining the data vary greatly depending on whether it is text-based or media-based (such as images, videos, or music).
Monitoring
The distinct user base and objective of each application make it difficult to predict the cost of mobile app monitoring. However, once you have contacted the businesses on your list, it's critical to have a broad idea of the related costs. This will give you a general sense of the possible expenses related to putting in place efficient monitoring systems for your mobile app.
Marketing and participation
A mobile app marketing expenditure is made up of a variety of elements, such as campaigns to engage the user base of mobile apps. The initial step in every mobile app interaction is an app install. The nation, platform (iOS/Android), and ad unit all affect the cost. In contrast to $0.98 in China and $0.22 in Brazil, the cost to install an iOS app in the US in 2020 was $2.37.
App updates
The time needed to distribute updates and guarantee a great user experience is substantially impacted by how complicated an app's functionality and design are.
No matter the mobile platform (iOS, Android, Windows Phone, etc.), every app store-published mobile software experiences frequent upgrades.
The complexity of the software must be taken into account when determining the time required to deploy upgrades and create a smooth user experience.
Licenses
The overall cost of developing a mobile app may significantly increase if the design uses one or more technologies. For which the developer must get a license. The cost of licensing is determined by yearly rates and the number of devices. And it might reach $120,000 annually for 50 devices.
Conclusion:
Depending on a variety of variables, the cost of employing app developers may vary significantly. To make an educated decision, a thorough assessment of the developer's skills, credentials, and track record is necessary.
The value that employing US app developers delivers in terms of their expertise, credentials, and track record must be considered in addition to the cost.
Author Bio:
Robert Cruz is a Content Marketing Manager at Hyperlink InfoSystem was awarded As Top Web And Mobile App Development Company in the United Kingdom. The company offers services like Mobile App Development, Web Development, Software Development, Salesforce Development, IoT and Artificial Intelligence. Contact Hyperlink InfoSystem to hire android developers in United Kingdom.