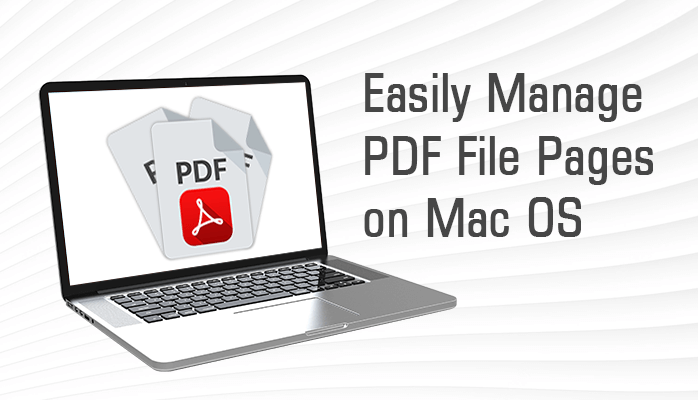 PDF files are one the most common and open-source file formats to store the data electronically. PDF stored the data in a standard form and does not require any platform to access it. PDF can also be stated as Portable Document Format. The word itself defines a file format that can easily be viewed, stored, shared, and printed on any device. Users can easily store documents, audio, images, web pages, videos, etc in PDF. 
Due to its multidimensional features, PDF is widely used among any business, organization, Individual, and enterprise. They usually use PDF format to store their data because of its easy-to-use and security features. Sometimes it becomes difficult to manage PDF file, as time by time data increases. Users often need to encrypt, unlock, split and combine PDF files according to requirements.
But you don't need to be worried as here we have all the solutions for the above requirements. In this blog, we will discuss the possible solutions through which users can manage pages in PDF on Mac OS. Before proceeding further, it is important to know the reasons to organize PDF pages.
Why is it Important to manage PDF file pages on Mac?
The term PDF managing means to lock, unlock, merge, split, edit the PDF files. Working in any organization with a large amount of data that is stored in PDF is difficult to manage. The main important reason to organize PDF files is to facilitate a fast, safe, and easy workflow. Moreover, read the below points to find out more reasons to organize Mac PDF pages.
PDF management increases efficiency and reduces the time to find required documents.

Users can centralize the valuable and useful PDF files in one place.

Project delays can be minimized when users manage PDF file.

It helps to easily share, print, and access large PDF files on any Mac device.

Security of sensitive PDF documents can be enhanced by encrypting them with a password.
Moreover, users can manage PDF pages on Mac by unlocking and making PDF to editable PDF. These are the important reasons to manage pages in PDF and increase task efficiency. Now, let's move to the solution of how can we organize PDF pages on Mac.
Manage PDF file pages manually using Preview on Mac
There might be multiple solutions over the web that offer to organize Mac PDF pages online. But it is not a safe and right choice to deal with your important and confidential data. 
All the Mac OS has an inbuilt PDF viewer and editor application named Preview. The default Mac preview application can split and combine PDF files that are stored in any Mac-based system. 
Now let's perform the steps accordingly to merge and divide the Mac PDF files manually using Preview.
Choose

the desired

PDF

files that you want to split and merge and

open

with

Preview

.

Now select the

View

option and select the

Thumbnail

option from the view menu to manage PDF file.

To merge Mac PDF files you can

Drag and Drop

one PDF thumbnail to another PDF thumbnail in the sidebar.

For the splitting process, you have to

Drag & Drop

the selected PDF file one by one to your desktop.

Selected PDF pages get copied from preview to desktop

and through this, you can manage PDF pages on your Mac OS.
Some users still have a question that how to edit PDF on Mac preview? So I want to tell you that you can also edit Mac PDF files using the Preview. However, users have to face various difficulties when they try to organize Mac PDF files using the manual process.
Manual method limitations to manage PDF file on Mac
When it comes to organizations, businesses, and large enterprises then using a manual process is not suitable to deal with. It will not deliver a quick and effective solution. Users have to follow a very long procedure to organize PDF files. 
Some of the major limitations of the manual method are mentioned below.
It is not possible to merge and split bulk PDF files.

Attachment documents of the PDF can't be stored in a separate folder.

The manual method delivers a very time-consuming and lengthy procedure.

Users can convert PDF files but there might be a risk of data alteration.

When converting PDF files to image format, users have to lose the quality of an image.
The manual process is very tricky and unprofessional to organize PDF files on Mac. To eliminate such difficulties, most users always prefer a modern solution. With a professional PDF Manager Tool for Mac, users can quickly and easily perform bulk operations. They can efficiently lock, unlock, merge, split, and convert Mac PDF files with high data security and accuracy.
Conclusion
In this blog, we have discussed various reasons to manage PDF file on Mac. Also, we have mentioned the manual process to organize Mac PDF files with some major limitations. To overcome those limitations, many users prefer to use a trusted professional and modern solution. Users can organize PDF pages with various customizable options. It gives highly accurate results without any data alteration and can perform bulk management of PDF files.