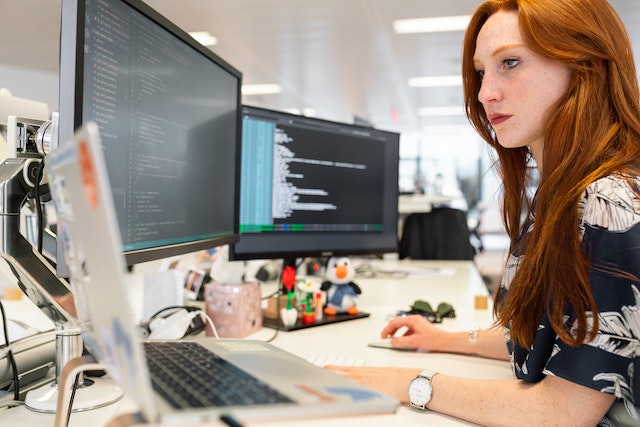 For a tech business, the mission is to assist clients in reaching their objectives pertaining to technological processes. It can be daunting dealing with customers with limited knowledge of what this sphere encompasses, so here are some tips and methodologies you can use to aid them in achieving their aspirations.
Reaching Your Technology Goals – Proven Strategies
Here are some strategies that you can use to reach your clients' technology goals:
1. Understand The Business Needs
To appropriately assist clients with their technology objectives, it is important to have an in-depth knowledge of how they operate. Knowing their customer base and what they desire to achieve in the longer-term view will allow you to determine which tech solutions are most suitable for them.
2. Collaborate With Stakeholders
Teamwork is a must when putting technology into practice. It's essential to stay abreast of a client's wants and needs, which you can do by working closely with their stakeholders, such as IT, operations, and any other players involved. Doing so helps identify issues that may arise in the future and come up with plans to prevent them from occurring.
3. Identify The Right Technology Solutions
To provide the most suitable technology solution to a given business, it is important to have a thorough grasp of their needs. To do this, you should examine potential custom software development tools, off-the-shelf options, or hardware solutions to ensure they meet your client's demands. Moreover, scalability and compatibility with existing systems must be considered in evaluating each possibility.
4. Develop A Technology Roadmap
Creating an effective technology roadmap allows you to establish and focus on your client's long-term objectives. This strategic document dictates the timeline, budget, and resources needed for every step of their desired technology solutions. By following this plan, both you and your client can ensure that progress is being made toward achieving those future goals.
5. Communicate Effectively
When rolling out a new technology solution, effective communication with your client is integral. Establishing expectations upfront and keeping them apprised of your progress will help cement a trusting relationship and guarantee satisfaction in the end.
6. Measure Success
To determine the success of technology solutions, it is critical to monitor and analyze key performance indicators (KPIs). This involves assessing elements such as productivity, efficiency, and return on investment (ROI), enabling you to recognize areas for potential improvement and guarantee that the customer obtains maximum advantages from their technological investments.
What Are The Steps Involved In Creating A Technology Plan For Clients?
When devising a technology plan for customers, it is essential to complete the necessary steps and analyze them carefully. Here are the essential stages in forming an effective technology plan for clients:
1. Establish Leadership And Support
To implement a successful technology plan for clients, it is essential to first secure support from within their organization. This can be achieved by identifying key stakeholders and guaranteeing they possess adequate resources as well as backing to execute it properly.
2. Assess Your Resources
Once you have analyzed the current technology state of your client, the next crucial step is to assess your available resources. This includes allocating a budget, assessing personnel requirements, and evaluating other necessary components to implement the plan.
3. Define Your Needs
Having identified areas needing improvement, it is now necessary to determine what needs to be done to reach your long-term objectives. This involves determining which technological solutions should be implemented to combat any issues spotted during step two.
4. Explore Solutions
Now that your expectations have been set, the next step is to discover which solutions best fit you. To do this, it's essential to look into various software and hardware solutions available and analyze their features and capabilities. This process will help you determine which items match your defined requirements.
How To Assess The Current Technology State Of A Client?
When creating a technology plan for a client, it is essential to first review their current state of technology. Listed below are the four steps that should be taken during this assessment process:
1. Review The Existing Technology
Once a client's technology is evaluated, it is vital to assess its status. To do this effectively, you'll need to understand what hardware and software systems are in use, pinpoint any flaws, and make sure all systems are up-to-date. By taking these steps, necessary upgrades or replacements can be determined accordingly.
2. Evaluate Standards
When assessing an organization's governance, it is important to take a closer look at management, customer relationships, and industry-specific protocols. Examining how technology is utilized to benefit operations and its relationship with customers and competitors can reveal any obstacles in meeting established goals or addressing customer needs.
3. Conduct A Systematic Review
In order to ensure that your client's company is technologically prepared for future growth, it is essential to complete a comprehensive assessment of existing technology. This means calculating current technological needs, analyzing how well those requirements are being fulfilled, and pinpointing any necessary changes or improvements to keep abreast with corporate objectives.
4. Understand Credible And Prioritized Options
To make the most informed decision, one should follow a four-step process that allows for an understanding of prospective technology solutions and their associated advantages and drawbacks. This entails determining feasible technology alternatives, assessing their attributes as well as capabilities, analyzing the positives and negatives of each choice, and ordering them according to an organization's objectives and financial limitations.
Conclusion
Reaching your clients' technology goals requires strategic planning, collaboration, and effective communication. Remember to communicate effectively, train the users, and measure success to ensure your clients get the most out of their technology investments.