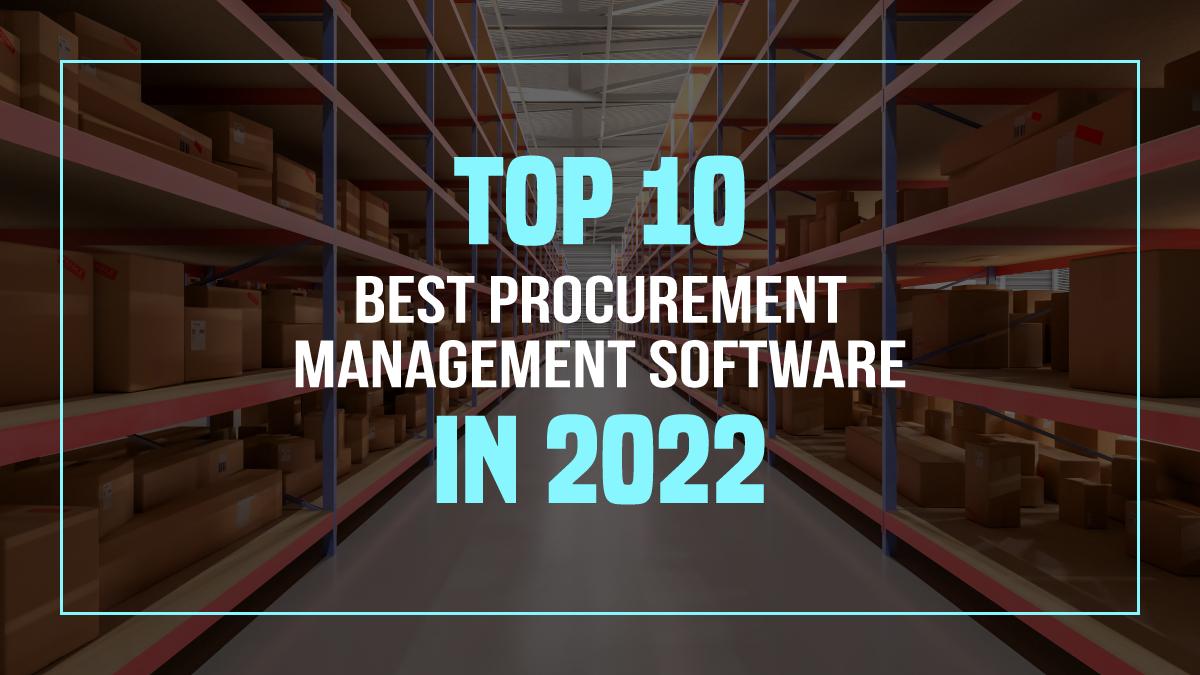 Procurement is often overlooked and can be a niche and time-consuming part of growth for a smaller business. But with the perfect software, you can streamline those processes and focus on other areas where you need to grow. Procurement software offers many benefits, such as reducing costs and increasing marketability.  
A Look at the Best Procurement Software of 2022  
The easy way to choose the right procurement management software for a small business is by looking at these, the top 10 software suites on the market. These procurement tool suites offer everything needed to streamline and eliminate financial inefficiencies when paying staff members, which equates to significant savings.  
Yoroflow's flexible procurement software is a low-code solution meaning anyone on your team can quickly learn the ins and outs of the system. It seamlessly integrates with existing systems to help you manage all elements of procurement monitoring.  
Yoroflow: Tailor-made for different procurement processes and another way to monitor cost and inhibit poor decision making.  
Fraxion is the top procurement management software for growing companies. Features like accurate reporting, proactive spend management, and complete control give us an edge over our competitors.  
Fraxion includes automatic workflows, budget management, vendor management, and compliance audits for a comprehensive procurement solution.  
Above is a selection of the top-rated procurement management software packages in 2022. For a list of e-procurement solutions, look no further than Tradogram, which you can add to your app stack for an endless list of businesses that have already switched to it.  
This procurement management software includes a range of risks to handle, custom customer support options to provide for businesses of all sizes, and easy-to-use features that enable onboarding for employees.  
Tradogram lets you create a supplier database to have increased market transparency and leverage, so you'll have an advantage in any negotiations. Spend management functionalities also make it easier to forecast cost issues, analyze expenditure, and review supplier management, so price problems are immediately noticed.  
With GEP SMART, process spending analysis occurs across the organization, providing clear insight into sourcing. Powered by artificial intelligence, it's powerful machine learning software that integrates upstream and downstream procurement systems.  
Key trends driven by artificial intelligence include insights guided by AI, getting more out of your data, and making more informed decisions.  
If the cost to procure items in one method has exceeded reasonable levels, it might be time to explore other ways. One solution might be a cloud-based tool like buying with Procurify.  
Procurify will not only allow you to have a scalable, agile project management system that is tailored for your business, but there is also a high level of integration. You can program your Procurify system to integrate seamlessly with the various applications you have within your business.  
To successfully develop your business, you need to trust the data, not just intuition. Procurify offers real-time analytics, meaning you can make decisions based on hard facts rather than guesswork. Now is the right time to harness the power of artificial intelligence for your company's procurement management system.  
Bellwether is one of the best and easiest platforms to learn and use for novice and seasoned professionals. It has an intuitive and user-friendly interface that helps you complete inventory management, invoicing, budgeting, and purchasing as efficiently as possible.  
  This platform also offers software-defined controls, making it perfect for companies looking to grow. When deployed in the cloud, this platform can seamlessly run on both desktops and mobile devices, so it is ideal for teams who frequently change location.  
  Paramount Workplace is one of the best procurement management software out in 2022. Innovative features in this procurement, requisition, and expense solution help streamline business processes with dynamic approval workflows that include cost checking options, centralized invoice matching with audits options, purchase order management, optical character recognition processing of scanned invoices, automated receipt of scanned invoices, and more.  
Paramount Workplace is a complex software that combines compliance monitoring, paperless workflows, and custom content. The entire system will create fast transactions for your company with a customized approach to help ease the process.  
Your company's procurement workflow can organize seamlessly with the best procurement management software. Precoro offers control over your organization's tasks with one easy-to-use interface that considers inventory management inputs.  
  Expense reports are an integral part of Procore. Built on the latest cutting-edge technologies, it can integrate with other prominent systems. The platform can also help you monitor your finances, including procurement cash flow.  
AvidXchange is an account payable software with top-of-the-line procurement management. AvidXchange caters to US businesses and helps eliminate paperwork, reduce processing times, and control purchasing costs by providing its users with comprehensive tools for account payable, purchase orders, payment processing, and workflow automation.  
This procurement management also lets you see your spending patterns to save time and money, especially when it is clear that certain vendors aren't providing enough value for your business.  
Luckily, new procurement management software's taking on the challenge of being time-efficient. Coupa creates a single cloud experience of your company's procurement with ease for all employees.  
Coupa simplifies the purchasing process with its real-time interface and visibility of essential purchasing information from start to finish. The platform incorporates budget considerations for all purchases and offers complete visibility of approvals and other important data.  
Conclusion  
Managers have a lot to choose from when looking for procurement management software. Let's use this list of the ten best tools as a starting point for you to find out which one will match your requirements. Machinery, services, suppliers – they are all on the list.  
Author's Bio: Sangeetha Mohan is a prolific copywriter/blogger working as a Senior Content Developer in a reputed Software Company in India which is known for developing the best No-code Workflow Automation and Task Management Tool. She has over 4 years of professional experience in content writing and editing services to make it the best read of digital marketing platform. She has that urge to research versatile topics and develop high-quality content to engage value. Outside her career, Sangeetha loves to connect with people from different cultures because she is curious by nature. – that's what she said."