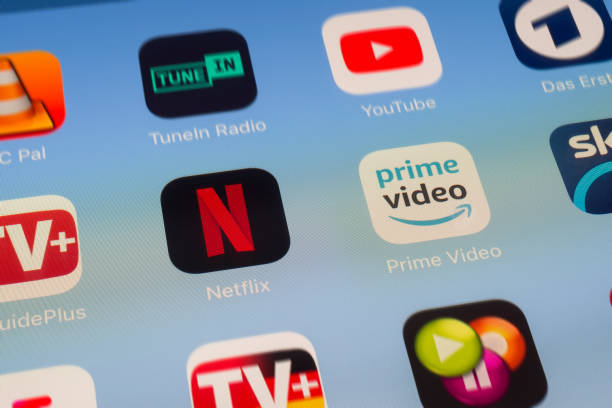 The streaming services like Netflix and Amazon Prime have become synonymous with entertainment. 
This format of watching movies and shows is extremely popular. Millennials and Generation Xers are slowly shifting their movie or show viewing experiences from Cable TV to streaming services. 
According to a study, around 63% of the millenials watch live videos. 
Here it could be well understood that the two veritable giants have played a great role in increasing the tendency of movie watching on online platforms.
Therefore by default, a question arises, which one of the two is better: Netflix or Amazon Prime? A comparison between both has been drawn. 
Netflix And Amazon Prime Overview
Netflix is an online streaming video-on-demand subscription channel. This contains a huge list of movies from around the Globe. 
These contents are available for free or against a nominal charge. Since its arrival in the year 1997, it went through crests and troughs.
But presently, it has turned out to be a global leader in mainstream media. 
Now let's come to Amazon Prime. Amazon Prime Video is a digital subscription video-on-Demand streaming site.
This is a highly popular and acceptable medium around the Globe. It has a wide range and depth of collections of movies as well as TV shows. 
Within a stipulated subscription, endless video streaming and free music could be experienced.
If you are streaming shows and downloading movies on Amazon or Netflix, you could also consider Pirate Bay for a better seamless experience as you can download the content piece on your device. 
Why Streaming Service Became Popular
According to a study, the Millennials and Generation X are shifting their attention to viewing experience from general cable TV to streaming services. 
Therefore it is not an exaggeration to say that streaming service has silently brought in a paradigm shift so far as the entertainment industry is concerned.
Now, there are obvious reasons why streaming services like Amazon and Netflix are bossing over cable TV. 
Affordability 
You are paying to experience something. Streaming services offer you services, and you are paying them. It's simple reciprocation. 
Money for service. 
Delineating from the point of view of affordability, it could be mentioned that streaming services are mainly for the budget-conscious customer. After all, the payment is only for what you order!! 
Convenience 
Everyone is busy with their own work, and literally, no one has time to bind with the schedule of the program.
In streaming, you decide on what time you are going to watch the movies or TV shows. You dictate the watching hours, not the programs. 
Scalability 
Streaming services offer the customer to select the feature or service or function they are going to adopt. 
This provides the consumer a chance to precisely budget the viewing. It will pay exactly for what it experiences. 
Netflix Vs. Amazon Prime: Head To Head 
The difference could be drawn by comparing the services head to head between Amazon Prime and Netflix.
Pricing 
Pricing and budget are all important parameters in comparison to any two commercial products.
Netflix subscription is on the standard size. This costs around $15.49 per month. With this value, you could experience a lot of movies, TV shows, and other experiences. 
As far as Amazon Prime is concerned, you are going to get a membership for less than 1 dollar! 
With Amazon Prime Membership, you are going to get access to Prime Music, Amazon Photos, and others. 
Content
Both Streaming services offer an endless number of Films and  TV shows. The Prime Video library contains 24000 films and TV series.
The Netflix library is also extremely robust. It offers 15000 unique titles. The figures are competitive.
In terms of numbers, Amazon Prime has more numbers. In the case of content Quality, Netflix has the edge over Amazon.
Experience Quality 
Now, this is one aspect that will be debatable. This is because one's idea or perception of quality might be different from others' perceptions. 
Amazon Prime contains more titles, older films, and shows. Netflix has more variety and older films to show.
Netflix application is more streamlined compared to that of Amazon Prime. In the service interface of Amazon, you could buy and rent videos on Prime Videos more than subscriptions. 
The service interface of Amazon is more convoluted and complex compared to Netflix. But both the service interfaces offer different looks so..no direct comparison here!
Conclusion 
Both Amazon Prime and Netflix offer different services other than subscriptions. Both offer unique features. 
Both the streaming services are extremely flexible and compatible in nature. They have their own advantages. 
It could therefore be inferred that there emerges no clear winner from this head-to-head battle.