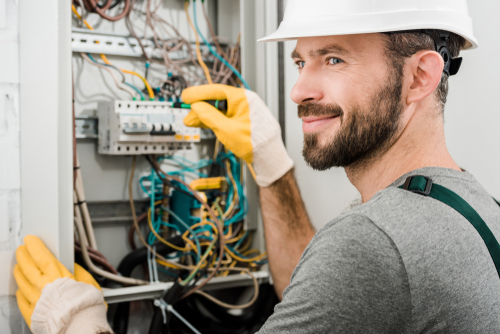 Running an electrical service business is a huge responsibility. Not just for your own business, but you are offering an essential service to the people of your community at the same time. Therefore, it is only fitting that you take the advantage of modern technology to deliver your service more efficiently. And that is exactly what Field Promax does for you, i.e., it helps your business grow by increasing efficiency and profitability like no one else.
Wondering what this is and how it is going to help your business? Worry not. In this blog you will find everything there is to know about this incredible software solution, as well as how it is going to help your business operations become more efficient. Well, there is more to the story. This effective software is also a proven tool to increase your profits. So, let's find out its amazing features and functionalities.
What is Field Promax?
Before we start talking about the major advantages of Field Promax, let us first take a closer look into the product itself.
Essentially, it is a Field Service Management Software, a technological tool specifically designed to help field service providers, such as electrical contractors like yourself, streamline and standardize your workflow. More specifically, it helps you manage your team of technicians, digitally process your work orders, communicate with your customers, provide your field workers remote access to the office, and as a result, use your resources to make the most out of your business, both in terms of profitability and efficiency.
Now, it is true that there are hundreds of such software available in the market today. And you have probably heard some of the big names for field service management businesses. This brings us to the question, why Field Promax is the best option for you. Here is the answer:
Increased Mobility
In this digital age, we are always looking for convenience. That is exactly what Field Promax gives you. The software works across various systems and devices, be it your computer or smartphone. The integrated mobile app is also available for both iOS and Android devices. This means you can access all your data anytime, anywhere. Besides, your technicians can use their own mobile devices to access the app. So, no need to allocate any additional budget!
Easy Operation
Introducing a new digital tool to your business could be a challenging task. You need to learn new technologies, familiarize yourself with new systems, and most importantly, train your employees to use the application. But with Field Promax, none of these barriers would disrupt your workforce. It is user-friendly and intuitive, meaning you don't have to be a tech wizard to get the hang of it. And you will be amazed to know how fast and easily your technicians can receive, act upon, and update their work orders through the integrated app. Time is money, and this software helps you to save some by making things easier for you.
Efficient Scheduling & Dispatching
The most crucial task in field service management is keeping up with customer appointments. With this software, your job becomes easier than ever. The system allows you to provide a customized link in your company website that redirects any customer query or service request to the software, which you can then turn directly into a work order. Then, you can schedule and dispatch your technicians seamlessly, without any mismanagement, through its prompt scheduling functionalities. You can even auto-generate recurring work orders. So, no more missed appointments, no more scheduling mix-ups, not even letting go of opportunities during weekends or off-hours. The result? Business growth, improved customer experience, and of course, more profit!
Final Words
To sum up, Field Promax is regarded as the most efficient software solution for your electrical service business because it is easy and efficient at the same time. But the biggest advantage, if you may ask, is that it integrates with QuickBooks, allowing you to import customer data directly from the most popular accounting software to create work orders, schedules, invoices, and more. So, why wait? Check out this phenomenal Field service management software today and take your business to new heights.
Author Bio
My world is made up of codes. It is the central element that drives my universe. I am a self-taught, process-driven programmer with a creative bent of mind. Since I was an engineering student, I dreamt of creating something unique. To satiate my creative appetite, I took to coding. Blessed with abundant support and generous scholarships from my employers, I simultaneously worked full-time and pursued my dream. My passion and high productivity helped me in my journey as well. Finally, I created Field Promax to follow my drive of coding and streamlining processes; and do more of what I know best—coding.