The digital factory revolution has arrived. As the industry continues to evolve, companies across the manufacturing industry are adopting a number of novel technologies that provide new opportunities for higher revenue. This process is known as digital transformation, a long and extensive procedure that's unique to the needs and requirements of each company.
But while the specific steps in the process may differ depending on the business, there are a number of effective digital transformation strategies each industrial and manufacturing company can use to evolve their operations:
Internet of Things
The Internet of Things (IoT) is by no means a new concept, but it is among the top technology trends that maintain their relevance over time, especially in terms of digital transformations. In fact, the use of IoT-enabled sensors that emit and transmit data is rising in popularity across production supply chains. These digital sensors are often used for personnel management, asset management, and streamlining operations.
When it comes to industrial applications, that could mean monitoring production speed and air quality in factories or leveraging IoT to track productivity and improve product development through relevant data.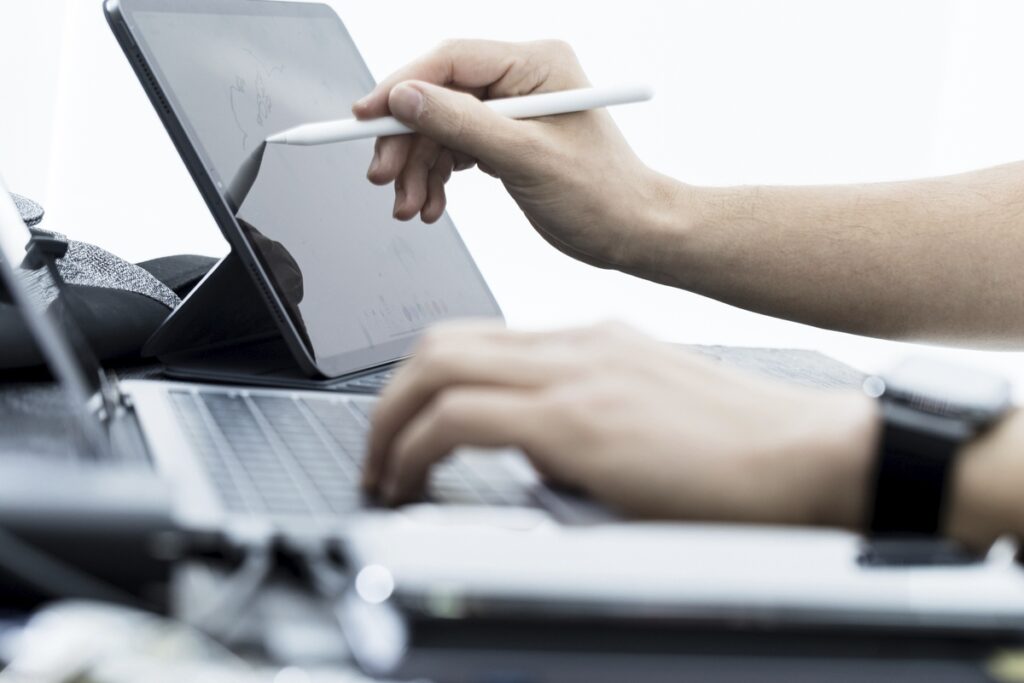 Cloud Computing
New technological advancements simply wouldn't be possible without cloud computing. These solutions allow companies to scale their internet and storage services based on current needs and demands. If you manage to grow your business and reach new customers, for example, you don't have to invest in physical on-site solutions to improve your data-storing capacity.
Instead, you can choose the right data computing option and access any services you need without additional equipment. This can include anything from IoT sensors to product management platforms, but it aids in reducing costs and boosting flexibility in any case.
Data and Analytics
Big data and analytics are possibly among the most vital digital transformation strategies. They power the decision-making processes of any company, effectively deciding whether or not to adopt other technological solutions. For B2C companies, they could also help in predicting consumer demand. Modern analytics solutions don't only report data, they also extract relevant insights with minimal work required on the user end.
For example, these platforms should have the ability to tell you the type of consumers who are most likely to make a purchase, the factors that drive employee engagement, which machines require maintenance, etc.
Online Marketplaces
While online shopping has been on the rise for quite some time, this sector has seen tremendous growth during the pandemic. Digital marketplaces have quickly expanded to serve nearly every consumer, including B2B companies and the entire manufacturing industry.
For instance, businesses can now easily buy fluid equipment parts online that are good quality and durable enough to withstand daily manufacturing operations. Online marketplaces can clearly serve a great purpose in the digital transformation of manufacturing and industrial companies, whether that means accessibility and convenience for buyers or higher reach and success for sellers.
Machine Learning
Machine learning and artificial intelligence (AI) can have various applications across industries, from streamlining business processes to improving workflows. In the manufacturing industry, however, predictive maintenance has become the most prevalent usage. Rather than servicing equipment when it breaks or following a regular maintenance schedule, companies can now predict necessary repairs by analyzing relevant data.
When failures are preempted using machine learning, production processes can function without any interruptions. Maintenance may also be simpler to perform in general, as information such as needed tools and repair instructions could also be given.
Robotics
It's no secret that robots are the future of manufacturing. But instead of completely replacing their human counterparts, robots are working alongside employees, a tendency that will likely continue in the near future as well. Robots are becoming smarter each year, coming with sophisticated software that allows them to identify and "learn" when something is imprecise or incorrect.
They are also able to notify managers, maintenance teams, and other employees in case further action is needed. Along with assembly line robots, industry companies can benefit most from self-driving cars that could effortlessly transport cargo.
Virtual & Augmented Reality
Representing an immersive simulated experience, virtual reality (VR) is mostly being used for the training and development of employees at the moment. However, industry leaders have also managed to leverage VR for powering robots to stock shelves, an advancement that could have great benefits for industrial and manufacturing companies.
Augmented reality (AR), on the other hand, is the modification of real life represented in virtual environments. In the industry, this technology is mostly used for selling products or services with customer applications by analyzing specifications, gathering relevant data, and enhancing the overall user experience.
Final comments
Digital technologies can help industrial and manufacturing companies reduce costs, anticipate needs, make data-driven decisions, and improve their operational efficiency. Invest in these technologies and follow the strategies mentioned above if you'd like your company to remain competitive and successful as well.
Written by Mike Johnston