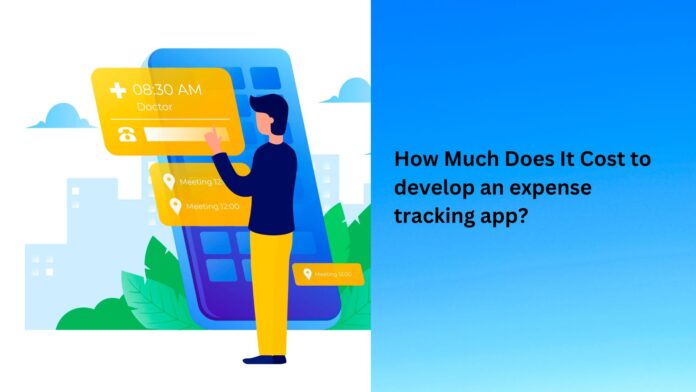 Many of us are aware of expense-tracking apps and how they help manage personal finance. These mobile apps now make a highly popular app category with huge traction. Are you interested in developing an expense manager app with easy-to-engage features? There cannot be a better time to develop an expense-tracking app than now. 
At the same time, you must remember that expense-tracking apps for feature-set and abilities have evolved tremendously over all these years. This is why consider your budget. You must balance elementary and advanced features for an engaging app user experience. 
This blog post will explain the most important cost factors for building expense-tracking apps here. 
App UI/UX design 
The UI/UX design of the app is a critical contributing factor to the app project's success. Instead of considering it as a common and statutory task, you should give optimum focus on shaping the UI/UX design to excellence. Usability and seamless user experience are two key requirements that a good UI/UX design should aim for.  
As for reducing design costs, adhering to the principle of simplicity will help. Generally, the design of an expense tracker app will take 10 to 20 hours, and with an hourly rate of $25 to $30, the total design cost will be around $250 to $600.  
Choice of platform 
The choice of operating system platform is another crucial decisive area for an expense-tracking app. To reach a broader audience, it is always advisable to build a cross-platform app that addresses iOS and Android development needs. Now building two separate apps for these two platforms can be expensive. Instead, you should develop a cross-platform app.
A cross-platform app allowing the reuse of 80% of the code for multiple platforms reduces the development cost to a minimum. There are two most well-known cross-platform frameworks such as Flutter and React Native. Building a cross-platform expense tracking app requires a development time and cost ranging from 100 to 200 hours and $2000 to $5000.  
Always give priority to the below-mentioned vital features. 
Every expense-tracking app should have some must-have features followed by more advanced ones. Giving priority to these elementary features is essential for the app project's success. Developing an expense-tracking app with these features will still take the bare minimum development cost. Let's list these features one by one. 
User registration and management 
Managing user profiles and login sessions with the integrated email and social login functions is crucial for a smooth user experience. Developing this will take a basic development time and cost. 
Integrating and managing cash and other expense receipts and vouchers seamlessly through the app is another key requirement for the app project. This is, again, an elementary app feature. 
The responsibility of expense tracker apps is also to verify invoices and bills before nodding for processing payments or declining for some reason. These apps provide payment gateways and integrated transaction features for faster invoice and payment processing.
The apps for expense tracking must provide comprehensive and customised expense reports to help users take a closer look at different expenses and costs.  
Processing repeated bills 
An expense tracker app should be able to process recurring or frequently repeated bills automatically and with the least manual interventions. This will help the user to leave payments of utility or other regular bills on the expense tracker. 
Integrated tax calculation 
The expense trackers generally come with integrated features for tax calculation and comprehensive estimation of tax deductions.
As all expense tracker apps deal with financial information often targeted by hackers, ensuring flawless security remains a key concern. Apart from multi-factor authentication, these apps should also come with powerful encryption.
Lastly, an expense-tracking app must offer an analytics function to provide users an in-depth report of different expenses, cost components and financial parameters and metrics. 
Cost of advanced features 
While all the features mentioned above are elementary, and you cannot just do without them, you can plan to integrate some advanced features based on your budget space. You can also plan to integrate these advanced features over subsequent incremental updates to ensure optimum control of the app development cost. 
Some of these advanced features for expense tracker apps include conversational AI for user support and queries, an intelligent recommendation engine, an AI-based financial advisor, real-time market-adjusted cost analysis, predictive and prescriptive intelligence and many more. 
Development cost based on developer location & experience 
The cost of building expense-tracking apps ultimately depends on the cost rate charged per hour by the developers. For a dedicated model of hiring and engagement, the cost can be bigger, but the output will be more professional. On the other hand, the seniority of the developers and their experience also contribute to the development cost. 
Lastly, the developer's location significantly impacts the development cost. In almost all countries of North America and West Europe, app developers charge far more hourly rates than developers in other parts of the world. In contrast, in many East European countries and Asian IT hubs like India and China, developers charge far more competitive rates. 
Ending Notes
It is a fact that providing a precise estimate of the development cost for an expense tracker app is only possible once and when we know about the whole project, target platforms, hiring and engagement models, developer locations and opted-in features. Keeping all these variable attributes in mind, now, we provide a very gross idea of the development cost and critical factors.