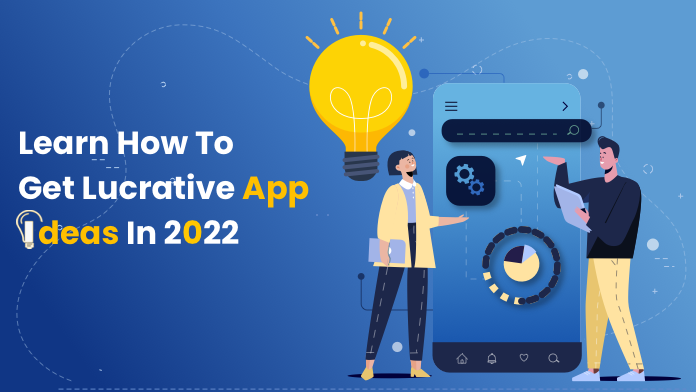 Introduction
Many entrepreneurs have started profitable businesses and startups built on their innovative mobile app concepts, raising millions of dollars in investment.  App marketing and App Store Optimization are very crucial, but it all begins with the development of a solution-driven app by an expert app development company that people will use and adore.
There are a large number of mobile applications that aren't designed to generate income. There are plenty of other businesses that generate income without the need of developing apps. Of course, we are here to provide you with a comprehensive understanding of how to create basic mobile apps that can help you make money. So, let's just skip any business app ideas that aren't intended to earn money and get right to the point.
How To Get An Idea That Will Work?
I.  GENERATE AN APP IDEA
A.  Identify A Problem
Recognizing a real problem and developing a solution for that problem is the best method to come up with an app concept. Making money on apps that solve a problem that many people encounter is simple. Apps that actually assist people have the highest chance of succeeding.
While conceptualizing or looking for challenges to tackle, bear in mind to think of an issue that you have come across at some point in time. For example, the Uber founders had difficulty hailing a cab in Paris, where they were attending an event. So they devised a simple application concept: click a button, find a nearby cab, and travel to a number of locations using mobile phones. This is how Uber started.
Don't be upset if you find a couple of apps resolving the same problem in much the same way. Rather, find an alternative solution that solves the very same problem with a more impactful and cost-effective approach.
B.  Check App Store/Play Store
Assume you have a broad view for which you want to develop an app. That is when you should begin exploring the App Store. You don't need to have such a clear notion right now; a broader approach is great too though.
For instance, in the iOS App Store, click on Discover, attempt to narrow down your subject using the categories available, and start studying. If something looks promising, check that. Also, see what the Developer or the app company has posted.
To make money, make sure you check for both iOS and Android app ideas. You will come across many developers out there who have just one successful app and a slew of flops in the past. This is quite normal for trial and error. You get a sense of what appears to work, what is intriguing, and what engages people.
Get more insights from a top app development company.
C. Observe The World
Consider what challenges you experience in different activities while you observe the real world around you and what is required to make these tasks less time-consuming and hassle-free.
Wherever we look, there are problems waiting to be turned into excellent app concepts. If you can practice your mind to pay attention, you will be able to find them.
D. Look Outside App Store/Play Store
If you don't go to parties, don't have any business partners, and don't talk to anybody else, you may still obtain inspirations and motivations on the internet!
Quora is a website that is appreciated by a lot of people. People just ask questions, and others respond. If you have an idea in mind, you can search the questions by subject and see what people keep looking for. Check to see if there is a trend or type of question that is asked repeatedly.
E.  Listen To Ideas Of Like-Minded People
This is frequently the trick to finding brilliant ideas everywhere and at any moment. You must build a type of passive filter for discussions that activates when people discuss issues. They even discuss the solution at times!
If you own a business, listening to your customers is critical because they have actual problems that they want to solve. And if you can give them a decent solution, they will definitely pay you for your service. They aren't always the only ones in business who face that difficulty!
If you're not in business but still studying, you can learn a lot from your peers.
Listen. Listen. Listen.
F.  Understand What Gets Funded
Learn about the startups that are presently being funded. Apart from that, you can also visit the websites and blogs of VCs, accelerators, and other startup investors on a regular basis to see what types of startup ideas they'd like to invest in.
Analyze what the individuals and organizations who can really support your app idea want to invest in.
II.  RESEARCH & VALIDATE YOUR IDEA
A. Analyze Existing Apps
Find applications developed by experienced mobile app developers that presently help customers overcome the challenges for which you want to create an app.
Are any of the current apps on the top of that list? How frequently do they rank, and where do they rank? If you locate these current applications with a lot of downloads and excellent rankings, it implies the basic app ideas are sound and it's worth taking the chance.
When you identify applications that are picking up steam and installations, it's a good option to see if they have been funded. If they have received some funds, it suggests that investors consider the app concept workable.
B.   Get Feedback From Potential Users
Determine your potential users and ask them what they think about your app concept. When you've judged that there are a sufficient number of people who would be interested in your product or area, it's time to reach out and ask your potential consumers what they think of your innovative yet basic app concept.
You may leverage many platforms such as Reddit, Twitter, and other social media networks like LinkedIn, Instagram, and Facebook groups. Inform people that you have an app idea and invite them to provide feedback on it.
C.   Check Your Idea's Market-Fit
It is essential to determine whether your app will achieve product-market fit shortly after it is released. You must determine whether your target consumers would choose your app over others already on the market. Make a list of all the key features that your competitors' apps offer.
You may include the names of some of your top competitors and detail the specific characteristics using a spreadsheet matrix. Also, classify each app based on its revenue strategy. The following are examples of conventional monetization models:  Affiliate, Paid, Downloads, Subscription, eCommerce,  Ads.
When you've compared your app's features and monetization approach to those of the competitors, ask your potential users to pick which app they'd like to use/purchase.
You may assess whether your target users value your app concept enough to pick it above the competition by examining how it compares to the competition.
Get your app idea validated by a leading mobile app development company.
III. DEVELOP & MARKET THE APP
A. Build The App
If your app concept has reached this far, Kudos! Your app idea is fantastic. Now it is time to transform the idea into reality. It sounds great in theory, but you need to make it a success. It's finally time to get started with mobile app development.
B. Implement Marketing Strategy
Define your objectives and available resources, such as how many hours your team can dedicate to marketing, how much money you can spend on ads/promotion, what PR/influencer contacts you have, and so on.
Create and implement your marketing plan, which includes creating content/creative, establishing marketing channels, developing analytics, and so on. Then, run reports to evaluate results and make adjustments to your approach.
Conclusion
Having an app is one of the best methods to get into the startup market and generate revenue with mobile applications developed by a top mobile app development company. . While the first part is to come up with an app concept, the crucial second step is to establish whether your app idea shows success indicators before putting time, energy, and money into developing it.
Consider all of the aforementioned factors while developing new ideas for lucrative mobile applications.
Are you presently developing a useful app?
Share your views in the comment section below and we'd love to know what inspired you to take up the project.
Author's Bio
Being a successful writer and Digital Marketing Manager at ZimbleCode, Vinay has been serving the e-marketing industry for the past more than ten years. He is contributing immensely to the vast digital marketing field by developing and implementing best-in-class and value-adding strategies for businesses across industries and helping them achieve satisfactory growth.