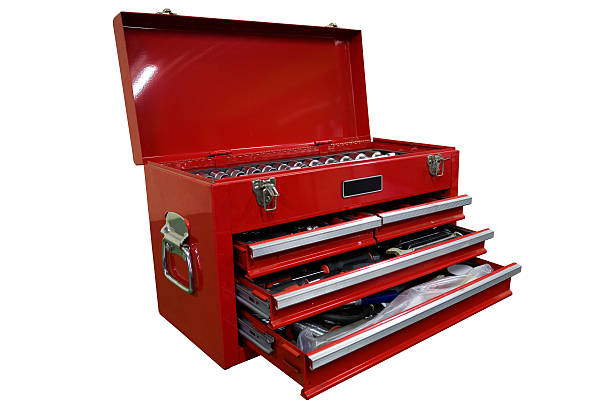 A tool chest is a lot more than just a place where tools can be stored. It is a vital piece of equipment for anyone, regardless of their proficiency level. However you should not just purchase any tool chest but the best for your particular circumstances and needs. 
Why use a tool chest?
A tool chest is an essential item as it means that tools are permanently kept in a secure location that will make it easy to find them when necessary, while also ensuring that they are kept safe and secure. 
Having an organised tool chest also means that tasks can become much more quickly and efficiently than would otherwise be the case, while ensuring that the tools remain protected and are at less risk of being damaged. 
There are a number of factors to consider before purchasing a tool chest.
Storage capacity
Storage capacity is an obvious factor that needs to be considered before you purchase a tool chest. You need to think not just about how many tools you currently have that you will need to store in the tool chest but also consider how many more you are likely to purchase in the near future, as they will also need to be put into storage. 
Number of Drawers
The number of drawers that are in a tool chest is another important factor. The tool chest needs to have enough drawers to house every tool you have, but those drawers also need to be large enough on their own to be able to fit the full length of all of your tools. 
The Durability of the Tool Chest
The most significant feature of all is the durability of the tool chest. It is an investment to purchase a tool chest and not one that should be made lightly. Make sure that the material that was used to manufacture the tool chest you are intending to buy is of the very highest quality and will be durable enough to last for a long time. 
Slides
Tool chests commonly make use of two different drawer types. One is the non-bearing type, which offers little in the way of advantage and can actually make it harder to pull open a drawer. However the other type is the ball bearings drawer slide system.
This type is the smartest as well as the simplest to use as even with a heavy drawer it will still be able to function without any issues. 
The lock
Making sure that your tools are safe is one of the main reasons many people purchase and use a tool chest. It is therefore crucial that the tool chest comes with a lock system that is very well designed. There are some tool chests that come with an internal locking system that will cover the drawers up after the top lid has been closed, while others offer additional security with the inclusion of a key-operated lock. 
Tool chests can often be found in professional garages and are intended to store as many tools as possible.