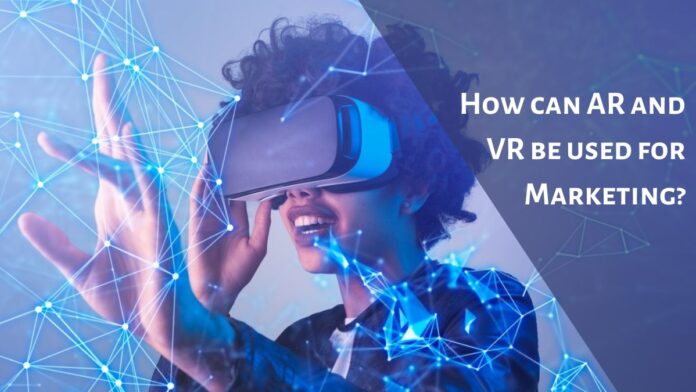 The ripple effect of globalization has impacted business like never before. It has again been reinforced with the advent of technology. AR(Augmented Reality) and VR(Virtual Reality ) are the noted inclusion in advanced technological marvels.
Statistics reveal the potential of AR and VR by the following findings:
Global VR marketing is growing at a phenomenal pace and it is expected to increase from USD 5 billion in 2021 to USD 12 billion in 2024
Regarding AR, the number of mobile users who have already embraced this technology is a whopping 800 million, and it is all probability that it will increase to 1.73 billion in the next couple of years.
From the above statistics, it is easily understood that the industry accepts this new-fangled technology wholeheartedly. In the digital generation, consumers are more sophisticated and tech-savvy
Taking the cue from the audience's expectations, the organization should contemplate the prospective of engaging the consumers and exceeding their expectations. AR VR Development Company, at this stage, is the best bait.
Furnishing Below Top AR and VR Strategies
Virtual Reality is the culmination of experience and action. VR can provide the most acceptable digital experience in promoting products and services.
In addition, VR can also promote existing products keeping in view that it facilitates customers to know the products and, at the same time, come across what is following product coming into the market.
Augmented Reality also provides a seamless experience to the audience. These technologies can use with the help of mobile, so the users find them convenient to use and adapt to.
On the other hand, enterprises can heavily bank on it to promote their business and products and augment sales. The advantage of this technology is that AR can render an experience to the users regarding the products before the consumers make their buying decision.
Engaging Audience 
AR and VR play a pivotal role in engaging users. Regardless of their experience in terms of products, real-world, or business, AR provides a seamless experience to the customers.
For example, when the audiences are confused as to pick up the products, AR helps them ease their understanding of the products and helps them make purchasing decisions. These technologies ensure that they have a virtual experience immersed in real-life situations.
Personalized Advertisement 
These technologies offer a plethora of opportunities for personalized ads that are unique to each individual. One of the marketing strategies is messaging; programmatic advertisement at the marketing level will soon become part and parcel of individual life.
Enhanced PR Approach 
AR and VR provide many opportunities to businesses, providing customers with a seamless experience in new and immersive ways. The approach is far more engaging and entertaining on the part of the users that they have never encountered earlier.
For example, travel destinations, events, and more can allow users to see what makes clients different without making a trip.
Artificial Intelligence in Metaverse
Mark Zuckerberg recently coined the term, and a leading marketing business believes that Metaverse is nothing but an "embodied internet." Virtual worlds have become very popular in the digital generation. But, the main focus is on future AR, which is moving everywhere.
For this reason, Metaverse augments Reality, and it is extensively adapted
Virtual Reality In Metaverse 
The advantage is that you can virtually visit school, play games, watch concerts, browse store shelves, and many more without leaving your physical place.
Draw Attention to Users
There is no doubt that AR and VR grab the attention significantly. Combining the effect of AR and VR can be a cynosure of customers' eyes significantly, and thus, it creates an excellent shopping experience.
AR and VR Permits Readers to Access Published Content
In the digital era, prints regarding publishing are not outmoded; instead, it evolves with every passing time through the advent of technology like AR and VR.
Consequently, it creates a new way of storytelling and potential means for revenue generation. To access VR, the users need to have a headset.
In today's context, publishers infuse life through AR elements that provide a seamless experience to the readers. Hence, it provides an interactive experience at the school level and also in the corporate world through AR content It does not doubt that it offers abundant possibilities in the publishing realm.
Following are some of the essential roles in AR:
It plays a pivotal role in converting from paper to digital
Solid Retention through engagement
Convenient, interactive, easy to understand, and reach more users
It is the future of publishing
Therefore, both AR and VR  Development Company tremendously impact publishing. Also Read- How Machine Learning Is Changing The Face Of Education
AR and VR are the Perfect Remedies for Language Barriers
To do the work effectively, the organization needs communication that helps iron out any miscommunications. Leaders pass on the message and motivate employees. However, it is not so easy to accomplish it.
With the ripple effect of globalization, businesses become more cohesive and interconnectivity. It leads to an increasing amount of coordination and communication transnationally.
Language barriers, at this stage, become a considerable impediment to business. However, advanced technology can significantly reduce the problems of language barriers. AR and VR are no exceptions.
Try Before You Buy Approach  
Retail banks heavily on AR because it allows customers to make informed product decisions. This way, it reduces return and enhances audience satisfaction.
It is increasingly evident that most beauty brands and online retailers provide a personalized experience by incorporating the power of the in-house AR approach. The AR solutions allow customers to try to make up digitally, different fashion looks, and many more.
Clothing and footwear retailers are increasingly adopting AR technology for in-store experience and online.
Detailed Analytics Used to Understand Customer Behaviour
It is a big concern for businesses to know how people make decisions and behave for ages. It is one of the most challenging aspects of the enterprise. AR and VR Development Company that integrates analytics of the web and social media proves effective in coming across the behaviour pattern of the users.
Final Takeaways
It is no doubt the uses of AR and VR in marketing can bring customers a memorable shopping experience. Many organizations are in the opinion the benefits of these technologies are immense and provide the best marketing solutions.
Author Bio
Hope James is a professional writer with comprehensive experience in digital marketing and eLearning with Acadecraft.