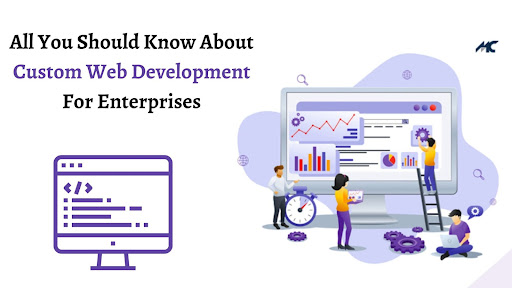 No doubt, websites are crucial for businesses in today's competitive environment. Entrepreneurs are making significant investments to build websites that resonate well with their target niche. Especially creating an enterprise website is an arduous task as it demands in-depth customization and extended features to meet additional business needs. 
If you are also considering creating a website, you might have stuck in a pre-built theme vs. custom web development dilemma. Have you? No matter which website you want to create, you face two ways–use a template or choose custom web development. 
You can build a website with a CMS like WordPress and use a ready-made template to create your website. Alternatively, you can hire a custom web development company to build a website that is specifically made for your business. It means you can choose custom development to create a unique website that serves your business objectives.  
Custom web development – A brief description
Developing a robust web development solution that fits your unique requirements is vital to stand firm and outcompete rivals. Therefore, you have to focus on building websites that entails top-notch features tailored to meet your business goal. 
You can rely on custom web development to build a state-of-the-art website with unique functionalities best suited for your business. In a nutshell, custom web development simply means developing a website with advanced and updated tools and technologies, optimized code, and current trends. 
If you opt for a template-based website, at some point in time, there will be issues that will affect your online business. The reasons for this mishap are many such as low-quality development, noncompliance to standards, bugs-laden code, unprofessional work, and so on. Hence, there is always a probability of some kind of glitches with pre-built templates, especially with the free ones. 
The biggest downside of template-based websites is the absence of uniqueness. Templates are like one-size-fits-all kind of solutions, and there are 100% chances of another website owner using the same template as you. Therefore, you cannot differentiate yourself from others. You can also refer to the custom web development guide for a better insight into it. 
Ready-made theme vs. custom web development
When developing a website, you can choose between a ready-made theme and a custom website. Moreover, there are several disadvantages of using a ready-made theme for your website that have been discussed in the above section. If you want to use a ready-made website theme, you can choose either a paid or free theme. You should go with a paid option if you prefer quality as they are far better than the free offerings. 
Further, pre-built website themes or templates are created for multiple consumers based on common needs. So, it is possible that this theme may not fit your requirement completely. If that situation comes, and there is a good chance of it, you will have to seek custom web development services for tweaks and adjustments to customize the theme per your needs.  
In custom website development, much attention is paid to what you want rather than the product. Hence, the output completely aligns with your aspirations. A pre-built template is created with the requirements of a whole industry vertical like Beauty, Education, Banking, etc., rather than a single company. Therefore, a website built on top of a pre-built template has industry-specific features instead of a particular enterprise or startup. 
Certainly, if you want a website with specific features vital for your business, you would prefer a custom website instead of a pre-made template. You can hire web developers in India to develop a custom website at cost-effective rates. 
What are the advantages of custom web development?
Whether you require a website for a startup or multimillion enterprise, you want to build the best one to get ahead of competitors. Further, custom website development is the right option as it allows you to develop a one-of-a-kind website. Indeed, you can create the website you want to match your exact requirements. Here are the key advantages of creating a custom website for your business instead of using a pre-built template. 
In-depth customization
Creating a website using a user-friendly website builder like WordPress is easy. However, it is hard to build a professional website because it requires in-depth customization. If you think that you can create the desired website by using a theme and necessary plugins for customization, it isn't that easy. Finding a website theme or plugin for all your requirements may be difficult. This is why custom website development is a must if you need a well-customized website. 
Tailored to target niche
Your target niche is the reason behind your business' success. If you want to ensure that the website steps up the ladder of success, you have to make it according to your target niche. Your business could be at risk if it does not meet your audience's expectations. This is what you can achieve with the custom web development service. You can create the right website your audience is looking for.  
Better security 
Security is of utmost concern for every online business, whether small or big. A website holds much crucial information, including user's email, passwords, card details, addresses, and so on. It is the responsibility of a website owner to maintain the highest level of security. The only way to ensure the best security of a website is to integrate the strongest functionalities for website protection. You can develop a highly secure website for your business if you choose custom web development. A custom website can push its limits by providing more scope to integrate better functionalities for security. It allows you to customize the website in the best way to incorporate robust security features.     
Good speed and performance
When you have control over what you can do and what not, you can build a website that tops in terms of speed and performance. As a result, your users would enjoy it more if your website loads quickly and provides a smooth experience when using it. It won't be an overstatement if we say a custom website can do better in terms of loading speed and overall performance parameters. 
Improved SEO
Your custom website can fetch far better results in SEO than a template-based website. You can choose the right web developers for your project and ask them to develop a website with search engine optimization guidelines. Better coding and best web development practices can help create a perfectly SEO-friendly website. 
Final note
Developing a website is not an easy feat; it consists of immense effort, thought, and investment. If you are an owner of a successful enterprise and planning to build a website, you can go with custom web development to create a top-notch website. A custom website provides numerous advantages that give it an edge over template-based websites. This blog post has provided you with the benefits you get with a custom website. You can choose the right path based on what suits you the most. 
Author's Bio
Emily White works as a senior web developer at CSSChopper. She has completed hundreds of successful projects related to Custom Web Development. She utilizes the idle time by writing engaging and informative blogs.