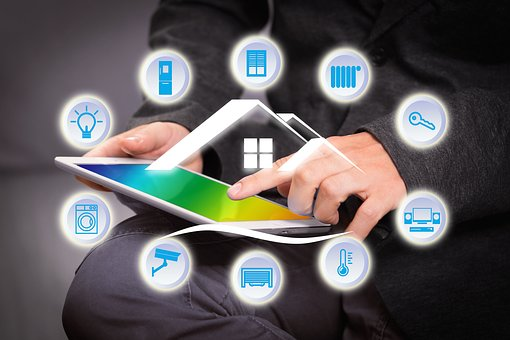 Technological advancements provide the convenience that enables you to remotely operate devices and appliances in your home. The internet connects these devices, allowing you to control lighting, temperature, security, and other home appliances. 
Smart technology has also expanded and affects almost the entirety of your home. For example, you can control your garage, kitchen countertops,  bathroom freestanding tubs,  faucets, and lighting bulbs. 
Technology is helping more people improve their homes while they save time and money. Statistics show that 57% of people in America say technology helps them save approximately 30 minutes each day.
Here are 10 smart technology ideas that will help save your time and money and improve the home.
1. Smart Thermostat
Thermostats have improved through the years. Innovative technology in thermostats makes it possible to operate your smart thermostat remotely. 
A thermostat makes sure your home is comfortable during the day and night. It uses Wifi and sensors to control temperature levels in your home. It's also possible to use your smartphone to regulate temperature. 
If you are using a smart thermostat, the technology can learn patterns of regulating heat over time. This means your thermostat can turn itself on and off.
2. Smart-Bathing Technology
There's a  lot of smart technology in the bathroom that helps preserve water and energy. For example, smart stand alone tubs with showers can sense movement. If you move close or away, the shower turns the water on or off. You can also control how the modern freestanding tub fills, drains, or heats the water. 
These comfortable stand alone tubs come in multiple styles that allow you to sink in your soothing bath. Technology enables you to enjoy a relaxing bath without touching any freestanding tub accessories.
Instead, hands-free features like sensors make it possible to control water temperature and lower the spread of germs.
3. Smart Washer and Dryer
Just like any smart appliance in your home, smart washers and dryers operate when they are connected to the internet. This home appliance can be connected to and controlled through our smartphones.
One advantage of having a smart washer is not having to check your laundry every now and then as it sends a notification to your phone. These kinds of appliances give you more control because you can start, pause, and stop your laundry spins through a different device. The app is also able to detect problems in the smart washer and dryer, allowing you to tend to these issues at the earliest. 
4. Water Leak Detection Technology
Water leakage can damage your home if you do not discover it early. That is why technology that detects water leakage can help you discover damaged pipes early. 
Installing a water leak detector in areas that are likely to have a leakage problem helps. For example, you can install a water leak detector in the basement, under the kitchen sink, or next to a freestanding tub faucet.
5. Smart Fridge Technology
Refrigerators can now do more than keep food cold. They can also sense temperature changes and adjust accordingly. The automatic temperature adjustment ensures your food stays fresh in the fridge. 
Advanced technology has produced refrigerators with touch screens. Such a fridge can also access the internet, making it possible to detect the items you store in your fridge. 
The programmed refrigerator tracks important details like the expiration date of your food. It can also collect manufacturing details from the internet.
6. Cooking Tops Technology
A kitchen is where you prepare your favorite meal, but it can also be a dangerous place for children. A modern countertop with the latest technology is efficient when cooking and safe. 
A smart countertop uses induction to heat food in the cooking pan. The food cooks evenly and saves energy. It also ensures children are safe around the kitchen.
7. Smart Dishwasher
A smart dishwasher makes washing dishes and maintaining the dishwasher easier. It has a door with a flexible rack for specific items. After washing your dishes, the dishwasher turns itself off and sends a notification making it energy efficient.
The dishwasher also comes with a built-in water-softener, a control panel, and a touch screen. The touch screen provides maintenance updates and cycle status.
8. A Lighting Control System
A home with a large living room and multiple other rooms can benefit from lighting control technology. A lighting system provides you with the convenience you need to adjust the amount of light in your house. 
Rooms in your home have different functions that require different amounts of light for various activities. A lighting control panel allows you to press a button and provide the lighting requirements in other rooms. It is possible to control the lights from wherever you are located.
9. Smart Locks
Security is one of the essential requirements in a home. Smart locks eliminate the need to carry keys that you might misplace or end up in the wrong hands. 
A home that uses a smart lock provides you with the option of a keyless system. This means you can use code instead of using keys. You can open and close doors for your children without giving them keys and hoping they won't misplace them. 
The security technology also allows doors to automatically lock themselves after a few seconds, improving your home's security. You can also get wireless alerts if there is a break-in. 
10. Smart Garage-Doors
A garage door is a common entry point to your home. Technology helps make sure you have a smooth and secure entry to your house using a smart garage-door opener. 
It is possible to use your smartphone to open and close your garage door, regardless of your location. A smart-garage door opener allows you to perform more functions like adjusting lights or managing garage space. 
Key Takeaway
Smart homes help to reduce the cost of energy. Technology also helps you save time as it allows you to multitask. That is why having smart home automated systems is now the trend. 
Such advanced technology saves you time and money and ensures you enjoy every room in your home.