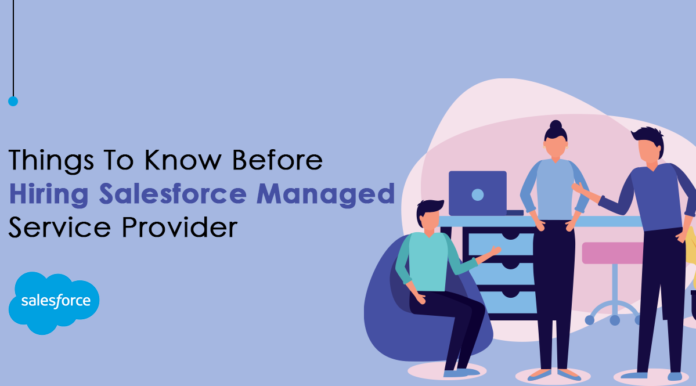 Undoubtedly, Salesforce has successfully marked its presence in the customer relationship management industry after getting ranked as World's No. 1 CRM for the 9th time by IDC. With its extraordinary capabilities, thousands of organizations are experiencing success and high numbers in revenue. Sales, Customer Service, Marketing or eCommerce, Salesforce has become necessary to smoothly perform these functions efficiently.
The first step that should be made in the right direction to get positive outcomes is getting the right implementation or integration of services for your business model. It calls for its full potential to maintain, update, and stay consistent with technological evolution. Either you do it right, or you may witness backlogs or errorful orgs.
There is only one solution: Get services from an experienced and well-recognized Salesforce Managed Service Provider. The reason is not hard to decode; they will cover every need for introducing Salesforce in your business environment and ensure a good user adoption rate to drive better results.
But what is included in Salesforce Managed Services, and who is a Salesforce Managed Service Provider?
Let's explore everything in one place. Also, find out what you should know before hiring a Salesforce Managed Service provider.
What is Salesforce Managed Services?
Salesforce Managed Services brings all the resources together proactively to help businesses manage Salesforce CRM effortlessly. It is the most feasible and scalable solution comprising a comprehensive list of Salesforce-based services, enabling you to perform business operations simultaneously, increasing your team's productivity.
This is a pristine way out for organizations lacking skills, resources and expertise who wish to regularly update and optimize their CRM and modernize with every new release. Salesforce Managed Services deals with the unavoidable issues that might impact the business in the long run. Mostly Salesforce Managed Services are offered by a certified Salesforce Managed Service Provider.
Now you will ask why a Salesforce Development Company: because they can handle the entire Salesforce-based process. They save you from all the hard work of hiring a full-time employee or an entire team to carry out Salesforce implementation or integration based on the size of your business.
Next, what is included in Salesforce Managed Services: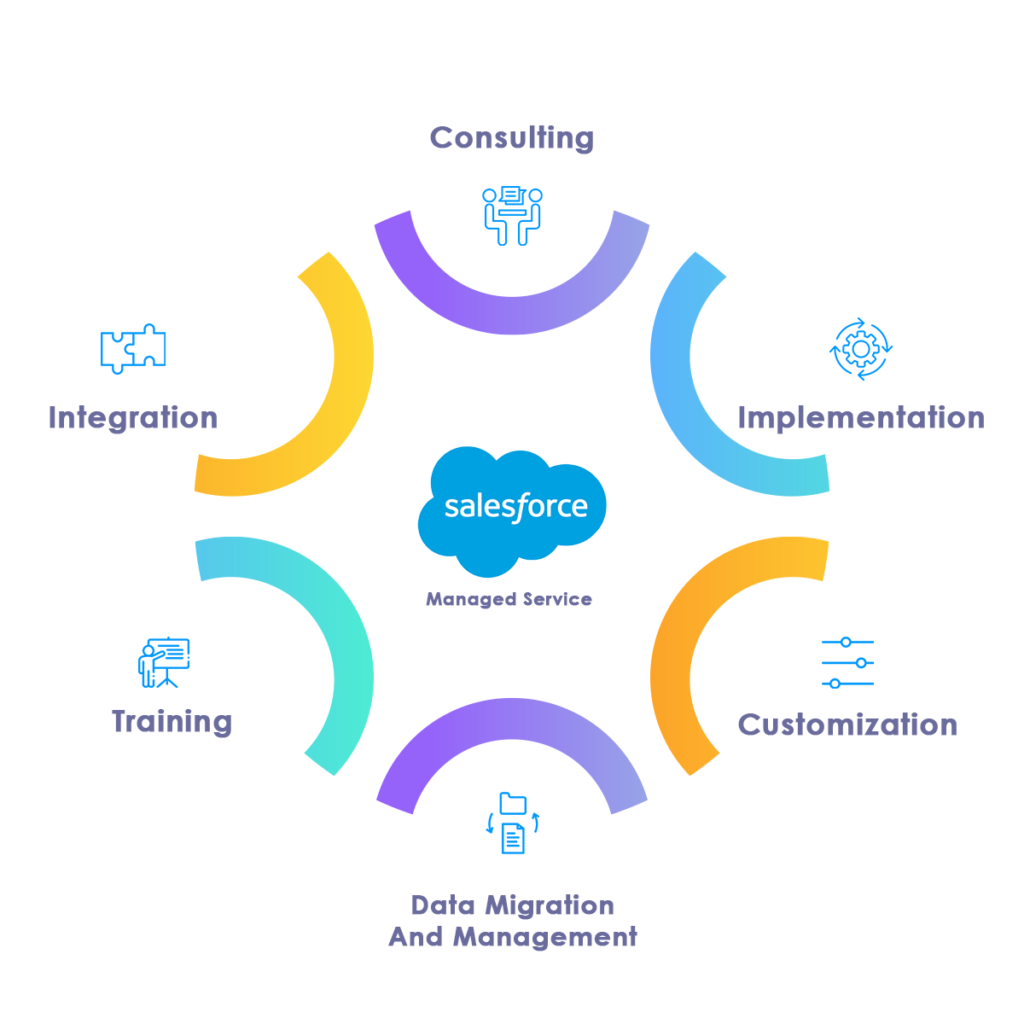 Analyze business and existing processes and formulate long-term strategy infusing Salesforce capabilities.
Developing and deploying the right Salesforce solution followed by best industry practices.
Customizing Salesforce org as necessary, such as customized reports, campaigns, setups, dashboards, user interface, etc.
Connecting the Salesforce environment with third-party applications like ERPs, ecommerce solutions, packages, etc., to boost the existential capabilities of your Salesforce org.
Data Migration and Management
Transferring data pre-and-post Salesforce implementation to ensure that every bit of information stays confidential and secure. Also, managing all the data in architecture in Salesforce.
Implementation and management are not the ends of the process. Training the users working on Salesforce is also a part of Salesforce Managed Services. Conducting training sessions to provide technical support to the users and solve their queries about any feature or functionality.
This covers miscellaneous services like system testing, bug fixing, resolution of issues, etc.
Who is a Salesforce Managed Service Provider?
A Salesforce Managed Service Provider (MSP) is a certified Salesforce Consulting Partner that offers development, implementation, support and maintenance for Salesforce Implementation. It also includes managing and optimizing the Salesforce platform per business requirements and environment and offering seamless support to end-users.
A Salesforce Managed Service Provider (MSP) aims to assist organizations in achieving maximum value from their investment in Salesforce by optimizing the platform according to their specific requirements and enabling users to fully utilize its capabilities. By doing so, businesses can enhance efficiency, simplify processes, and ultimately stimulate growth and success.
Hiring a Salesforce Managed Service Provider can flip the script to your advantage. But you can't get the one you find on top of search engine results. Every investment you plan in favour of your business must be well-calculated.
Things to keep in mind before hiring Salesforce Managed Service Provider
Here are a couple of things that you should know about before you hire a Salesforce Managed Service Provider: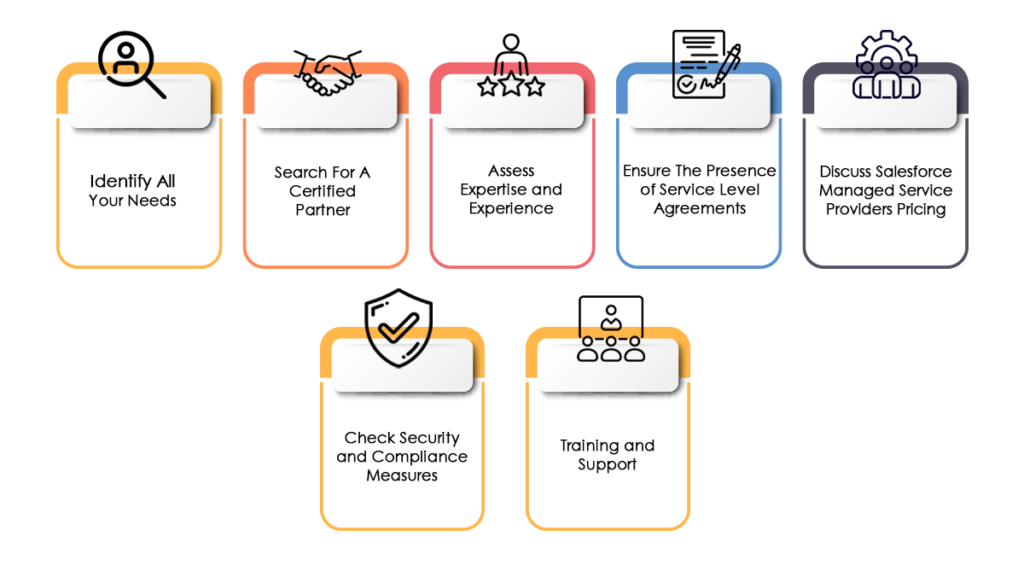 To find a suitable Salesforce MSP, you must first identify your specific requirements, including the tasks you need assistance with, such as implementation, customization, or ongoing management and support. You should also consider if you need help with specific Salesforce products like Sales Cloud, Service Cloud, or Marketing Cloud. This knowledge will help you locate an MSP to provide your required services.
Search for a Certified Partner
Salesforce's partner program certifies MSPs based on various criteria, including Salesforce product proficiency, customer satisfaction, and successful implementations. Choose an MSP-certified Salesforce partner with the necessary skills and experience to ensure you receive quality services.
Assess their Expertise and Experience
When searching for an MSP, examining their experience and expertise is crucial. Find an MSP with experience working with companies like yours and request references and case studies to review their work. Additionally, consider the proficiency of their team members, such as their expertise in Salesforce products, familiarity with industry best practices, and experience with customizations and integrations.
Ensure the presence of Service Level Agreements
SLAs specify the type of service an MSP will provide, such as uptime guarantees, response times, and Support hours. To guarantee that your requirements are met, assess and contrast the SLAs of different MSPs. Choose an MSP that provides 24/7 support and promised response times for crucial issues.
Discuss Salesforce Managed Service Providers Pricing
Pricing and contract terms differ significantly among MSPs. To avoid any confusion, comprehend the pricing model and contract terms of any MSP you are considering. Search for MSPs with transparent pricing and adjustable contract terms that can be tailored to meet your requirements.
Check Security and Compliance measures
Security and compliance are crucial factors for any business that utilizes Salesforce. When assessing potential MSPs, inquire about their security and compliance practices, including their data protection policies, security measures, and compliance certifications. Select MSPs with experience working with companies in regulated sectors, such as finance or healthcare.
Training and Support to team
Training and Support are essential aspects of working with an MSP. To ensure a positive experience, search for MSPs with extensive training programs that include user and administrator training. Additionally, consider their support services, including help desk support, escalation procedures, and proactive monitoring and maintenance.
Finding a reliable Salesforce Managed Service Provider who checks all these requirements is an adamant job. Some exceed the above expectations, like Cyntexa, a Salesforce-certified Managed Service Provider offering multi-dimensional Salesforce-based services.
Once you find your ideal match, you need to know what advantages you can expect if you hire a Salesforce Managed Service Provider:
Benefits of hiring a Salesforce Managed Service Provider
Following are some benefits that you can enjoy after hiring a Salesforce Managed Service Provider:
Streamline processes by introducing automation, customized dashboards, real-time reports, and efforts to migrate and clean data.
Access a team of Salesforce experts with a full range of skills at an affordable price.
Conduct security checks to identify vulnerabilities early and prevent system downtime.
Keep your Salesforce instance current by implementing critical updates and new features.
Solve the challenges of recruiting and retaining tech resources by hiring as needed.
Increase the return on investment (RoI) from your Salesforce investments.
Ensure compliance with industry standards.
Achieve scalability and quick responsiveness to sudden business changes.
In conclusion, hiring a Salesforce MSP can provide many benefits, including improved efficiency, reduced costs, and access to expert resources. However, it's important to research and choose an MSP that meets your needs and provides quality services.
Looking to optimize your Salesforce operations and take your business to the next level? Consider partnering with a Salesforce Managed Service provider such as Cyntexa. By teaming up with them, you can enjoy a wide range of benefits related to Salesforce Integration Services as well.
So why wait? Get started on your path to success today with Cyntexa by your side.