Hiring an SEO agency may seem a big step forward, but getting the most out of them is essential to see desired outcomes. The first thing to understand here is that it's not a quick fix to improve SERP ranking and doesn't change the fact that SEO requires consistency. And you need to make your SEO team understand the same and clarify your objectives from the start.
Since the digital landscape is getting more competitive with each passing day, It's challenging to keep your website's SEO the same without getting ruptured. Besides, the frequent search engine optimization algorithm updates from Google make the process complex.
That's where the importance of an expert SEO agency is realized. While it's tricky to find a suitable team of professionals with a portfolio of successful projects, knowing how to get the most out of them is also a gruesome task. Before we get into how you can do so, let's first understand why hiring an expert SEO agency such as Oak Interactive is important.
Why Opt for Hiring an Expert SEO Agency?
While there are several benefits of opting for an SEO agency, the most significant one is they bring experience and expertise that helps save time and money, and increase ROI too.
An adept and professional SEO company can help implement strategic plans that generate qualified leads for your business. Since they know the industry from the inside out, it's effortless for them to implement and push your website SEO with innovation.
Another great benefit of hiring an SEO agency is that they are cost-effective when compared to the cost of hiring and sustaining an in-house team. An able team of SEO engineers can improve brand awareness and the value of their clients by spending optimum time and effort on each essential aspect that needs attention.
However, as you hire an expert team for your SEO needs, it's also your responsibility to keep tabs on them and get as much as possible out of them.
7 Tips to Get the Most Out of Your SEO Agency
1. Understand the SEO Fundamentals
The hiring of SEO professionals can seem a daunting job if you are not familiar with the fundamentals of SEO. In a survey by Search Engine Land, it was found that around 35% of business owners have little to no understanding of SEO and Google ranking.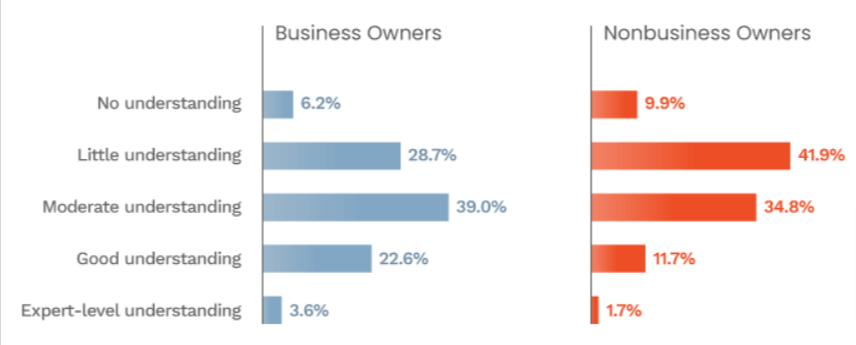 Thus, before you begin interviewing any potential agency owner, gain some perspective and knowledge about SEO. Research and understand how it works, and how agencies can help in the best manner possible. Getting the hang of SEO basics would also enable you to select the right and technically apt agency. 
As a business owner, you are not expected to have expert-level knowledge. Still, a moderate level of understanding can get the job done.
2. Prepare Reasonable SEO Goals to Achieve
Once you get the hang of what SEO and different terminologies mean, it's time to prepare reasonable, smart, and achievable SEO goals for your business. HubSpot has come up with a unique approach to set SMART goals.
You can replicate the same approach for your business and draft specific, measurable, attainable, relevant, and time-bound goals. Such goals help you set a clear intention of what your motive behind hiring an agency is and how they can help you achieve the same.
Further, setting up specific goals gives sensible objectives and cuts out irrelevant aspects to emphasize on what's important.
3. Select the SEO Agency that Aligns with Your Goals
Now that you are adorned with the right goals and SEO objectives, comes the most important part viz to select an SEO agency that aligns with your goals. Why it's essential is because you can only get as much as possible from your SEO partners when you select the right ones in the first place.
The selection process for the same involves researching on your part first, taking interviews, and asking agencies to submit quotes for the work they'll do. Also, you want to avoid some shady agencies that have a history of using spammy techniques for SEO improvement.
Some red flags to identify such agencies include over-promising & underperforming, excessive use of keyword stuffing, and poor content quality. The logic is to choose an SEO agency that can replicate the same success for you in SEO as they did for themselves or other business owners.
4. Build a Trust Relationship with Your Agency
After you find the right fit, the next step is to onboard the SEO agency and enable them with the necessary access to your business accounts for them to start showing their magic. This requires you to build a trust relationship with the agency of your choice.
When you trust each other, your results get better, and quarterly/yearly review meetings become celebrations. This will require you to conduct formal organic discussions rather than review meetings. Also, since they are experts in the field, let them speak their minds and give input when something is out of place.
5. Be Transparent and Expect Transparency
Keeping transparency is a natural way to grow your business and foster innovation in your SEO workflows. It's not a one-way trip and you must also expect transparency from the SEO agency in all their communications.
Due to the lack of proper flow or miscommunication, transparency can be lost between you and your agency. Further, if you or your SEO agency provides inaccurate information or hides something from each other, it ultimately can put your business in jeopardy.
However, when all your communications have full transparency, a harmonious relationship can help get many things done and flourish your business.
6. Let Them Prepare a Tailored Plan for SEO Enhancement
The first thing you shall do after hiring an SEO team is to give them the freedom to prepare a tailored plan for SEO enhancement. But before they embark on the same, clearly state all your goals, conditions, communication requirements, and other demands.
Such clarification will help them come up with customized plans to take on your SEO improvement project in a better light. Also, ask them to assess and find the USPs of your biggest and most successful competitors and prepare an SEO improvement plan accordingly.
7. Understand the Metrics and Timeline to Improve Them
The important part of creating a SMART goal was that it should be measurable. There are plenty of metrics and KPIs to measure but you must filter them out and find the most relevant ones that show progress. For instance, the momentary traffic spike may not signify the effectiveness of your SEO strategy. 
However, an increase in the click-through rate, page rankings, sign-up rate, phone calls, checkouts, and other action steps does account for the effectiveness of a well-planned SEO strategy. Once you identify such important metrics, inquire about the expected timeline for them to show the desired growth.
Wrapping Up
Planning and implementing a strategic SEO is complex and requires expert professionals to take the charge. Thus, you'll often need to hire an SEO agency to accomplish all your SMART SEO goals and objectives for business growth. Here, we have provided the top 7 tips to get as much from your SEO agency as possible.
Investing in SEO has several benefits. It offers you an opportunity to grow your brand and expand its visibility to achieve the desired outcomes. So, we wish you all the luck before you embark on your journey to hire expert SEO professionals.