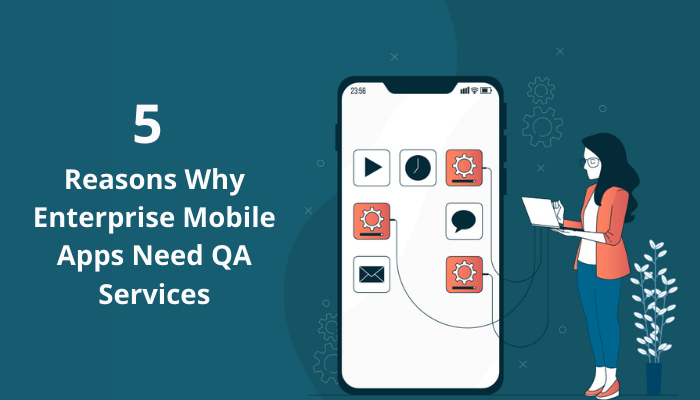 Enterprise mobile applications are different from other apps. It has more complex features and functionalities to execute various things. Any lack in the performance of a single feature can adversely affect the company's reputation and consequently revenue. Therefore, businesses should pay high attention to quality assurance during mobile app development.
Quality assurance ensures a mobile app is fully functional and its all features are performing efficiently. Thus, if you want your enterprise mobile app to run successfully across all platforms and meet user expectations, you should incorporate high-quality QA in your mobile application development. And in this article, I will tell you the top 5 reasons why you need QA services for your enterprise mobile application development.
What is QA?
Quality Assurance (QA) is the technical process of analyzing the software or mobile application development process to prevent any potential errors and improve the performance of the application.
Top 5 Reasons Why Enterprise Mobile Apps Need QA Services
You might have a great mobile app idea which has the potential to disrupt the industry. But until it performs as per user requirements, you can't generate high ROI. And for enterprise mobile apps, it becomes even more challenging. Enterprise apps have complex app architecture and advanced features which makes the app size and its functionalities heavy. Therefore, you need a dedicated and professional team of Quality Assurance (QA) to test and evaluate the overall things of the mobile app.
The goal of quality assurance in mobile app development is to check whether there are any bugs, coding errors, or potential risks in the app so that they can be addressed at an early stage of the app development process. QA helps companies decrease costs by eliminating the potential problems that may impact your app's performance as well as brand reputation.
Therefore, a company needs a professional team of Quality Analysts who are proficient in ensuring the entire mobile app development cycle is successful. They have complete knowledge of software development and tools to analyze every aspect of app performance. So let's take a look at the top reasons why enterprise mobile apps need QA Services.
 1. Brand Reputation
Enterprise mobile app is a large-size digital asset for a company. This type of mobile application usually has advanced features that serve many business purposes. Any technical flaws or bugs can seriously impact not only the performance of the app but also the brand reputation. Users always love mobile apps which offer an uninterrupted and engaging user interface. Thus, companies need a seamless mobile app that perfectly performs all the tasks and meets user expectations. And for this purpose, a company needs QA services.
2. Generate Better ROI
Mobile apps are one of the biggest assets for a company. It takes a lot of planning, researching, designing, and testing to create a fully-functional enterprise mobile application. Companies hire mobile app development company and developers which costs significantly on the company's overall budget. The whole purpose of putting this entire investment is to provide features that solve consumers' problems.   At this point, QA teams assess all the quality check parameters like user experience, mobile responsiveness, etc. This helps the company to easily and efficiently achieve its business goals and drive better ROI.
3. Require Fewer App Maintenance
Mobile apps are software that always requires updates and consistent maintenance. No matter how attractive or cool features your enterprise app may have but if it contains bugs or any undetected technical error, it can increase your app maintenance requirements and eventually unnecessary costs as well.
Having an in-depth and rigorous quality assurance test, your mobile app requires fewer chances of technical improvements. You only have to update your app to introduce new features. So when you are assured that your mobile app has no technical errors, you don't need many resources to spend on the app maintenance.
4. Easy Promotion
Users love mobile apps that give them value. They want everything fast, smooth, and engaging. And it happens when your app is free of bugs and performance accurately as per the pre-planned architecture and development guidelines. QA teams here perform tests for quality check parameters and make sure the app is suitable for deploying and launching. As a result, the app automatically makes a good reputation among users.  With a high-performing mobile app, the company doesn't need to put much effort into the promotion of the app. QA here enables companies to drive better value from their limited resources.
5. High Number of App Downloads
Ever noticed why some apps have less number of downloads? Any technical error or bad performance of the app directly affects the user experience. Apps which are launched after multiple rounds of tests and QA parameters create a good impression of the app among users and so they inspire to put good feedback on the Play Store. This positive feedback influences other users' decisions before downloading a mobile app. Consequently, a mobile app gets a high number of app downloads.
Conclusion
Mobile apps succeed when they perfectly stand out on user expectations. And to achieve this, you need the best QA services that help you find out the potential tail risks or any sort of technical errors so that your enterprise mobile is perfectly effective and efficient. So try to look for a reliable mobile app development company that can provide you with high-standard quality assurance services for your enterprise app development project.
About the Author
Erma Winter is a Top Android app developer at MobileCoderz-a premier company that provides best-in-class mobile app development services. She works with UI/UX designers, software engineers, and Quality Analysts to create the user-oriented mobile app solution. When She is free from her work, She spends her time with pets and roaming serene places.