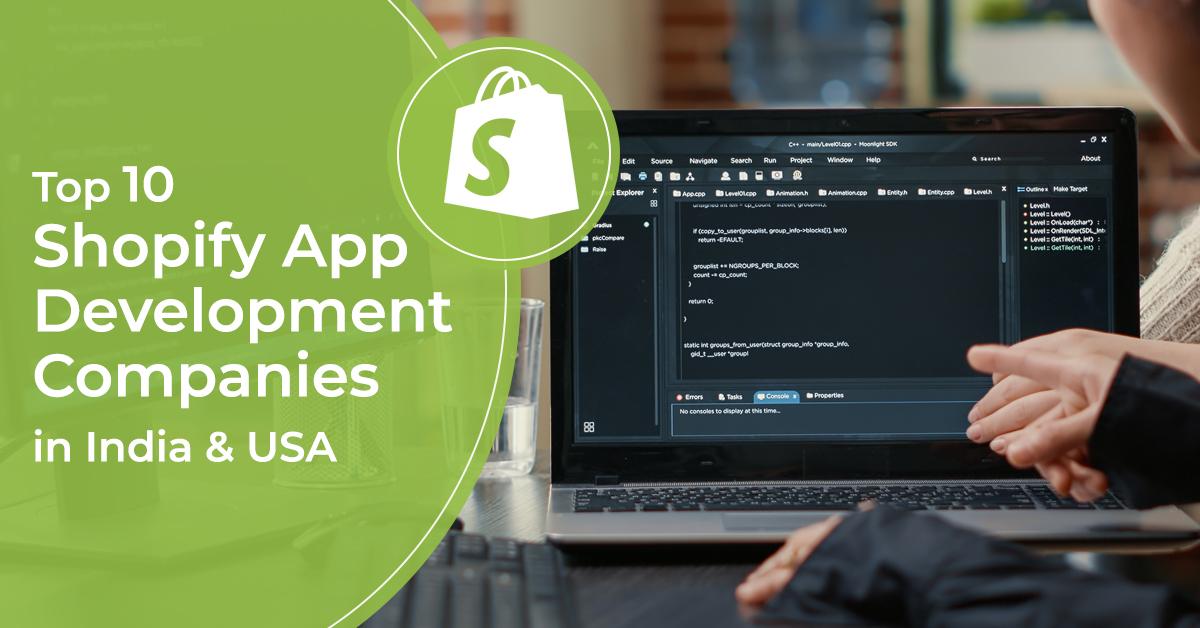 Shopify is one of the leading eCommerce development platforms, at present.
Over 20% market share
More than 7 million merchants
Used by nearly 2300 million active websites
With a whopping revenue of $2.10 billion in 2021
There is no doubt why a business would choose Shopify. It gets the job done in record time, creates growth opportunities, and makes management & monitoring easier.
But, the doubt seeps in when choosing a Shopify development company.
Ease your journey to that answer with this review of the top ten Shopify eCommerce development services providers (In the USA, India, and across other major regions.)
Who Is The Best Shopify Developer?

As per our comprehensive analysis, here is a list of the top Shopify design and development firms.
SunTec India
TechnoScore
Sunrise Integration
Dotlogics
Spiral Scout
Bonsai Media Group
PB+J
Pivofy
Mobikasa
Unity Group
Top 10 Shopify Development Company Reviews
I shortlisted every Shopify web development company in this list by the following parameters.
Company location
Regional prices
Industry experience
Resource pool strength
Quality of work
Average hourly rate for development
Minimum project size & requirement
Client testimonials
Remember- this list isn't exhaustive.
Before choosing a Shopify development company, inquire about any particular development requirements you may have.
1. SunTec India (5.0)
The top contender- SunTec India – is a blanket deal.
Here, you can hire Shopify developers in India for-
Store development
UI/UX design
Theme development
Product integration
Platform migration
Backend configuration
POS development
Data protection
Content creation & management
Marketing & advertising
Customer support services
This is a high-end Shopify web development company. Therefore, you can expect project-wise NDAs, dedicated resources, 24*7 support, and money-back guarantees.
Experience
20+ Years
Founded In
1999
Avg. Rate /Hour
<$25
Location
Delhi, India
Employee
1000+
Min. Project Size
$1000+
Top Clients: Nielsen, Dalmia, Bose, Honda, Pepsico, DreamWorks
Why Is SunTec India at the top of this list?
Very budget-friendly
6 stars on Clutch
Flexibility to scale
Complete control to client
Can Someone Run My Shopify Store?

Yes.

You can hire a Shopify development company to run your eStore. Look for vendors who offer Shopify development services and specialize in merchant solutions.

This is a cost-effective approach that can help your business in many ways.

➔   Quick results

➔   Easy implementations

➔   Constant technical support

➔   Dedicated assistance

➔   Choice of customization

➔   Time effective

➔   High-quality outcomes

➔   Minimal monitoring required
2. TechnoScore (4.9)
As a technology-oriented service provider, TechnoScore offers two critical benefits.
A sound, rich infrastructure to implement all types of Shopify development services
A dedicated team of Shopify experts
That, combined with its experience and prices, make up a good deal.
Experience
16+ Years
Founded In
2006
Avg. Rate /Hour
$25-$50
Location
Delhi, India
Employee
250-1000
Min. Project Size
$1000+
Top Clients: Dentsu, Berlitz, Pearson, Encyclopedia Britannica, Nielsen
What do we like about TechnoScore?
Affordable
Versatile technology support
Easy team scaling
Multiple choices to hire Shopify developers
3. Sunrise Integration (4.9)
Sunrise Integration is a popular SaaS provider. It specializes in custom software development.
Its service offerings include the following.
API Integration
eCommerce Services
App Development
SaaS Programming
Data Migration
Data Integration
CRM & ERP Data Exchange
User Experience Design
Shipping & Logistics
Experience
20+ Years
Founded In
1999
Avg. Rate /Hour
$150-$200
Location
LA, California
Employee
50-100
Min. Project Size
$10000+
Top Clients: Live Nation, DHL, QUAY, Pitney Bowes, FreshBooks
Its Shopify website development services and app support comes with hosting assistance, API integration, SDK, POS app development, etc. That justifies the slightly higher price range.
4. Dotlogics (4.8)
Dotlogics provides cross-domain custom software development services. Its service range includes the following in addition to Shopify eCommerce development services.
Web Design
Web Content
Web Development

Shopify
Magento
WordPress
Customized

Brand Identity Design
Mobile App Development
Despite its selective range of services, I recommend Dotlogic for its hyper-personalized approach to development.
Experience
15 Years
Founded In
2007
Avg. Rate /Hour
$100-$150
Location
New York
Employee
50-100
Min. Project Size
Not Specific
Top Clients: McDonald's, DDC, Gardenia, Brown University, Unilever (Clear)
Which Is Better: Amazon Or Shopify?

Amazon presents terrific opportunities for small-scale sellers. However, for highly customized B2C sales & marketing, Shopify is the better choice.
Shopify
Amazon
➔   Powerful eCommerce tools

➔   Better brand identity building

➔   Specialized eCommerce platform

➔   Easy to use

➔   More design flexibility

➔   Access to a vast audience

➔   Complete support for inventory, orders, shipping, packing, etc.

➔   Easy to use

➔   Cheaper in comparison

➔   Monthly fee+costs of extensions, integrations, & apps

➔   The responsibility for using Shopify for sales and marketing falls on the business.

➔   Constantly multiplying competition

➔   Requires niche market and customer-specific strategy to succeed on Amazon
5. Spiral Scout (4.8)
Spiral Scout is a twelve-year-old offshore consulting company.
Despite being relatively younger, this Shopify web development company has mastered the art of quickly creating teams that resonate with particular client requirements.
Experience
12 Years
Founded In
2010
Avg. Rate /Hour
$50-$99
Location
San Francisco, California
Employee
~250
Min. Project Size
$10000+
Top Clients: Adobe, Zoom, Coca Cola, Procter & Gamble, SoFi
Its service range includes design and development for eCommerce, educational technology solutions, & business automation. Custom eCommerce development is one of its specialties, backed up by a diverse team of Shopify experts.
6. Bonsai Media Group (4.5)
Bonsai is one of the few in this list (others being SunTec India and TechnoScore) that offer a truly 360-degree service opportunity.
They will
Build your Shopify website
Market it to a target audience
Create a data-backed workflow to enhance brand value
All in a single service package!
The Shopify website development services of this company are accompanied by numerous others, as listed here.
Customized eCommerce development
Shopify custom theme development
Web & mobile app development
eCommerce marketing & advertising
Search engine optimization
Brand design
Creative services (content, videos, images, etc.)
Experience
13 Years
Founded In
2009
Avg. Rate /Hour
$150-$200
Location
Seattle, WA
Employee
~50
Min. Project Size
$25000+
Top Clients: Amazon Careers, DoubleChekk, PLAN Washington, Impinj
7. PB+J (4.7)
PB+J is not a Shopify development company. However, this digital agency has made notable waves within the industry for exceptional Shopify designs.
Its website is a wonderful example of the same.
The drawback: You can't expect 360-degree eCommerce design & development from PB+J. Its primary service areas include
Brand building
Website performance
Digital strategies
UX/UI design (particularly well for Shopify)
What makes PB+J an excellent Shopify design company is its unique approach to brand-oriented web & app design & aligned customer experience creation.
Experience
11 Years
Founded In
2011
Avg. Rate /Hour
$150-$200
Location
Toronto, Ontario
Employee
~50
Min. Project Size
$25000+
Top Clients: Harvard Business School, Marriott Hotels, Aria Vent, Distil
How Much Does It Cost To Build A Professional Shopify Store?

The cost of upfront Shopify design and development depends on:

➔   Feature type

➔   Feature number

➔   Visual design customization

➔   Development platform (for mobile & web apps)

➔   Development timeline

➔   Complexity

➔   Analysis & testing cycles

➔   Resource's rates

The average cost of Shopify development can fall between $3000 to $10000.
8. Pivofy (4.7)
Pivofy is relatively new in the market. It has limited resources. And yet, it has built success stories with Shopify Plus for many businesses.
A Shopify Plus partner
Best for small and medium enterprises
One-on-one consultations
Advanced eCommerce automation support
Experience
8 Years
Founded In
2014
Avg. Rate /Hour
$150-$200
Location
Chicago, Illinois
Employee
10-15
Min. Project Size
$25000+
Top Clients: EnaStat, Fluid, SupCase, Vosges, Mata Traders
9. Mobikasa (4.7)
This Shopify development company is budget-friendly. It also dabbles in many service areas apart from it. But it is particularly noted for iOS and Android app development.
Experience
11 Years
Founded In
2011
Avg. Rate /Hour
$25-$50
Location
New York
Employee
150+
Min. Project Size
$10000+
Top Clients: Nokia, Maurice Lacroix, Versace, Holland & Sherry
10. Unity Group (4.8)
The Unity Group has the right experience and cost constraints. It performs particularly well on projects like the following.
Kentico-based implementations
IT systems integrations
Master data management
eCommerce solutions development
We recommend the Shopify development services of this company because of their immaculate customization capabilities and consistent outcomes.
Experience
20+ Years
Founded In
1997
Avg. Rate /Hour
$50-$99
Location
Wroclaw, Poland
Employee
350+
Min. Project Size
$25000+
Top Clients: Baxter, Volkswagen, Leroy Merlin, PPG Industries
Choose A Shopify Development Company Wisely
As a business, you would have expectations from any Shopify development services provider. This is an investment, after all. Therefore, it should have an ROI.
These top ten Shopify development company reviews should help you easily pick the right one.
But, regardless of your choice, when the consultation for your project starts, discuss everything in detail, communicate your short and long-term goals, and interview the resources for better impact.