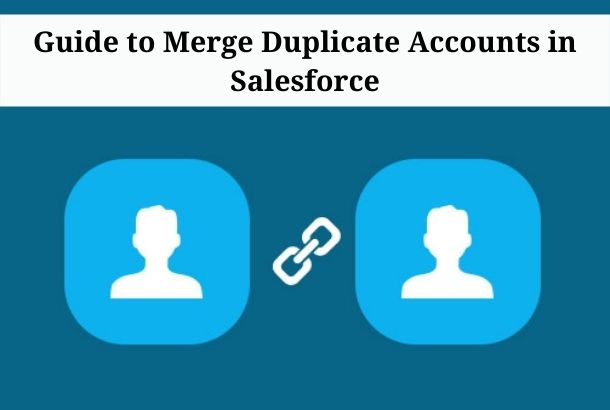 While native Salesforce merge tools give some capability, handling duplicates can be quite time-consuming for most organizations. eSpecially larger firms with thousands or millions of records, if done only with the built-in tools. And these constraints may lead a large number of duplicates to slip through the cracks.
One of the most important things you can do to get the most out of Salesforce is to keep your data clean and accurate. It increases the trust of your sales staff and assists you in meeting numerous data protection and privacy standards. Salesforce offers tools for managing duplicates one at a time and throughout your business, as well as tracking your progress toward duplicate removal.
How do you find duplicate accounts in Salesforce?
Salesforce's duplicate account finding technique is relatively simple by default. It looks at only a few fields with little change, such as name, email address, phone number, and company name, and it uses exact or fuzzy matching. It is excellent for looking for obvious copies, but looking for hidden dupes takes more sophistication.
Moreover, You can design custom matching rules, but you are only limited to exact and fuzzy matching.
How to merge duplicate accounts in Salesforce classic?
In Salesforce Classic, you can only discover and merge duplicate accounts in Salesforce on a per-record basis by digging into the record itself. As an example,
Go to any lead record page and select the "Find Duplicates" option to find duplicate leads.
Selecting the "Merge Contacts" button on an Account page identifies potential Contact dupes (not on a Contact record page).
Selecting "Merge Accounts" at the bottom of the Accounts home screen will reveal duplicate accounts. You must next search for individual Account names to identify any duplicates.
How to merge duplicate accounts in Salesforce lightning?
The procedure is similar: when actively viewing an individual Lead, Contact, or Account record. You might see the potential duplicate matches by utilizing the "Potential duplicates" feature.
To merge the matching records in Classic or Lightning, you must open and review each duplicate group.
A somewhat better option is to use Duplicate Jobs to discover duplication worldwide throughout your entire organization. This module functions as a report, scanning your data for duplicates that match the matching rules.
After duplicate operation completion, you will show groups of duplicates, which you can then review and manually combine.
You can also run a custom report to get a list of duplicates, which has recently become available. Once the data has been compiled, you can dig down into the records and manually integrate them one at a time.
No matter which approaches you to use to identify duplicates, Salesforce's built-in capability does not allow you to choose multiple groups of duplicates or even plan automatic deduping activities.
Limitations of duplicate accounts management in Salesforce
Duplicate records are almost inescapable, especially when data comes from several sources or users, as most CRM systems do. However, it can be a straightforward but limited procedure to merge duplicates in Salesforce lightning.
Salesforce Duplicate Management's Limitations:
1.  It Limits the Creation of New Records
Salesforce will not send an alert if you generate a duplicate via API or import since it only does so when a duplicate is manually entered. It means that if you utilize alternative entry techniques, you will lose relevant data.
2. It Has a Limited Number of Matching Algorithms
Salesforce Duplicate Management provides accurate and fuzzy matching techniques that are frequently incapable of detecting duplicates.
3. It Can Only Merge Three Records at a Time
If your dedupe process produces a list of duplicate groups with four or more duplicates of the same record, you cannot merge them with Salesforce Duplicate Management.
It's because it only allows you to merge a maximum of three data records at a time, which slows down the processing time even further.
4. It Doesn't Allow For Cross-Object Matching
It's possible that your new lead is already in your Salesforce organization, but only as a Contact. It necessitates the use of cross-object matching to avoid working with duplicate data.
5. It Takes a Long Time
Because detecting and merging duplicates is done on a record-by-record basis natively in Salesforce, cleaning up your complete Salesforce org would take a significant amount of time and resources.
Summary
Merge duplicate accounts in the Salesforce Lightning Experience is now possible and beneficial! As an administrator, you want (need!) to stay on top of potential duplicates to ensure reliable data that reflects your excellent admin talents.
You can also allow your users to combine themselves, but they will need the 'Delete' permission for the object in question and Edit permission for linked objects like Opportunities and Cases.
Are you interested in learning more about Salesforce Lightning Merge? Don't spend time looking any further!
Contact one of our Salesforce specialists at WahInnovations to get started on the go.