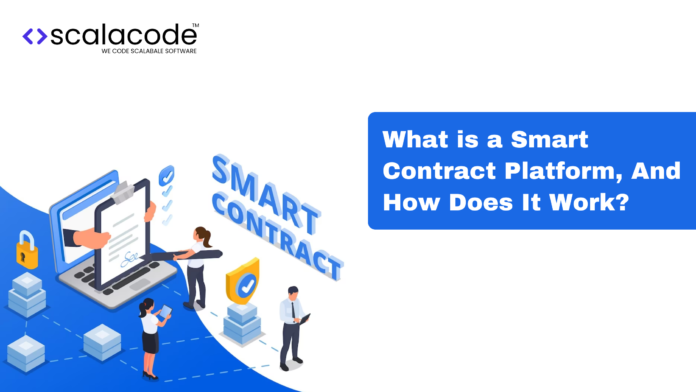 You might have heard several quotes drafted by Bill Gates to date. But have you listened to any of his quotes related to life? You might say "yes or no" depending on your experience. For example, a quote saying, "Life is not fair – get used to it!" became too popular when it was first stated by the aforesaid legend. But do you know what? You need not accept unfair things in your life anymore. But how? You might ask. Well, smart contracts are the solution. Yes, you heard us right! Only when you count on smart contracts developed by a top smart contract development company out there, it will be feasible to execute each and every condition properly that is listed in the agreement. 
But, what is a smart contract? How does it work? In which cases can it come in handy for you? We will respond to all these riddles and more in this content today. So, let's get started with:
What Is A Smart Contract? Explain it with an example.
You can grasp a smart contract as a simple method to formalize all the agreements in this digital age. Yes, whether you are taking a particular piece of land on lease for commercial use or a vehicle for a fixed period of time, a smart contract has the ability to document all the promises and make sure they are followed without any error after completion of certain parameters. In short, a smart contract is a tried and tested method to give legal or formal status to something from the standpoint of a leading blockchain development company.
What else? The smart contract is drafted in a virtual language and has the potential to execute and enforce the given conditions without any human intervention based on a bunch of pre-programmed parameters. With the most popular Blockchain technology at its core, the main aim of smart contracts is to reinforce security, improve transparency, and enhance trust between different signatories. Resultantly, such solutions help in steering clear of any misunderstanding, falsification, or alteration that may occur down the line without automated and documented contracts.    
Want to wrap your mind around a smart contract in a better way? Then, let's perceive it with the help of an example. Suppose a salaried professional buys a house for his family. Now while he is in the process of purchasing a new property, he needs to sign a sales contract with the person or entity who is selling it. But this entire process is not that easy in real life as you might be assuming currently. Yes, it involves:
A bank 

A notary 

A land registry 

And a lot of paperwork 
Hence, this is the case where the need for having smart contracts pops up. Wondering how? Well, smart contracts are reliable solutions that are based on blockchain technology and promise to simplify this sort of process to a large extent, especially ones inspired by agreements. And if you are interested in building a smart contract platform straight away, all you need to do is collaborate with a top smart contract development company without a second thought. 
With all the trivial details discussed, now it is time to jump on to:
What Is The Mechanism Of A Smart Contract According To A Top Smart Contract Development Company?
Before anything, you must imbibe that the smart contracts market worldwide was worth USD 397.8 million in 2022. And the same value is estimated to touch USD 1460.3 million by the end of 2029, representing a Compound Annual Growth Rate of 24.2% between the prediction period 2023 to 2029. Also, you must be aware that the impact of COVID-19 and the Russian-Ukraine war was taken into consideration when assuming market sizes. 
Want to come to the working part of smart contracts? Then, please peruse the next text stack drafted under the guidance of experts of a well-familiar blockchain development company.
Smart contracts function by following just "if/when…..then…." statements that are infused into codes on a proper blockchain. And it is the responsibility of a network of computers to execute different actions once certain predetermined conditions are met and verified by the system. For example, these actions could be anything among:
Providing funds to the relevant parties 

Registering a bike or car

Sending a particular notification 

Issuing a specific ticket 
And once the concerned transaction is completed, then the blockchain is updated with exactly the same information. Post this, that particular transaction cannot be edited and only parties that have been given appropriate permissions can check out the results as per an optimal blockchain development company on the cloud.
Please be informed that in a smart contract, there can be as many conditions as required when it comes to satisfying both parties that the given task will be performed properly. And to establish the execution of all the terms:
The concerned participants must determine how transactions and their details are shown on the blockchain 

Give mutual consent to the "if/when…..then…." rules that operate those transactions 

Explore all feasible exceptions 

Define a framework for sorting out all the conflicts 
Once all these things are done, the potential smart contract can be programmed by a professional software developer. And if you need any kind of help in preparing these smart contracts, you must know that a top smart contract development company is just a call away. Perceived? If yes, it is time to shift to:
The bottom line
Now that you sailed through the entire content, you must have discovered the usefulness of smart contracts in your current or future business, right? So, if that is the case, do not reconsider your decision to hire the top blockchain development company to construct a smart contract platform and get them at your disposal right off the bat. However, if you wish to clarify certain queries before taking such a plunge, you can always shoot the breeze with their long-standing service representatives.
Author bio:  I am Emma Hazel mobile app developer with several years of experience in the field and I'm working with one of the fastest-growing mobile app development company, ScalaCode. We are providing mobile app development services to convert your ideas into reality. We use the latest development tools and technologies to create apps that are fast, responsive, and user-friendly, and we are committed to delivering projects on time and within budget.