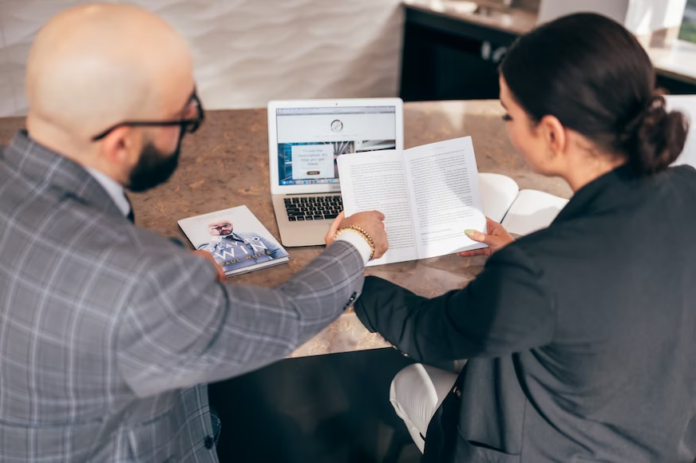 First impressions last. That's why it's important to dress well, especially if you're headed for a business meeting. Whether it will be held at a corporate boardroom or a more relaxed conference room, here's a guide on how to dress for every kind of business meeting.
Formal Business Meeting
Be it an in-person meeting or a Zoom meeting with high-powered officials, you need to dress your best in a formal business meeting. Here's how to do so:
Women
A crisp dress shirt or silk shirt and a structured blazer will pair well with matching trousers or a sophisticated skirt. If you want to cinch your waist, you can put a stylish belt on top of your blazer (or bottoms.) As for footwear, nude comfortable shoes are perfect because they go well with any formal meeting attire.
This get-up also calls for elegant accessorizing. Think stud earrings, a simple necklace, and a beautiful watch. Consider using a more 'formal' strap if you plan on wearing a smartwatch. As for your handbag, use elegant, structured totes and satchels that match your entire look.
While your outfit is vital, you also need to mind the rest of your look. When it comes to formal meetings, it's best to keep your hair sleek, either in a ponytail or bun. You can keep it styled down, but do get rid of the frizz!
Although this meeting calls for power dressing, you mustn't go all out with your makeup and fragrance. Keep it natural; you don't want a full glamorous face or heavy perfume. A neutral eyeshadow, mascara, natural-looking blush, nude-tone lipstick, and light perfume would do. You're going to a meeting, not a wedding.
Men
Formal business meetings often call for a plain or pinstriped suit (with a cotton-blend button-up underneath) and matching pants. These pieces match well with a skinny silk tie and a slim leather belt. To complete the look, make sure to wear plain socks and a pair of Oxford or brogue shoes.
As for your suitcase, opt for solid-colored, leather ones and avoid the backpack (at least for now.)
A classic watch is another good formal meeting accessory, though a smartwatch with a more 'formal' band should work, as well. A few spritzes of your cologne should do, but you don't want to overwhelm the room while presenting your marketing report.
More importantly, make sure to sport good hair. It's best to keep it tidy. If possible, get a nice haircut a day (or two) before the meeting!
Business Casual Meetings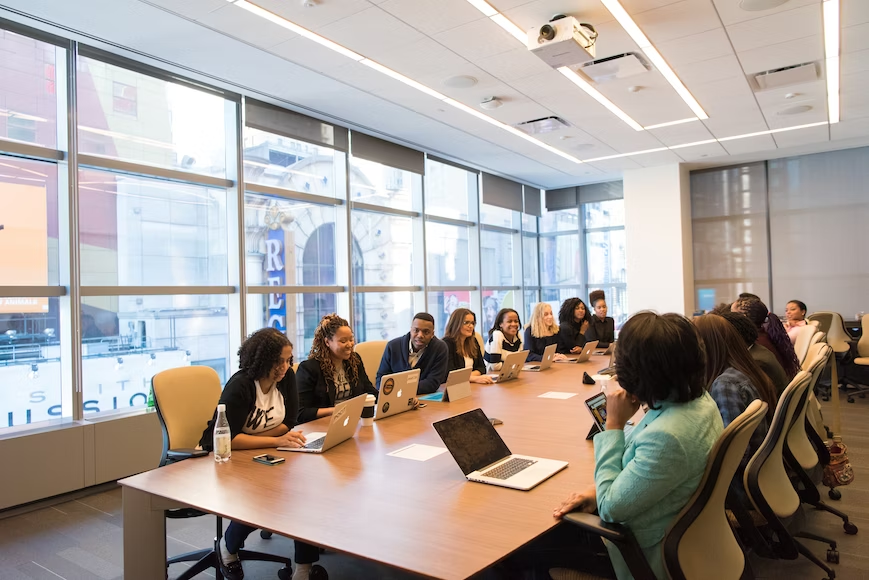 Some businesses give more creative freedom to their employees. If you're lucky enough to work in this kind of environment, then you can try these business casual pieces:
Women
Avoid tees and go for a dress or silk shirt. Instead of a blazer (though you may still wear one if you want), you can opt for a smart jacket, trench coat, or pea coat. These often have built-in belts to cinch your waist, though you may add one if there's none.
For your bottoms, knee-length skirts or trousers are good options. Another worthy consideration is a pair of less formal pants, such as chinos or corduroy pants.
Pumps are still the gold standard for footwear, but you can also wear loafers or pretty heels for your business casual meeting. Minimalist bags and accessories are ideal, although you're free to go with eye-catching jewelry, as well. As for the hair, you can either style it down or put it in a high bun or ponytail.
The makeup and perfume rules are similar to that of formal meetings. It's best to keep everything natural and toned down. You may opt to add a pop of color on your eyelids or lips, but not both.
Men
Unlike women, men may wear a shirt to a business casual meeting. However, it's just one option, as polo shirts make for suitable candidates, as well. Be sure to wear a blazer on top, as you would in a formal meeting. The only difference is you could wear a printed blazer if you want. Trousers make for great bottoms, though chinos suit this meeting type, too.
When it comes to accessorizing, do keep it simple with a leather belt. Simple and formal watches are good, but don't go too casual with them (e.g., quirky or super colorful watches.)
Oxfords and brogues are excellent footwear options, although you can also opt for a nice pair of Chelsea boots.
Despite the casual element, men's fragrance should always remain light for meetings. As for the hairstyle, it should remain tidy. As mentioned earlier, it will be good to get a nice trim before the meeting day itself.
Keep it Sophisticated
When it comes to business meetings, you need to dress the part. That means sleek, sophisticated pieces for formal events and a balanced blend of elements for business casual meets. And whenever you find yourself stuck in a fashion dilemma, make sure to refer to this guide on how to dress for a business meeting. We got you!