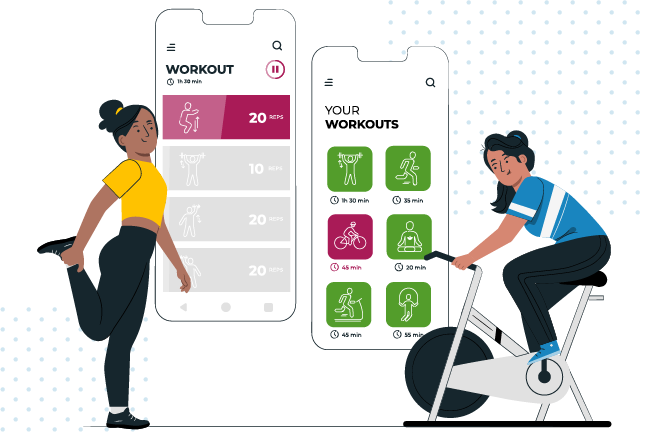 The pandemic of 2020 emphasized the importance of fitness and nudged more and more people towards it. Furthermore, traditional fitness studios experienced a setback owing to strict social distancing rules that compelled people to turn toward fitness applications.
As per a research report published by Grand View Research, the global fitness app market size was estimated at 1.3 billion USD in 2022 and is expected to grow at a CAGR of 17.6% from 2023 to 2030. Looking at the stats, fitness app development trends became a major hit with people.
Its projected growth rate is a clear indication that the time is ripe for investors to make their way into the fitness mobile app development industry and make the most of it.
But, certain things are easier said than done, and while you would love to make some nice profits from this app genre, the complexity of the project can baffle you. But that won't be the case if you have a fair idea of what you're getting into.
Consider this post as your quick and comprehensive guide that will enlist the main types, the development process, and the costs associated with the development of fitness applications. It will give you a clear idea of what you're getting into so that you can at least start right. So, let's proceed.
TYPES OF FITNESS APPS
We directly begin with the different types of fitness apps. Basically, there are five main kinds.
– Workout Apps: These are the most common type of fitness apps and they offer customized exercise routines, video tutorials by fitness coaches, and features to track their vitals while exercising.
Most fitness apps offer their common features for free but charge users for additional services. For example, you can get running tutorials for free, but if you want a customized nutrition plan through proper consultation, then the app might charge some fee.
– Tracking Apps: As the name suggests, tracking apps allow users to track the vitals of their body, with or without exercise. For example, some tracking apps use a device's hardware like sensors to monitor its user's physical activities like the total number of steps, total distance walked, pulse rate, heartbeats, etc.
However, they do not provide any fitness solutions. These apps are good for users who are pro with workouts. Such users only need to track their vitals.
– Meditation Apps: Meditation apps have come into the limelight owing to their several benefits for mental health. These apps offer detailed guidance to users in the form of meditation sessions including its techniques, and exercises for mental health.
Some meditation apps even offer basic yoga to help people improve their overall well-being. These apps prove great in stress management.
– Nutrition Apps: Exercise with proper nutrition calls for complete fitness. Perhaps, that's the reason why nutrition apps have become highly popular and are in demand. A good nutrition app helps users manage their nutritional intake and helps them keep an eye on their calorie intake as well.
Certain advanced diet apps when combined with fitness apps can use AI algorithms to track your daily activity and create customized meals based on real-time health data.
– Health Monitoring Apps: These apps are meant exclusively for users with specific ailments. For example, for a person suffering from high pressure, a health monitoring app can be a good way to keep an eye on their pressure via heart rate, and pulse rate.
The real-time tracking and data of health vitals can help users get valuable health insights. Any change in those vitals can help them make informed decisions.
Now that you know the types, let's move on to the actual development process and look at the major phases.
THE APP DEVELOPMENT PROCESS
#App Conceptualization
Conceptualization is the first and foremost phase of any development process. It includes thorough market research, learning about the target audience, measuring competition, and defining the app's unique selling point(s). Observing the market and knowing industry trends is of paramount importance for app conceptualization.
#Decide the type and features
Once you have learned everything you can about the market, it's time to make a decision about the type of fitness app and its features. This phase is important as it will help you narrow down your options and decide on exactly what kind of mobile application development services you will need to search for.
#Find Your development partner
Once you are ready with the blueprint of your app, it's time to start your research for your development partner and find the right one. While you will also have plenty of options available here, you need to choose wisely because not every app development company can deliver what they promise.
So, take your time, do your research, and ask the right questions, and you will find the right mobile application development company that will build a fully functional, customized app for you.
#Technology Stack
Once you have found your mobile app development partner, the next thing to do is to decide your tech stack. This includes deciding technologies for front-end development, back-end development, hosting, cloud-based integration, and databases.
#Designing Prototype
The first crucial thing to start your app development is designing its interface and checking for its feasibility. An aesthetically designed interface is essential for making users stay on your app.
Work with your designers and ask them to develop prototypes as that will give you a basic idea about how it works like navigation, overall browsing experience, and proper placement of design elements.
#Coding
This task is meant for the app developers. This phase is perhaps the longest one as a lot of work is done in it. Your developers shall use the right technologies to bring your app to life.
They will integrate the necessary features and will use APIs to enhance its functionalities. They will also implement proper security mechanisms to protect user data as that is important.
#Testing
Once the development is over, it's time to put the app through rigorous testing for the detection and rectification of errors, bugs, and performance issues. Testers shall perform different types of testing like unit testing, performance testing, etc. to ensure that the app is reliable and works as expected.
#Deployment
Once the app passes all the tests and is iterated, it is deployed and launched on the app stores. Here, the developers need to ensure that the fitness app is optimized as per the guidelines of the app stores.
It is also important to note that here, investors will need a marketing strategy and will have to implement it in order to reach its target audience and increase its visibility.
#Support and Maintenance
Sustenance of an app requires proper maintenance and relentless support, both technical and non-technical. That's why investors need to ensure that when they hire mobile app developers from their chosen company, they discuss post-development support.
Support and maintenance services include:
– monitoring, gathering, and working on user feedback
– addressing technical issues immediately
– upgrading the app with the latest software updates
– adding new features to ensure its relevancy in the app market
Cost of Fitness App Development
The cost of fitness app development varies greatly from type to type and depends on several factors. Some of the major factors are:
– app complexity
– app features
– the development company and your chosen hiring models
– the duration of post-deployment services
On average, you can say that the basic cost incurred for a fitness app can range from $15000 to $30000 (for the most basic kinds). But this will increase if you're aiming for an advanced app with more complex functions as that will need more integration.
Apart from the development cost, you will also need to consider additional and ongoing expenses like marketing, maintenance, hosting, server, software updates, and customer support.
Final Words
The virtual fitness industry has grown by leaps and bounds owing to the strict norms of the pandemic. As the healthcare industry continues to grow at a rapid pace, the demand for fitness applications is also expected to grow with it.
By having a basic idea about the different types of fitness apps along with the core development process and associated costs, investors can make informed decisions and start on their development journey with a proper strategy.
However, fitness app development is more complex than it sounds which is why it is wise to collaborate with an experienced and established mobile application development company.
The right one will provide you with a skilled team so that you can have a feature-rich fitness application developed within your budget.