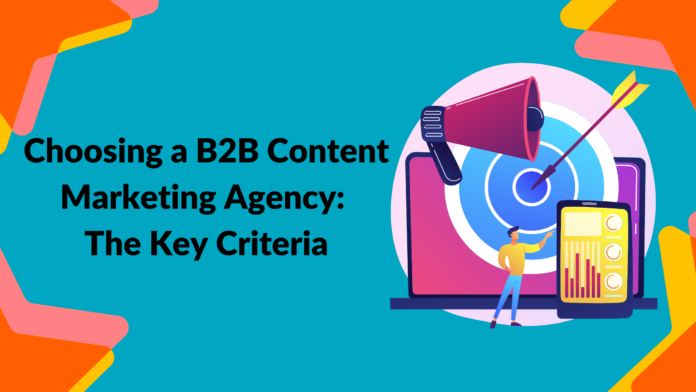 If you work in B2B marketing, content marketing must be significant in your overall marketing plan.
For a very long time, content has reigned supreme. Its rule might never come to an end. Yet, many more B2B companies are starting to invest even more in their content marketing initiatives due to recent events.
Someone might be telling you, "Hey, we need to develop content," given this resurgence in interest.
Great! But it's simpler said than done.
Sure, you can start blogging and making infographics, but you need more than simply production. Plan beforehand, please.
The issue is that developing a targeted content strategy and producing content that adds value for your audience requires significant time, money, and expertise. A B2B content marketing company can be useful in this situation.
B2B content marketing is now a crucial component of any company's growth strategy in the current digital era. It aids businesses in connecting with potential clients, enhancing brand recognition, and establishing their authority and thought leadership within their sector. To assist them in accomplishing their objectives, many organizations turn to B2B content marketing services because developing and implementing an effective content marketing campaign is no simple task. But how can you pick the best agency when so many of them exist? The following are the main factors to consider when choosing a B2B content marketing agency.
About A Content Marketing Agency
A content marketing agency is a business that specializes in producing and disseminating valuable, pertinent, and consistent material to draw in and keep an audience with a certain target demographic. A content marketing agency's main objective is to assist organizations in creating high-quality content that connects with their target market and increases brand awareness, authority, and lead generation.
Content strategy formulation, content generation, distribution, promotion, analytics, reporting, and continuing content optimization are typical services content marketing agencies provide. To produce content consistent with their customers' brands' messaging and encourages desired actions, they work closely with them to understand their client's business objectives, target audiences, and market trends.
Content marketing is important because it allows businesses to engage with their target audience, establish their brand identity, and drive profitable customer action through the creation and distribution of valuable and relevant content.
Here are some of the key criteria that should be taken into consideration while choosing a B2B content marketing agency.
Success with a Proven Track Record
When choosing a B2B content marketing agency, it's crucial to take their track record of success into account. Request case studies and references from the agency regarding their prior work. Look for evidence of profitable marketing and happy customers. You may also seek recognition or awards the company has won in the industry. A successful agency will be pleased to share its track record with prospective clients and will be proud of it.
Content marketing helps businesses create valuable and relevant content that attracts and engages the target audience, builds brand awareness, establishes credibility and authority, and drives profitable customer action.
Ability to Create Content
Any content marketing campaign's foundation is content development. Seek a B2B content marketing company employing talented writers, designers, and videographers as content producers. Inquire about the company's content creation and content strategy methods. Also, confirm that the agency has the ability to provide content in a range of formats, such as blog articles, infographics, videos, and white papers. You can reach and retain your target audience using various content forms.
Data-Driven Methodology
Data is essential for making data-driven decisions in a content marketing campaign. Search for a B2B content marketing company that bases its strategies on data. They ought to be able to give you statistics and reports that demonstrate the results of their content marketing initiatives. You may use this information to confirm that your marketing approach is effective and you are getting a return on your investment.
Cooperation and Communication
An effective B2B content marketing campaign depends on effective communication and teamwork. Choose a company whose approach to dealing with clients is open and transparent and places high importance on communication and collaboration. They ought to be eager to collaborate together with your team to comprehend your enterprise and its objectives. They should also be receptive and amenable to communication so that you can modify your campaign or rapidly resolve any issues.
Knowledge of Your Industry
Hiring a B2B content marketing company with experience and knowledge in your sector is crucial. A content marketing business that comprehends these intricacies can produce campaigns that are more successful because every sector has its own special issues and subtleties. Inquire about the agency's expertise working with businesses in your sector and request case studies or examples of their previous work. This can assist you get a better understanding of their abilities and decide if they're a good fit for your company.
Ending Thought
The success of your marketing plan depends on selecting the best B2B content marketing agency. Think about the agency's experience in your business, its track record of success, its capacity for producing content, its data-driven methodology, and its aptitude for collaboration and communication. You can choose an agency that will assist you in achieving your marketing objectives and expanding your company by carefully weighing these elements.
Author's Bio:
Vivek Sharma is a digital marketing specialist at India's leading SEO service company, Better Graph. He often reviews digital marketing strategies for clients with the SEO team and is actively involved in SEO. He regularly consults, trains, and speaks on SEO, PPC, and local search techniques.