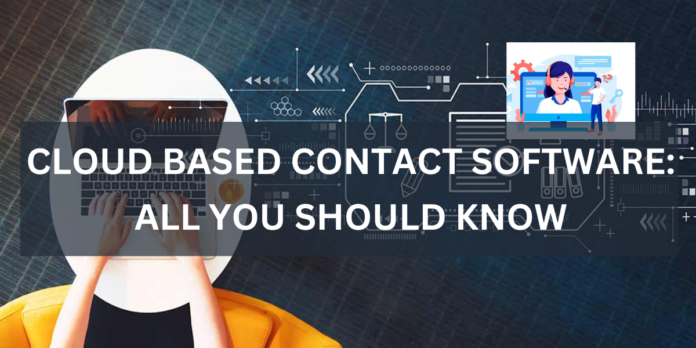 A system for managing client calls and online interactions is known as a cloud call center. In a cloud environment, call center employees are not limited to working from their workplace, instead, they can operate from any location in the world.
This is because cloud-based contact center software is accessible anywhere there is an internet connection. However, this is not the case for conventional contact center software, which agents access from their desks in an onsite location.
Through a cloud-based contact center software tool, customer service representatives are able to see all the customer information in just a single dashboard. It enables agents to deliver seamless service across channels and even move between them as necessary.
When agents have the appropriate information at the right moment, they can resolve issues quickly. And it offers more individualized service, which is appreciated by clients. And to further upgrade customer experience, choose an omnichannel contact center system that will allow you to expand communication channels as a result
What Is a Cloud Contact Center?
A cloud-based call center is a web-based software used to manage inbound and outgoing communications for a business.
Cloud-based call center software can significantly cut your expenses. They can boost your service capacity. They can also raise your service levels, and increase customer satisfaction. Additionally, real-time reports provide you with a fresh view of your performance so you can continuously get better.
Cloud call center technology doesn't require a physical space to be housed because it is hosted there. This also means that it can be accessed at any time and from any location. These give you the freedom to hire remote workers anywhere in the world and increase your workforce as necessary to meet demand.
Additionally, it has workforce optimization features that can assist you to manage staff. Reporting tools let you identify your most lucrative expansion prospects.
Important Characteristics of a Cloud-Based Call Center Software
The automatic call distributor (ACD) and interactive voice response (IVR) system are foundational features of cloud-based call center software. However, cloud-based call center software is not just for audio calls. 
A cloud-based call center software should also serve as an omnichannel solution. This is because a cloud-based call center software should be able to manage communication channels such as email, SMS, and live chat. The following are prominent and essential features of a cloud-based call center software
Call Routing and Automatic Call Distribution
Cloud-based call center software has a lot of functions. These basic features may consist of call routing. Call routing directs incoming calls to the proper contact center representative. Another feature is automatic call distribution. It assists companies in distributing calls among contact center employees fairly.
Omnichannel Capabilities
In the future, your customer base can expand, and then you need to seek to serve them on their chosen channel, no matter where it is. However, it will be hard to manage all the platforms like WhatsApp, Facebook, Twitter, and Google's business communications individually.
Having an omnichannel contact center that allows for the addition of new channels is your best bet. An omnichannel contact center manages customer interactions from several channels in a way that enables users to switch between channels without interruption. 
To be effective, an omnichannel contact center needs the appropriate technologies. One such tool is an automatic call distributor that can route direct contacts from various channels.
An omnichannel contact center helps businesses to manage all their channels in one, which can pose a lot of benefits such as convenience and saving time.
Real-time Remote Monitoring
The flexibility of working from any location at any time is among the main advantages of cloud call center software. While the agents are operating from remote places, the supervisors must nevertheless keep an eye on their performance. This necessitates a solution that enables call center managers to perform capabilities
     

Call Quality Monitoring

: To make sure conversation quality criteria are being fulfilled, the supervisor can barge in, snoop about, confer, and take over a call.

Agent Performance Tracking: This will help to make wise judgments and keep track of the number of available agents. It will also help keep track of the number of calls they are handling, the wait time, the number of customers in the queue, etc.
Flexibility
The contact center in the Cloud Telephony must be adaptable and scalable. This means that you should be able to add or remove agents as needed for your business. This should be done without having to make a significant infrastructure investment. Omnichannel communication also makes cloud contact software flexible. This is because new communication channels can be easily added.
It's crucial to consider the level of customer assistance that a potential cloud call center vendor can provide. You don't want to be in a situation where you need to increase your agent count due to a high call volume but the vendor is taking too long. This hurts both the consumer experience and the perception of your brand.
Team Collaboration Features
Teamwork is particularly crucial because the agents are working digitally rather than in an office. To promote tribe learning, where more seasoned employees can assist less experienced ones.
Find a cloud call center solution that includes capabilities for team collaboration. Internal chat between agents and supervisors should be possible. It should have features like message broadcasting by the supervisor, a knowledge base, or an internal portal. Additionally, having onboarding training can assist everyone, especially new hires, get on the same page.
Other features include;
Analytics and reporting: enables businesses to use data analytics and insights to monitor the operation of their contact center.

Integrates with other applications, such as customer relationship management

(CRM) applications

.

Grammatical analysis

Technology that examines telephone conversations between call center personnel and customers.
The Benefits of Cloud-Based Contact Software
Adopting a cloud call center can significantly improve your capacity to satisfy client requests. It should also be able to expand your service offering, and safeguard your company as it expands. The software for cloud-based contact centers offers the following main advantages.
It Enhances the Client Experience
With each call, automation puts the information that agents need in front of them. This automatically eliminates the need for them to switch between different programs. 
Agents are equipped with the next best actions for each thanks to AI features like attitude analysis and speech analytics. These enable them to provide the level of personalization that tech-savvy clients want.
More Communication Channels
As demand increases and readiness permits, it is simple to "switch on" extra channels using cloud contact center software. This can be done without having to make significant infrastructure adjustments.
Reliability
Your brand's reputation could soon suffer if your system crashes during a time of high call demand. Because of this, uptime is highly important. You may achieve best-in-class uptime of 99.99% or more with the aid of a cloud contact center, ensuring that you are always accessible to customers.
Provides Efficient Customer Support and Helps Monitor Performance.
Cloud contact centers are accessible from anywhere at any time. This allows operators to handle customer inquiries.
With cloud-based contact centers, businesses can concentrate on effective agent performance. This will result in high productivity and good service standards.
It Is User-Friendly and Helps Increase Productivity
Cloud-based solutions set the standard for user-centric design and ease of use. This gives consumers access to cutting-edge technology that is praised for its advantages. 
Enhanced call monitoring is a feature of cloud-based contact centers, which increases productivity. Agent turnover can be decreased by using a single, integrated dashboard that is powered by cloud technologies.
Conclusion
Businesses of today require nimble technology and quick decision-making. As a result, customer service is improved to keep ahead of the competition. The public face of the company is now its cloud contact centers.
If carefully used, cloud contact center software offers a level of agility and transformational features. These features support business goals. High availability is built into the architecture of cloud-based contact centers. Customers will have more uptime as a result, which will lower customer service concerns and improve ROI.