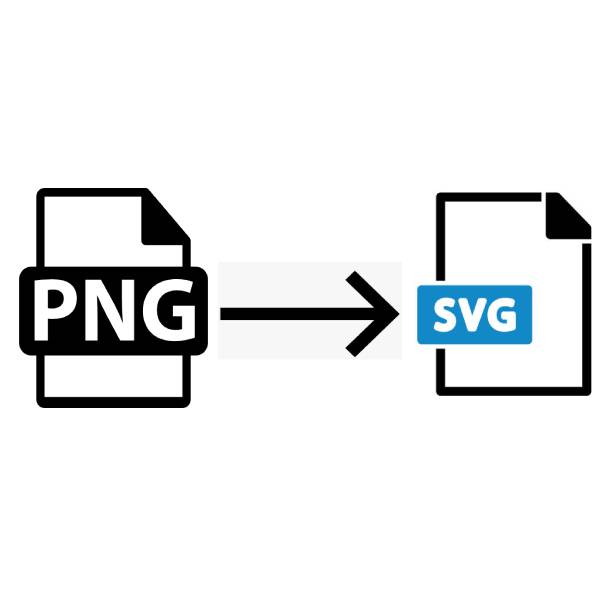 Yes, SVG (Scalable Vector Graphics) is made from mathematical paths that provide you with infinity scalability without losing clarity. This parameter makes the SVG vector file format superior to the PNG raster graphic file and other formats.
No doubt that there is a bunch of online PNG to SVG converter sources that let you save PNG raster as a vector SVG file. But we listed out a few best ways that work best for in particular conversion along with quality outcomes. Before knowing about them, let's take an overview of why you preferred such a raster to vector SVG conversions!
Read on!
Why Convert PNG to SVG Vector?
Although PNG raster images remain the best choice for photographs (just because of their deep color-depth), SVG vector formats are best for illustrations outcomes such as (logos, icons, and graphs). The infinite Scalability trait of SVG format makes it aesthetically pleasing for your artwork and that is the most obvious reason behind PNG image to SVG conversion. You can now convert PNG to SVG according to certain vector illustration presets from the source of theonlineconverter.com that provides a free version of the best PNG to SVG converter for its users.
Best Ways to Convert PNG to SVG:
Keep Scrolling Down!
 Inkscape:
If you are seeking free open-source vector graphics editor software, then Inkscape is the best utility that also works as a PNG to SVG converter. Don't fret since Inkscape is compatible with Linux, Windows, and macOS.
This software is packed with a wide range of tools that lets you make certain modifications to an existing PNG image before converting it to the SVG vector format.
How to Convert PNG to Vector SVG using Inkscape:
You just need to run Inkscape and simply choose the given "Open" option to quickly load a PNG raster image
Very next, you can use given drawing and editing tools to make any preferred modifications to an input PNG
Then, you simply have to move to Save as an option and choose the SVG file format
At last, all you need to tap on the OK button to save PNG as an SVG vector file
GIMP:
No matter whether you're using Windows, Linux, or macOS, GIMP works as a free PNG to SVG converter that lets you turn PNG into SVG for free of cost. Also, this utility works best to edit images of several formats including BMP, JPEG, TIFF, ICO, TGA, ODG, EMF, and much more. For editing concerns, you could fetch different tools such as layers, flip, resize, colors, color balance, exposure, paint tools, etc.
How to convert PNG to SVG with the help of GIMP:
Open GIMP and load your existing PNG image file by using its Open option
Now, there are certain editing tools through which you can easily make editing on an existing PNG file
Then, you simply have to move to the File menu > Export as an option and select the SVG vector as the output image format
In the last step, you need to hit the Export button to start the PNG to vector SVG conversion process
LibreOffice Draw:
Most online PNG to SVG converter sites also use LibreOffice for transforming PNG files to SVG image files. The great thing about this tool is that it lets you view, edit, and change PNG into SVG format at once. It provides you with certain options such as Color Fill, transformation tools, Text tools, Shapes, Symbols, and much more.
How to turn PNG into SVG with the use of LibreOffice Draw:
Launch LibreOffice Draw
Once launched, fetch the Open button to quickly upload a PNG image file
Very next, get a wide range of image editing tools to start editing for your image according to preference
Then, you need to choose SVG vector image format as the output format from the given Export menu
Hit the OK button and lets this tool perform a particular conversion process
Converseen:
This open-source PNG to SVG converter is only compatible with Windows and Linux. If you want to do batch image resizing, this software works best for you. You can now adjust the output image quality before conversions with the assistance of its Image Settings panel. Also, its Preview panel allows you to view all the input images that include different formats such as PIX, GID, JPG, DPX, PNG, EXR, and much more!
How to batch convert PNG to SVG with the use of Converseen:
To start, launch Converseen
Now, make a tap on the Open Images button to quickly load one or multiple PNG image files
Right after that, you have to move to the Convert to option and choose the SVG as output format
Then, you simply move to the given Image Settings to specify the output image quality
At last, you are just required to tap on the Convert button and lets this PNG to SVG converter start the process of converting PNG into SVG
RealWorld Paint:
Apart from creating drawings and different artwork, this PNG to SVG converter software lets you save PNG as an SVG vector file format. Also, it is indicated as the best way to edit/annotate input PNG raster image before turning it to the SVG vector file format. It offers a wide range of drawing and editing tools as well such as Brush, Shapes, Color Palette, Image Effects, Layers, Mask, and much more.
How to convert PNG to SVG with the use of RealWorld Paint:
Start this software right now and make a click on the Open button that lets you load a PNG image file
Very next, use a tool of your choice to make your desired modifications
Finally, you need to use the SVG As option that allows you to export the PNG image in vector SVG format
Thankfully, you explore different tools to convert PNG raster images to SVGs without distorting the quality. Stick any one of the mentioned tools and export your PNG in SVG vector format right now. Good Luck!