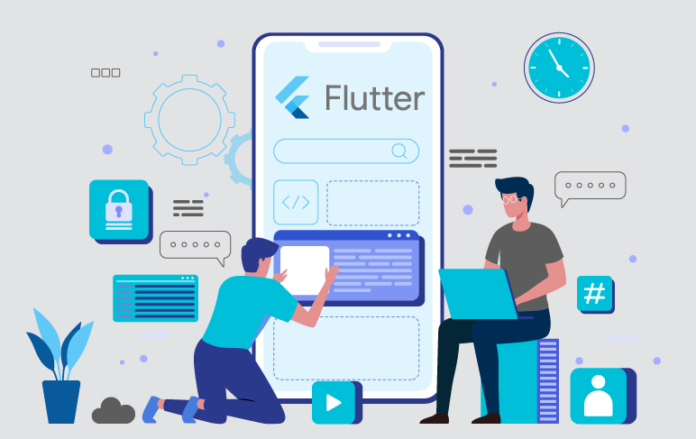 Flutter is a popular open-source mobile application development framework that enables developers to create high-performance apps for both Android and iOS platforms. Flutter uses the Dart programming language and provides a fast development cycle with its hot reload feature, which allows developers to instantly see the changes they make in the code. With its rich set of pre-built widgets and tools, Flutter offers a robust framework for building beautiful and responsive user interfaces, making it a popular choice for building modern, cross-platform mobile applications.
If you are planning to build a Flutter app, you will need to hire experienced Flutter developers who can help you bring your ideas to life. However, finding the right Flutter developers for your project can be a daunting task, especially if you are not familiar with the Flutter ecosystem. In this blog, we will guide you on how to hire Flutter app developers who can deliver high-quality apps on time and within budget.
Flutter is a popular choice for building high-quality, cross-platform mobile applications. It is used by developers to build mobile apps for both Android and iOS platforms, as well as web and desktop applications. Some of the industries where Flutter is widely used include:
E-commerce
Many online retailers use Flutter to build their mobile shopping apps, providing customers with a seamless shopping experience.
Healthcare
Healthcare providers use Flutter to develop apps that provide remote patient monitoring, telemedicine, and other health-related services.
Finance
Financial institutions use Flutter to build apps that provide mobile banking, investment management, and trading services to their customers.
Education
Educational institutions use Flutter to build apps that provide online learning, course management, and other educational services.
Entertainment
Media and entertainment companies use Flutter to build apps that provide streaming video and audio, social media sharing, and other interactive entertainment services.
Travel and Hospitality
Travel and hospitality companies use Flutter to build apps that provide travel booking, hotel reservations, and other travel-related services.
Overall, Flutter can be used in any industry that requires the development of high-quality, cross-platform mobile applications.
Once you have made up your mind to build a Flutter app, you should focus on hiring an expert team of service providers to help you transform your vision into a reality. In this blog, we'll provide a comprehensive guide to help you navigate the process of hiring dedicated Flutter developers.
Step 1: Define Your Requirements
Before you start looking for Flutter developers, you should do your homework and define your project requirements. Determine what kind of app you want to build, what features it should have, and what platforms it should support. Brainstorm different ideas and jot down the features and functionality your app can have. This will help you identify the skills and experience you need in a Flutter developer. You'll be able to ask the developers whether they have worked on similar projects or have the right skills and expertise to deliver the best solution that matches your exact requirements.
Step 2: Search for Flutter Developers
Once you've defined your requirements, you can start searching for dedicated Flutter developers. You can find developers through job boards, freelance platforms, or by searching on social media and professional networks. You can list your project requirements on different portals and the available Flutter developers for hire would contact you.
Step 3: Evaluate Candidates
Once you've identified potential candidates, it is advisable to interview them and evaluate their skills and experience. Look at their portfolio and previous work experience to determine if they have the necessary skills and experience to work on your project. Most of the agencies showcase their work samples on their website. If you are unable to find it on their website, feel free to ask them about their portfolio and work experience.
Step 4: Conduct Interviews
When you've narrowed down your list of candidates, conduct interviews to learn more about their experience and skills. Ask questions about their previous work, technical expertise, and problem-solving skills. You can also interview multiple developers and compare their expertise, service offerings and cost. This will help you determine if they are a good fit for your project.
Step 5: Check References
Before hiring a dedicated Flutter developer, check their references. Reach out to their previous clients or employers to learn more about their work ethic, reliability, and communication skills. You may also ask the service providers to help you with past or existing client references so that you can contact them and find out what type of services were offered by them.
Step 6: Negotiate Rates and Terms
Once you've identified the right candidate, negotiate rates and terms. Be sure to discuss the milestones, payment schedules, project timelines, and any other important details. It is not a good idea to pay someone the entire project cost upfront as it can be risky when you hire them for the first time. Make sure that you get everything in writing and sign the contract to make sure that everyone stays on the same page.
Step 7: Onboard and Manage Your Dedicated Flutter Developers
Once you've hired dedicated Flutter developers for your project, onboard them properly and manage them effectively. Provide them with the necessary tools and resources they need to work on your project, and establish clear communication channels to ensure that the project stays on track. Keep in touch with them on a regular basis and get project updates from them to check the progress of your project.
Wrap Up
In conclusion, hiring dedicated Flutter developers requires careful planning and evaluation. By defining your requirements, searching for candidates, evaluating their skills and experience, conducting interviews, checking references, negotiating rates and terms, and effectively managing your team, you can ensure that your Flutter project is a success. All it requires is a little research and time to talk to a few candidates and choose to hire the best one that would be the right fit for your project requirements.
 Author Bio:-
Himanshu is a digital marketing expert at Peerbits having a proven track record of delivering successful marketing campaigns for small and large businesses. He has huge expertise in strategic planning, brand development, content marketing, social media management, and e-commerce optimization. He is skilled at managing cross-functional teams, building strong relationships with clients, and staying up-to-date on the latest digital marketing trends and techniques. In his free time, he enjoys playing basketball, traveling, and trying out new restaurants in his city.