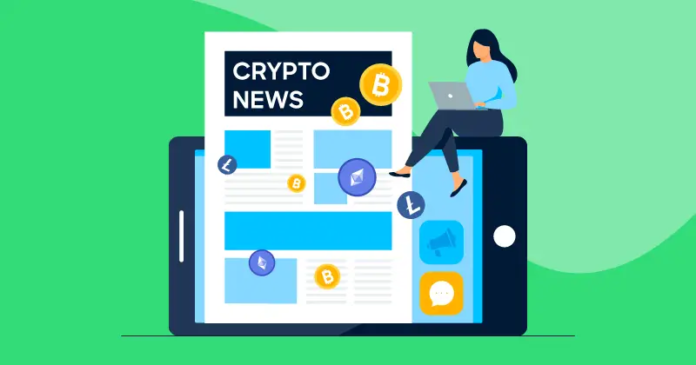 When it comes to the financial technology industry, two of the most exciting and cutting-edge areas are blockchain and cryptocurrencies. They're always moving forward, which presents both possibilities and problems for financiers, business owners, programmers, government officials, and end users. However, keeping up with the most recent trends and changes may be overwhelming with so much information and opinion available online. How do you choose which information sources are worth your time and effort? Keep reading for advice on how to monitor developments in the blockchain and cryptocurrency markets.
Why Staying Informed is Crucial?
Before delving into the top media sources for cryptocurrency news and information, it's essential to understand why staying informed is so important. Here are a few key reasons:
Volatile Markets: Cryptocurrency markets are notoriously volatile. Prices can fluctuate wildly in a short period, and being well-informed is essential for making informed investment decisions.
Regulatory Changes: Governments around the world are continually updating their cryptocurrency regulations. Staying informed about these changes is crucial, as they can affect the legality and accessibility of digital assets.
Technological Advancements: The blockchain and cryptocurrency space is evolving rapidly. New technologies, projects, and innovations are regularly introduced. Staying informed allows you to explore opportunities and understand the technology better.
Security Concerns: Cryptocurrency security is a paramount concern. Staying updated on the latest security threats, scams, and best practices can help you protect your assets.
Community and Network Updates: Cryptocurrency is driven by a passionate and active community. Keeping up with network upgrades, hard forks, and community sentiment can be essential for decision-making.
Now, let's explore the top media sources that can help you stay informed about cryptocurrency:
Coindesk
Among cryptocurrency news sites, CoinDesk is the most prominent. CoinDesk is a prominent media outlet, with material including news, in-depth market analysis, expert commentary, and more. CoinDesk, a popular source for cryptocurrency news and analysis, often releases podcasts on a wide variety of topics, including the current state of the market, the development of Ethereum, "Money Reimagined," and more. CoinDesk.TV has daily films covering the news of the day and other pertinent articles if you're more of a visual learner.
Furthermore, their "The Node" newsletter provides a daily summary of developments in the world of cryptocurrencies. Finally, CoinDesk is working on its own research while also spotlighting the leading crypto research businesses in the field through its hub.
Coingape
Founded and operated by a team of full-time crypto enthusiasts, CoinGape's mission is to serve the cryptocurrency community by covering the latest developments in the industry. CoinGape is a cryptocurrency news platform that also features in-depth project evaluations, market and price analysis articles, interviews, and other editorial material designed to benefit the crypto community at large.
UToday
U.Today was established in 2017 and headquartered in Dubai; it is a worldwide media company focusing on explaining the impact of emerging technologies. U.Today is committed to the standards of responsible journalism, which include objectivity, thoroughness, and clarity, in order to serve the growing audience interested in, and interested in, contributing to, the development of cutting-edge technologies.
For the benefit of everybody, they work to disseminate knowledge, impart wisdom, foster cooperation, and encourage best practices. Every day, millions of people across the world have instant access to U.Today's global news coverage.
The Block
When it comes to crypto-related news and analysis, The Block is unrivaled. The magazine stands out from the crowd thanks to its in-depth crypto articles and evidence-based commentary.
In addition, The Block does original research, releasing a number of studies on the sector and drawing on them to bolster their pieces. Their in-depth studies on cryptocurrencies like Bitcoin and Ethereum as well as decentralized finance and new tokens issued by central banks may be found there.
The Block relies heavily on publicly accessible data and indicators for its analysis of the cryptocurrency markets. The Block's "the Scoop" podcast features in-depth interviews with prominent cryptocurrency specialists and is published with the daily Bitcoin news and research.
CoinDesk 
Cointelegraph began publishing in 2013. As one of the first crypto media channels, CT has expanded to publish in a variety of languages and regions.
Now, it regularly ranks among the top crypto news sources online. Every day, CT reports on the latest developments in the Blockchain and cryptocurrency industries and publishes opinion articles and the thoughts of industry experts.
Cointelegraph is a cryptocurrency news site that also provides in-depth market and price research for prominent digital currencies like Bitcoin and Ethereum. Cointelegraph Magazine's features are the best place to read in-depth, literary crypto tales.
Decrypt
If you're looking for the latest and greatest in crypto news, go no further than Decrypt. As well as price research, you can look forward to reading opinion articles on crypto, Blockchain, and other everyday market-moving themes.
They also put a lot of effort into their instructional material, consisting of lengthy papers that detail various crypto protocols and technologies. DeFi, Proof-of-Stake, non-fungible tokens, and new tokens are only some of the subjects that will be discussed in these areas.
Blockworks
Blockworks is an online publication covering the cryptocurrency industry. From the latest in DeFi research and industry news to discussions of how cryptocurrency is regulated and the Metaverse, Blockworks covers it all. Additionally, they cover topics such as macro markets, financial services, and asset management news. Blockworks is the place to go for in-depth reporting, cutting-edge analysis, and timely updates.
Bitcoin Magazine
Bitcoin Magazine was one of the first publications to cover the cryptocurrency market. This Bitcoin-centric newspaper was co-created by Vitalik Buterin, a co-founder of Ethereum.
You can count on in-depth features and breaking news updates relating to Bitcoin and the blockchain. For those who are interested in learning more about cryptocurrency, Bitcoin Magazine has a wealth of information beyond just the latest headlines.
Bankless
Introducing some interesting new alternatives to conventional banking and investing goods, Bankless is a fascinating new endeavor. Their newsletter and podcast dissect all the nuances of decentralizing one's finances.
Decentralized Finance (DeFi) and Ethereum are the primary topics covered in its weekly. Many crypto specialists will be talking about these subjects and more on the Bankless podcast.
Conclusion
In the fast-paced world of cryptocurrency and blockchain technology, staying informed is not just beneficial—it's essential. The top media sources mentioned in this guide can help you navigate this dynamic landscape, whether you're an investor, trader, or simply someone interested in the technology. To make the most of these sources, it's essential to cross-reference information, conduct thorough research, and always exercise caution, as the cryptocurrency space is also susceptible to misinformation and scams. Staying informed is a continuous process, and by leveraging these media sources, you'll be better equipped to make informed decisions and engage with the crypto community effectively.