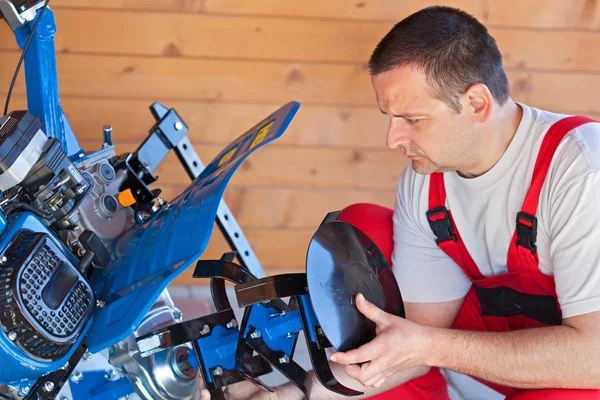 Agriculture, an essential process to sustain life, involves crop production by farmers. With roots dating back to ancient civilizations, agriculture has evolved over time, and modern technology has facilitated better farming techniques resulting in increased production. To enhance productivity, farmers can mechanize the agricultural process using modern equipment such as tractors, which reduce the need for manual labor and save time. Top tractor models offer the latest advancements in agricultural technology, enabling farmers to produce more crops and generate higher income. For information about tractors, one can refer to various sources online.
Benefits of Using Modern Technology in Agriculture
improvement in Agricultural Methods: The improvements come in the area of land reclamation and the prevention of soil erosion. By using tractors, farmers can cover a big area in a short time.
Reduces Labour Shortage: At present, very few people want agriculture jobs so there is a shortage of labour. The usage of agriculture machines like tractors, cultivators, and harvesters can reduce the dependency on human resources and improve the quality of life of the farmers.
Proper land usage: Using machines also results in good usage of agricultural land. The utilization of tractors prompts great agricultural production and also facilitates easy transportation. 
Higher Farm Income: Mechanization in agriculture led to a new revolution in India. Most of the people in India are still dependent on the traditional way of agriculture. However, when they started using new tools like tractors, ploughs, and cultivators then they were able to produce more crops. It helped in increasing income. 
As land type and farming are not the same everywhere, farmers have to choose the required machine and their usage carefully. Agro machinery and Tools must be appropriate for the farmer's demands and requirements. By choosing the right farm machinery, farmers may save money, boost their incomes, and grow more crops with less work. Now we are going to discuss the type and usage of agricultural machines one by one. 
Popular Agricultural Machines and their Usage 
Tractor: Tractors are undoubtedly the best friend of farmers nowadays, as no modern farmer can envision agricultural practices without them. Serving as the primary farm machinery, tractors often power most of the other agriculture machines used on the farm. A tractor can be operated like a regular vehicle, but its true potential lies in its ability to connect with the right implements for specific purposes. When it comes to selecting the right tractor, farmers can choose from a range of horsepower options to suit their needs. In the best information about tractors, it is worth noting that they are highly efficient machines that save farmers a great deal of time and energy, making them the top choice for any agricultural operation.
Cultivator:  As everyone knows, farming is a step-by-step process and its first stage is the soil preparation and land mining. A cultivator is a piece of agricultural equipment used for secondary tillage. It helps to break down the piece of soil and also mix it. Also, tractors power this farming tool, and various cultivators have different tractor HP ranges. 
Plough:  Ploughs are crucial modern agriculture machines used for primary tillage. Their function is to break up the soil for better soil fertility. It brings out the nutrients trapped inside the deep layers of land. The good thing about using a plough is that it can eliminate unwanted plants, which are harmful to plants or crops. 
Tractor Trailer: The trailer is an attachment implemented through PTO in the back part of the tractor. It is best used for transportation and carrying heavy crops from one place to another.
Seed Drill: A seed drill is a machine used in farming that sows seeds for crops by positioning them in the soil and burying them to a specific depth. The good thing is that they drop seeds in a uniform way so it is easy for farmers to spray fertilisers or cut crops. 
Rotavator: This machine is very popular among Farmers. Rotavator is a tractor-drawn implement which is mainly used for seed distribution within one or two lines and is suitable for removing & mixing residual maize, wheat, and sugarcane. It has a blade so it cuts hard soil and also mixes it. 
Trailer sprayer: Agriculture sprayers are often used for applying water and water chemical solutions containing acids or caustic materials for better crop performance and distribution of fertilizers and pesticides.
Tractor Combine Harvester: Harvester is a multi-use agricultural machine used to obtain crop production by threshing, reaping and cleaning the crops in one operation. This farming machine saves time and helps to gain higher income. This combine harvester makes work more efficient. 
These are some popular agriculture machines and their usage but you need to choose the right farming machine and buy From the right place. Both are important factors so here are some tips to consider. 
How to choose Farming Machine?
First Examine the Machine's Design: Scrutinize all technical parameters carefully like machine settings, vibrations, wear points, and noise, as these should all be considered for the machine use.
Availability Of Service Centre:  It is an important point to identify which brand of farm machinery dealer is nearest to your place so farmers can find them in any emergency. 
Fuel Efficiency: Generally, agricultural machines depend on energy substances like diesel so farmers must keep in mind that farming equipment is fuel efficient and provides long working Hours. 
Where to Buy Farming or Agricultural Machines
?
This is also an important point where a farmer should buy the right machine which suits their budget and is also easily available. The Indian market is full of various branded farming equipment like Mahindra, John Deere, Messy Furguson, Sonalika, New Holland, Kubota, Swaraj, and many more. So before buying any agricultural tools, farmers can compare each and every brand price with a single click on the internet. Yes, Tractorkarvan is an online platform where farmers get all farming or agricultural machine information free of cost. They can also connect to the nearest authorized dealer. So all Indian Farmers should multiply their income by using the right machinery for their farming which helps to increase the production of crops for Indian people.