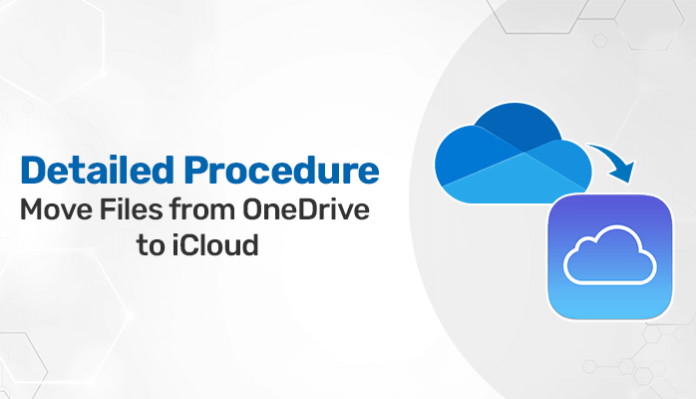 Summary: Cloud services made eased to store a large amount of data as compared to storing on a hard drive. You can easily access the stored data on the cloud from anywhere and anytime. In this article, we will discuss cloud services and a related query about how to move files from OneDrive to iCloud directly, for this, you can perform a manual method as well as an advanced approach OneDrive Migration Tool through which you can also migrate data from OneDrive to OneDrive.
OneDrive offers a cloud platform for storing data with 5 GB of free storage provided by Microsoft. You can store many data elements like photos, videos, audio, files, etc. On the other hand, iCloud also provides a cloud service to keep the data safe and can be accessed at any time. It is developed by Apple Inc and provides free storage of 5 Giga Bytes by signing up for every user. Sometimes, users want to switch from MS OneDrive to iCloud for many reasons and wish to move files from OneDrive to iCloud. Look out for the reasons behind it in the following section.
Why Transfer from OneDrive to iCloud?
There may be various reasons behind it one of the common reasons is that users want to free up their OneDrive space by transferring the files to iCloud for storing their other crucial files. Another reason occurs when users switch the OS from Windows to Mac and want to access the files on all iOS devices like iPhones, iPads, etc, by moving all their files from Microsoft OneDrive to iCloud. Now, after considering the reasons, move forward to know how to copy OneDrive data elements to iCloud manually.
Native Method to Move Files from OneDrive to iCloud
Here, we will discuss the manual technique to solve the given query. As a solution, we will use the Downloading and Uploading method. With this method, we need to download the files from OneDrive and after that, upload them to iCloud Drive either on Mac or Windows. Now, let's go consider the steps to accomplish the given task.
Sign in

to your OneDrive account by going to https://onedrive.live.com/

.

After that,

select the file

which you wish to transfer and hit the

Download

button.

Here, the file is downloaded to your local storage.

Thereafter,

log in

to the

iCloud

webmail by providing your correct Apple ID credentials.
[
Note:
If you don't have a Mac system use the iCloud webmail on your Windows by login on any browser you have, otherwise use iCloud mail on your MacOS]
Next, click on the

Upload

icon and select the

downloaded files,

and hit

Open

.

Now, you can see the files from OneDrive to iCloud Drive have been successfully transferred.
After performing the above-described stepwise procedures of the manual method, you can easily do OneDrive to iCloud transfer. But the manual process does not allow to transfer of bulk data at a time, you need to download the file one by one from OneDrive and upload them to iCloud. Consequently, it looks like a time-taking and tedious method therefore, users started to seek a straightforward approach to execute the given task.
Quick Approach to Move Files from OneDrive to iCloud
Microsoft OneDrive Backup Tool is a trustworthy solution that provides you with a great way to transfer files from OneDrive to iCloud. Also, it allows you to move the files from OneDrive to another Drive or Google Drive account directly. Moreover, you can back up all the files from OneDrive and save them to a local drive. Now, go to the next step to see how the tool works.
Conclusion
By following this guide, you can execute the task of moving the files to iCloud from OneDrive. You can use either the Manual or Professional method as your desire. But, for error-free and quick results switch to an advanced approach that will provide you with a proficient way to move files from OneDrive to iCloud.