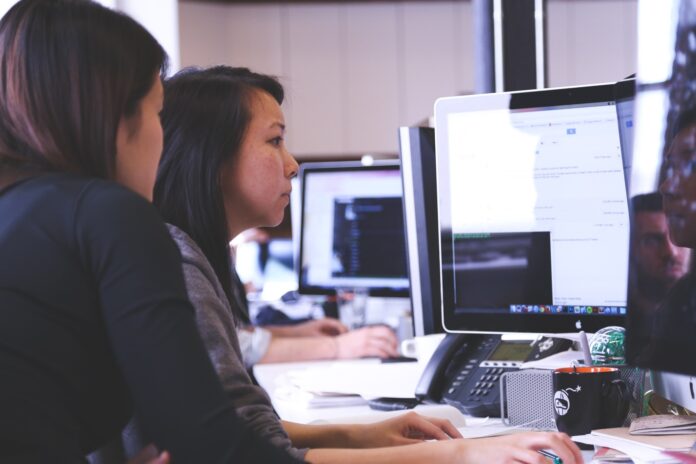 Technology like Near Field Communication is ruling the eCommerce marketing domain because of its advantages and the convenience it has brought to make things like payment easier. Let's talk about what it is and how it is beneficial for upgrading business methods and techniques during the time and period twenty-first century. In this article, we will also discuss the usefulness of NFC as a business marketing technology.
How can NFC be defined?
Near Field Communication (NFC) is an evolved RFID technology that enables data transfer between two gadgets with a single tap. This kind of technology requires the location of two NFC supporting devices at a distance of a few centimeters. The plus point of this kind of technology is that it is an in-built technology in many electronic devices, including smartphones, tablets, smart signage and smart cards.
How does the NFC Technology Works?
The NFC system is quite easy to use by both businesses and consumers. Suppose a business release a smart sign or poster for their product, users with NFC-enabled devices can quickly access the information by tapping. Every NFC sticker or tag has a URL attached to it, and any technologically advanced device that connects to this URL via the cloud server can access it. The use of the NFC system is equal to the QR code system.
How can NFC Marketing be defined?
A technology like NFC adds ease to marketing and businesses. Through a single touch and tap to NFC-supporting devices, consumers and customers can make payments with a single touch get information and reviews of the products and items. This technology can be used to avail entertainment services in business domains like cinemas and amusement parks to access different amusement programs without the hassle of individual payment and ticket buying.
How is NFC Beneficial for the Business Growth?
NFC as a business marketing technique is an efficient robotic method to reach the customers' needs by providing them with sufficient information about the products, including size, color and other product-related information, the prices of the products, to aware the customers of the prior users' reviews and ratings just through a single tap without dealing with the hectic of employing salespersons and assistance.
Increases the Sales:
Some products' packaging can include NFC stickers so that consumers can tap them to place online orders for more. This is advantageous since it brings visitors to the website, especially when appropriately promoted, and lets buyers know about this option. Utilizing NFC to promote repeat business lessens customers' likelihood of shopping around while filling their stock. As a loyalty program, adding discount codes to landing pages accessible through NFC stickers might further drive repeat business.
Efficient Payment Transfer:
You may share any information or material on your screen with other NFC-capable devices using this unique data and payment transfer capability. Touching the backs of the two devices was required to accept the transfer prompt. Android Beam was recently abandoned in favor of Nearby Share, which uses Bluetooth and Wi-Fi Direct. By employing this technology in their outlets, business companies can cope with the problem of employing cashiers and involving the customers in making queues to transfer and pay money.
Tracks Product Delivery Related Information:
NFC technology can collect customer engagement data, provide insights, and understand the types of consumers who use a brand's products and how and when they are used. By creating NFC-enabled products, for instance, businesses may estimate the time it takes for their products to arrive at retail locations and plan their advertising efforts appropriately.
Knowing when to launch a marketing campaign can help a company avoid wasting money on advertisements and promotions while its products are still in the warehouse and not on the shelves. Without these insights, there is a high likelihood that businesses will lose money on ill-timed advertising initiatives.
Attracts More Customers through Technology's Efficient Service:
The use of NFC as a business marketing technology is wondrous. As discussed before, you can use this technology to give your customers sufficient information about the product. The best product reviews in a flash sale will attract buyers immediately. Additionally, it may help your products receive better ratings. It can be useful to provide extra details about a product available online. You can make the most daily sales if a customer provides efficient sales services during peak sales hours.
Helps Customers Keep in Touch with Loyalty Programs:
Additionally, you can use NFC to sign up your devoted consumers for a loyalty program that would encourage them to stick around. Customers can enroll and earn points automatically with subsequent purchases by using NFC at checkout kiosks and POS machines.
Make Creation of Advertisements Easy:
In addition to increasing engagement through tags integrated into the merchandise and stores, adverts can also increase engagement. NFC stickers can be placed on banners and signs to create interactive business advertisements. Customers may learn more about the products featured in the advertisements, watch product-specific videos, find the locations of neighboring retailers, and more by tapping the stickers; providing vouchers after the interactive campaign makes it possible to encourage participation in such programs.
Helps Customers Purchase More Pertinent Products:
It's beneficial to have a choice because retail venues frequently have restrictions preventing many firms from displaying their large stock adequately. Businesses can show clients their stocks by using NFC tags to provide connections to specific web pages that exhibit variations of a presented product. Vouchers that provide incentives for doing so on-site could boost engagement and influence in-person and online purchases.
Final Thoughts:
Automation like NFC is undoubtedly revolutionary in the area of eCommerce, and it provides ease in shopping for shoppers and brings ease in transactions for businesses. This technology is imminent to be seen everywhere in a few decades and hopefully would play a vital role in the flourishing of businesses and would be another benchmark in the field of technology and automation.
Author Bio: Bailey Stokes is a content marketer who works for Affiliate Marketing – Discount and Voucher Codes Providing Platform. A writer by day and a reader by night; He is striving to make the most of the new opportunities that comes in his way and excels in everything he does.