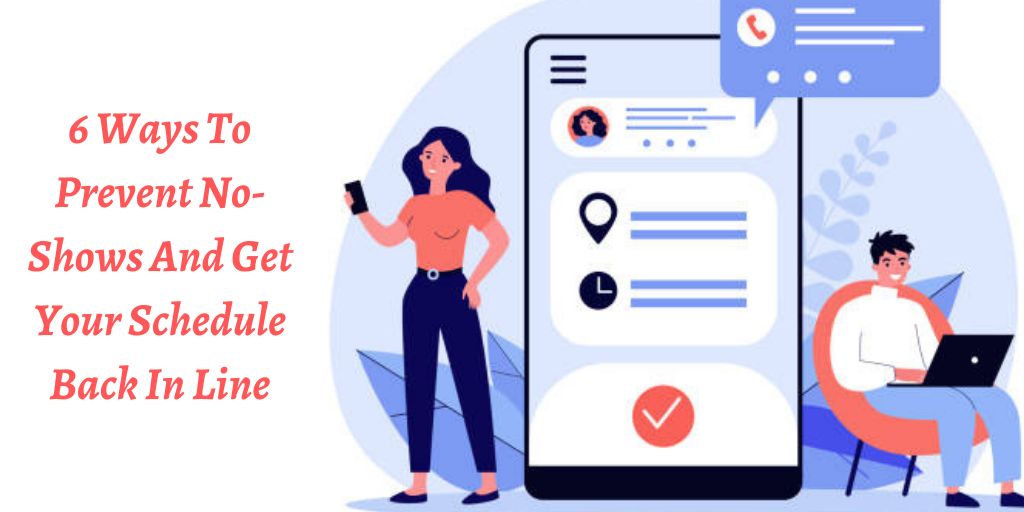 Without a doubt, any industry suffers from missed appointments. The reason could be anything, but it always happens that we all miss the appointments sometimes.
Are you dealing in a service provider industry?
Appointment no-shows might be your everyday deal. Also, you will agree with the fact that the no-shows are one of the main reasons for reduced sales and ROI.
For entrepreneurs or small businesses, managing appointments, acquiring new clientele, while keeping up with the business growth is challenging. Here, simply implementing the online appointment scheduling software for business can help eliminate the no-shows. In addition, tracking the canceled appointment can help better decide on what timings or days you can overbook and when to take lesser appointment requests. It helps to build a strategy for how the staff can handle the customers who do not show up for appointments.
So, no matter what industry you serve, let us walk you through how you may get customers to commit to their service bookings.
How to Reduce No-Shows and Get the Schedule Back in Line?
Decrease Time Between Appointment Scheduling and Visit Time
One efficient approach to reducing no-shows is cutting down the wait times, be it remotely or on-premises. After all, no matter if it is the healthcare industry or any other service niche, customers expect quick service.
If they have to wait for long in a queue, the chances of them abandoning the services in between increases. Hence, integrating a scheduling software that features notifications and alerts on the turn can be the key. Also, a virtual queuing solution can be ideal to reduce the hassles of physical queues.
In simple terms, you will be able to deliver the waiting convenience for the visitors. Thus, decreasing the no-show rates.
Establish Successful No-Show Policy
The best practice is to avoid whenever and wherever the no-shows are possible. However, there will always be times when customers may fail to show up.
So, here are a few examples that you can implement to your no-show policy.
Clear Fee: Many businesses include the clear fee as part of their no-show policy. In this rule, whenever the customer or visitor will miss the appointment, they will be charged an extra fee.
Fee Refunded Upon Appointment Rescheduling: A small fee is applied to the customer's account if they cancel their reservation. When they reschedule the appointment and visit for the services on time, the fee is returned.
Send Personalized Welcome Messages to the Visitors
Not taking the visits urgently results in a lack of responsibility. There can be a chance that the customer has no urgency to get the services. Thus, making them miss the appointment.
Hence, to avoid experiencing consumer no-shows, create a timetable. Communicate your goals behind it. Include everything from what customers can expect from your business, the booked date, the locations, and more. Therefore, the chances of people responding to such details increase.
In simple terms, make it clear to the customers why an appointment is essential. This way, the chances of cancellations will be minimized.
Ensure Flexibility of Rescheduling, Appointment Booking, and Cancelation
When the customers face too many hassles in rescheduling their visits, they prefer not booking the services again with the specific brand. Of course, it means you are gonna lose one lead, conversion, or a simple interaction.
Hence, enhancing the rescheduling policy is the key. Make it more flexible to eliminate the hassles that make people cancel their bookings.
Of course, when people find it easy to reschedule their visits without making calls or in-person visits, the experience becomes less hectic. The prospects will be more dedicated to their appointment and needs.
Integrate Appointment Scheduling Software
This is the world of digitization. If you are still managing the bookings via pen and paper, this would be the only reason for no-shows and business failure. No matter if you have a detailed plan for all the appointments, you will still fall behind in benefiting from other features online tools have to offer.
The appointment software and other scheduling tools help to eliminate the need to exchange the timings and dates when booking a visit. Using online appointment software eases customer management, reduces no-shows, and makes appointment rescheduling convenient.
You can simply share the online calendar link with prospects or customers. This will not only make it convenient for customers to schedule bookings but reminder texts or emails can be automated. Thus, eliminating no-shows.
In addition, you can use messaging software or tools. These will better help in sending personalized messages or reminders to a huge clientele at once.
Additional Efficient Tips to Creating Booking Reminders
Stay connected with the customers who have booked the visits in advance as there are chances that they might forget. It could be one or two months before.
When sending email reminders, do share the cancellation policy. Inform the prospects about cancellation charges, no-show additional charges, and refund rules.
In appointment reminders, add the service booked, visit time and date, and the location.
Even the technology has reached that advanced level where instruction to reminders can be automated. Instead of sending alerts to a single individual, you can create a reminder and schedule them for a specific time. This will save time and reduce the need for appointment canceling or rescheduling.
Summing Up
To conclude, no-shows are costly, annoying, and can hinder staff productivity. Hence, investing some time in implementing these tips would be great. It will ease the appointment scheduling concerns and help you run the business more profitably. Also, implement scheduling software. It will help you predict the chances of no-shows and help you prevent the same. Thus, increasing the ROI and business growth. Moreover, the staff will need not stay more focused on filling the appointment at the last minute. Plus, the customers will stay satisfied having a better experience with your brand.
Hope you find this write-up helpful!!
In case, you have already implemented a software solution to reduce the probabilities of no-shows in your business, do share the experience with us.
Thanks for Reading!!
Author Bio
Yi Ling Chen is a passionate writer associated with AppointEze since 2018. She spends most of her leisure time reading novels, traveling the world, and learning new things. She writes on technology and software-related topics that helps businesses to grow.