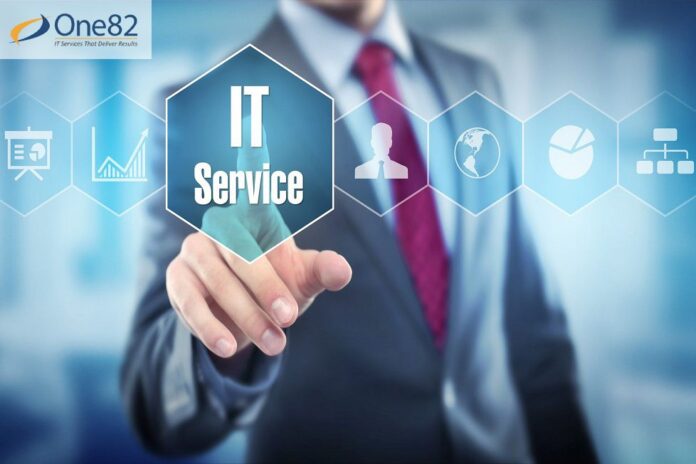 In this modern age, performing new projects and delivering quick tech solutions to the organization plays a vital role in the business's success and growth. However, few companies struggle to meet their tech-project deadlines and the cause could be comprehensive. Outsourcing your projects and software is a great way to support business growth and productivity. But unfortunately, choosing any outsourced IT desk services companies might do more harm than good.
So, we did some research and compiled some information for you to understand more about how IT outsourcing services can help your organization grow more swiftly.
This post will cover the following topics:
Ø  What is IT outsourcing?
Ø  Types of IT outsourcing
Ø  Factors that will help you to choose the right IT outsourcing company
Ø  Merits of IT outsourcing services
Let's start this guide with some primary details.
Overview of IT Outsourcing
IT outsourcing is a business practice of using an external service provider to distribute some and all of the IT solutions required by a business consisting of directing strategy, managing infrastructure, and running the service desk.
IT outsourcing companies started as a cost-saving activity and have now drastically grown into a trend for businesses to explore untapped outsourcing benefits. A company may use one provider for all its IT requirements or multiple service providers to support different elements.
Depending on the convenience and needs, businesses decide to outsource. These demands can be determined by long-term planning or by attaining short-term goals. When organizations are considering other firms of the same category and the same type of offering, it is essential to pick one kind of model from many. In the next part, let's learn the types of IT outsourcing.
 3 Main Types of IT outsourcing
There are three significant types of outsourcing model, which includes:
Onshore outsourcing– It is the process of accommodating experienced professionals that are situated within your place. Any business engagement will be between two companies located within the same geographic region. There is inflated demand for onshore outsourcing because it saves time and reduces traveling costs.
Offshore outsourcing– It means that your remote IT support will be based overseas. This outsourced IT approves businesses to take advantage of tax savings and the lower running costs connected with an overseas workforce.
Nearshore outsourcing– Nearshore explains that your IT support will be based in a nearby country or region with the same time zone. This option can be easier for you to communicate with developers. This makes it very accessible to get the support at the time you need it.
At this point, you have the basic knowledge about IT outsourced services. So, now let's discuss the advantages of outsourcing IT services for business success.
 5 Benefits of IT Outsourcing Services
There are numerous advantages of outsourcing to third-party providers that are provided to businesses with IT-managed services. These services can be appropriate for a full-scale IT department or to add an existing IT team to enable them to focus on larger-scale company issues.
A few perks include:
Control IT costs- IT outsourcing works on a contract basis. Hence there is a fixed pricing plan to keep companies about the service expenditure.
Ability to focus on the business at hand– every business's primary goals are to make money and grow their business. And when you decide to outsource your IT needs, it's important to choose the best for your company so that you can focus on other core things. Outsourcing will permit you to concentrate on the projects where they feel comfortable and are most effective.
Compliance and security– By outsourcing with a managed IT services provider familiar with PCI compliance standards. You can ensure that your company is minimizing the risks associated with maintaining client data, sensitive competitive information, and more, as well as the ability to securely back up this critical data in the event of any disaster.
Consistent results- Outsourcing companies have already delivered success to many businesses, due to which, they possess the proficiency and expertise to yield exceptional business results.
Access to experienced professionals– IT outsourcing companies carefully select professional employees with many years of experience in the industry. They are experts who work for many clients and have experience solving particular problems. Therefore, they can offer the best solutions for your company and quickly remove any errors.
Now, the following topic will give you some tips to keep in mind while choosing IT outsourced services.
Factors to Consider When Selecting an IT Outsourcing Partner
According to a Deloitte report, about 59% of businesses use outsourcing to reduce their expenses, while 57% say they use outsourcing primarily to focus on their core business. However, finding an outsourcing partner can be challenging and requires thoughtful consideration.
Below are a few crucial factors you must consider when choosing a partner.
Should be expertise in your subject: An outsourcing partner that can demonstrate in-depth knowledge of your industry and market trends is one that will definitely add value to your business. A service provider having industry knowledge and experience can predict issues, offer solutions and manage accompanying risks.
Performance management capabilities: While considering an outsourcing service, try to find one that has invested significantly in supporting its clients with performance management. This ensures that outsourced and internal teams only focus on driving business outcomes.
Customer-centric approach– Human behavior plays an important role when the contract made by both parties doesn't strain business elements. The primary aim is to have a customer-oriented approach so that the business relationship is not hampered. Even though the outsourcing service providers are technical gurus using the latest technology – the essential focus should be on customer service.
Review security and legal aspects– You must know your provider supports high-end security standards to secure all the information and details for your clients.
Last Note
Undoubtedly, IT outsourcing can be a reasonable means to boost growth. Outsourcing could be beneficial for your firm in one way or another, so make sure to make better use of it. Gain superior services and higher value for money by choosing the right partner for all your business services. So, it's better to think before making a partner.
We hope this post clarifies the importance of outsourced IT desk services for growing businesses.