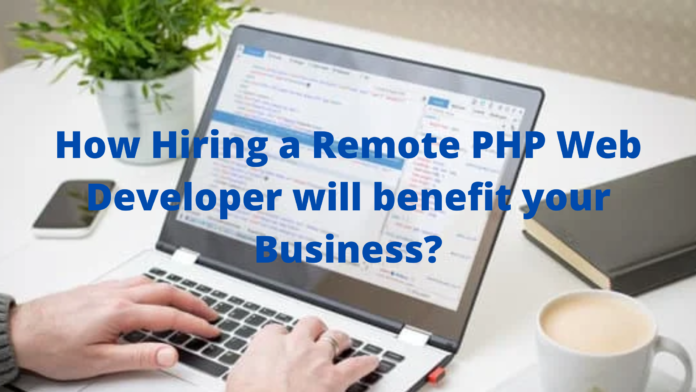 PHP, released in 1994, was designed precisely for web development. Several programming languages had been introduced until that point. However, PHP is still in high demand and outperforms the competition.
Also, with most of the developers preferring remote work as opposed to on-site development demand and employment procedures have also changed. Many business owners, for instance, are seeking out remote PHP developers.
PHP powers more than 77.5 percent of the world's websites. As a result, it is one of the world's top ten most popular programming languages. Developers commonly use PHP because of its simple syntax and ease of learning. It also runs on practically any web server, comes with various frameworks to make development easier, and has a strong developer community.
Many Content Management Systems (CMS) and e-commerce systems, such as WordPress, Drupal, Joomla, ZenCart, and Magento, require PHP development. Several current frameworks, such as Laravel, CakePHP, CodeIgniter, and Zend, have been introduced to PHP in the last decade.
These frameworks help software developers take advantage of scalability, customization, and speed. Overall, this simplifies and speeds up the development process, allowing developers to work independently or as remote PHP developers.
Reasons To Hire Remote PHP Developers
Cost-Effectiveness and Flexibility
PHP web development is the most cost-effective option among the different web development platforms accessible today. Typically, business owners are trying to create a website on a shoestring budget.
As a result, the concept of working with PHP is really valuable. Furthermore, working with developers has become much more flexible, and businesses may now easily hire Remote PHP developers to help them with their projects.
With the help of remote PHP developers, businesses may reduce the cost of constructing their websites and make them cheaper. The price for hiring remote PHP developers may be significantly lower than engaging a full-time personnel team.
The option to hire remote PHP experts who can provide flexible services is another reason to pursue PHP development. You merely need to get price quotes during project execution and enjoy their preparedness when providing services to clients.
Hiring remote PHP developers allows businesses to evolve and innovate. Remote PHP developers are well-known in the web development industry for their creative and passionate approach.
They can also seek help from the developers' online community. It entails a team of highly skilled developers who are well-versed in programming languages, modules, and training. Obtaining the necessary assistance from the online community also aids in the removal of roadblocks in the development of PHP applications. The existence of an online community also ensures that remote PHP developers contribute to the development of websites in a satisfactory manner.
Enhancing ROI and Compatibility with Web Browsers
Millions of people use various internet browsers to view websites and search for products and services. The website should be compatible with a variety of browsers and aid you in gathering feedback or evaluations from a large number of clients and users. Similarly, your company's website should function correctly across multiple platforms and browsers. This is only possible when you can access the expertise of skilled developers, specifically skilled developers who can create a dynamic and appealing website.
For firms to stay afloat in the market, they must compete. Each company vows to outsmart the other with superior products, services, and visually appealing websites. As a result, entrepreneurs must make critical investments in technical innovation to achieve exceptional outcomes and produce additional benefits.
PHP is extremely valuable, and it's one of the main forces behind the creation of business websites. Engaging remote PHP engineers helps you make it happen. Aside from that, this platform is available at a reasonable price—additionally, the ability to earn greater ROI for organizations.
One of the advantages of hiring remote PHP developers is that you save a lot of money. You will recruit developers who are experts and live in areas where the cost of living is low. Besides, you don't have to pay for office space. Plus, most of the time you are only searching for someone to do your everyday job and not someone who will assist you in scaling your business. Thus, it is helpful to hire remote PHP developers who are capable and experts in their skill.
Hiring remote developers isn't just about saving money; it's also about gaining access to top IT talent. Saving money is usually a plus in business. On the other hand, bad recruits cost organizations a lot of money, energy, and time, and it's the worst feeling in the world. Great recruits, on the other hand, can propel your company forward.
When trying to recruit remote PHP developers, many companies hire remote engineers to tap into the global talent pool and not because of lower payroll costs. Nearly 70 percent of the firms surveyed proved that they were stretching their horizons outside their immediate area to seek global talent.
Can Hire Productive Remote PHP Developers
In terms of work/tasks, most remote devs are also productive. Many studies have demonstrated that remote developers or staff are more effective than on-site labour. However, this primarily depends on whether they have the necessary tools and equipment to work remotely, but most remote devs are more valuable.
They are not disturbed by the noise of the office and are in their own space. A survey of 353 employees discovered that 39 percent of employees worked remotely on different occasions and were 77 percent more productive than those who worked on-site.
Motivated Remote PHP Developers are Easy to Reach
When you hire remote PHP developers, you're not just getting a freelancer to work on your project. You will be provided with a full-time, highly motivated staff. They are solely focused on your organization's requirements and wishes.
If physical distances are dissuading you from hiring remote PHP developers then think again. You can cooperate precisely with remote developers like an employee on the other side of the building using time management tools and quick communication modalities (such as live talk or texting).
Average Charges of Remote PHP Developers
When discussing the average charges of remote PHP developers, a variety of factors come into play. It doesn't matter whether they are freelance PHP developers or in-house PHP developers the web designer's level of knowledge and experience, as well as the difficulty of the job or project undertaken determine the fees they are working on.
Full-stack engineers, junior developers, and remote PHP developers make different amounts of money. Furthermore, you must consider the country from which you would engage remote PHP engineers. In any case, determining the average payment of remote PHP developers can still be done by looking for it on Google or through a reputable freelance portal.
PHP's pay rate is low compared to the pay rates of other programming languages for various reasons. First and foremost, PHP is a simple and quick-to-learn programming language. There are a lot of new and inexperienced PHP developers out there. On the other hand, PHP developers might earn much more money if they have more expertise and advanced coding skills.
Despite the lower pay, there is a strong need for PHP programmers. It means that there are numerous options to obtain high-paying jobs.