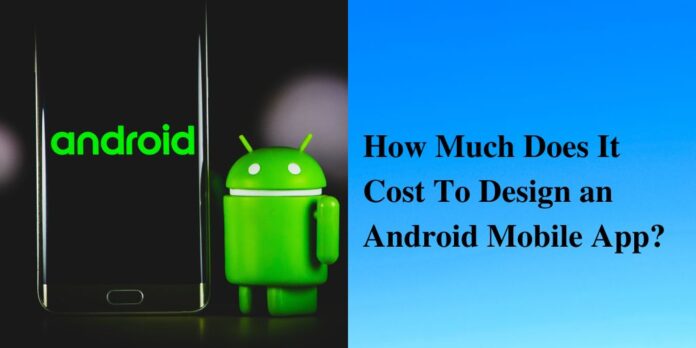 Are you looking into the cost of designing an Android app? Without beating around the bush, let's say that the average design cost for an Android app typically ranges from $3,000 to $15,000. However, there are additional factors that you need to consider as well if you want to get a more accurate estimate.
In this article, you will learn how to calculate the cost of Android app design by looking closer into the various design stages and how to get a precise estimate of the overall cost. Let's get started!
A brief overview of design steps 
Wireframing, mock-ups, and dynamic prototyping are the critical steps in the app design process. Let's explain each of these design steps one by one. 
Wireframing 
Wireframes remain a key part of any app design process, offering the initial look and feel for the product. Though traditionally drawn with pen and paper, we also have well-equipped tools for digital wireframing. 
Wireframes drawn with markers and paper can be equally good as digital wireframes designed with the help of wireframing tools. Paper-based wireframe design is a budget-friendly option, while wireframing with design tools involves some investment but offers more accuracy and precision. 
Mockups
Mockups are distinct from wireframes regarding details. They bring more detailed and precise design representations for the app. If wireframes are just an outline 
Mockups take that outline toward the conclusion by incorporating colors, shapes, dummy content, contrast, shadows, icons, and many more. You need design tools like UXPin, Balsamic, and others for mockups. 
Dynamic Prototyping 
The prototype comes at the ultimate design phase of an app project. It almost comes as a Proof-of-Concept (PoC) for the final app product. Prototypes are created mainly by incorporating features into an app wireframe or mock-up. 
In dynamic prototypes, even gestures and other types of user interactions are tested to check the design's usability. For dynamic prototyping, advanced design tools are used. 
Key Cost Factors for App Design and Actual Design Cost
There are several factors impacting the cost of Android app design. For instance, an Android app development company in the USA will charge a lot more for app design than in other parts of the world. Several factors exist, from the developer hiring model to location to custom design requirements. We will analyze these factors and give some estimates. 
The cost of creating an Android app design depends on the complexity of the product idea. A simpler app design will be less expensive than a more intricate one. In general, an essential app design could cost from $3,000 to $3,500, a medium complexity app from $7,000 to $10,000, and a complex app from $10,000 to $15,000.
A custom app design emphasizes creating a UI and UX from the ground up. Instead of pre-made libraries, all design elements will be made from scratch. This offers unique opportunities, including the chance to showcase your brand's vision, mission, and goals through the design of your mobile app. However, it does come with a cost, as customizing an app can be expensive, and takes time and effort. Generally, custom app design starts at around $3,000.
Cost of designer and developer resources 
When creating an app, you must consider which design team to employ – an in-house, a local design agency, an outsourcing company, or a freelancer. Each choice carries a different cost associated with designing the mobile app. We have broken down the cost of designing an app based on the types of teams that could be hired.
Outsourcing an expert app design and development team for your app can be impactful. With their extensive experience and expertise in the mobile development process, they are better placed than freelancers and local design agencies regarding quality and streamlining workflow. On the other side, based on the location, outsourcing designers also has several limitations. 
The cost of designing an app varies depending on the location. If you are looking for app design services in the USA, the cost per hour can range between $70 and $130. Those in Canada can expect to pay between $50 and $100 per hour, while the costs in Australia are between $40 and $90. European app designers are priced between $65 and $110, and the cost is lowest in Asia, at $30 to $60 per hour.
A Business Analyst is estimated to cost $28 per hour for the Planning and Analysis of a project within 1 to 2 weeks. For Wireframing & Prototyping, Low-fidelity Wireframe is expected to take 1 to 2 weeks, and High-fidelity Wireframe from 2 to 3 weeks. An App Designing project by UI/UX Designers is forecasted to take 2 to 3 weeks, with an approximate hourly rate starting from $30.
Opting for an in-house team will manage all your marketing and branding within the company. This provides a range of benefits and certain limitations. 
The activities of the internal team can be more easily monitored, and all members are actively involved in the process. As a result, the performance is typically higher than if you hire freelancers or outsource your project. However, the cost of having a house team may be higher and their productivity can be limited to a single project.
Takeaway Notes
Hopefully, through this guide, you have received thorough guidance on app design and development costs. Since the actual cost can be affected by numerous factors, we have covered all of them and their cost implications.