The COVID-19 pandemic throughout the world has triggered a massive crisis. Each person has been experiencing intense psychological distress as a result of being isolated, quarantined at home, and socially isolated. In business, the economy has hit rock bottom due to stringent lockdowns. As a result, the business has been disrupted for an unknown period of time. The real estate market, fashion industry, sports industry, and hyperlocal marketplaces have also suffered major fiscal shocks.
There are certain mobile apps that have made life under house arrest much easier during this crisis. As of the Covid-19 pandemic, mobile applications had already made significant headway in the market, with 87% of users spending more time using apps than going directly to the internet.
The recent Coronavirus outbreak has stirred app development as companies look for ways to streamline contact tracing, encourage remote work collaboration, and improve customer relations. As a result, companies are looking for solutions that address current concerns while also establishing a framework for future success.
It has been noted that many companies are now experimenting with mobile app innovations despite all the hardships being faced by employers and employees alike. Consequently, the app development industry thrives, pushing up the price of creating an app even more. Changing this process primarily facilitates the management of daily personal and professional activities that have been affected by the pandemic.
We are sharing this article, especially for those who are experiencing a massive fall in their business and have never used any apps. This post will look at certain reasons that boost the app development market and how apps are being used to combat the pandemic.
The Phenomenal Rise of Mobile Apps Amid Pandemic
The economy and business have been affected in the wake of the Covid-19 pandemic. As a result, many businesses have developed or expanded their mobile app offerings to better serve customers and increase sales. 
Since March 2020, when most parts of the world began stuttering unnecessary and inconsequential businesses, mobile app downloads have surged. This has boosted the demand for home deliveries, in-home entertainment, and video conferencing. Now, take a breath and let's have a look at some shocking statistics,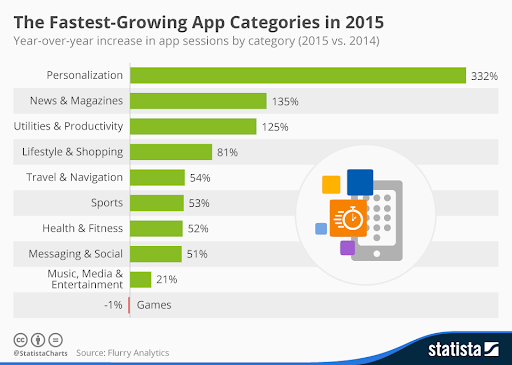 Mobile app markets have become more important than ever. Consequently, mobile app usage soared to

35 billion downloads

in the second quarter of 2020, while in-app purchases hit a record $27 billion.

The first half of 2020 saw consumers spending more than

1.6 trillion hours

on their smartphones, with business apps accounting for 220% of that time.

Installs of business apps increased by 70% globally and user sessions by 105% in the first quarter of 2020 as more employees worked from home. 

In 2019,

69% of retailers

now accept contactless payments, according to the National Retail Federation. 

Streaming services like Netflix, for instance, have seen installs increase by 132% and food and drink apps rose 21%, according to a report from mobile measurement company Adjust.
Mobile applications have been overgrown since most people have access to smartphones, laptops, and internet connections. Considering how many people are linked through online platforms, mobile applications were needed to connect them.
How Mobile-First Approach Took a Front Seat Amid Pandemic?
Providing their customers with mobile access to their products and services was only a matter of time, even without extraordinary circumstances, but COVID-19 has caused this demand to accelerate across the board for nearly all types of businesses. 
Businesses and services can only be provided in person in a limited number of cases. In-person customers are the lifeblood of businesses such as hotels, resorts, and cruise lines. Surgical procedures and dental work are some of the medical services that cannot be done anywhere else but in person.
Businesses, however, can provide their customers with different ways to buy goods and services with mobile apps. Due to the good traffic in brick-and-mortar stores before the pandemic. But embracing digital solutions has become a necessity rather than a luxury. 
A prime example of this is restaurants and grocery stores. A mobile app that allows customers to order quickly allowed restaurants to transition from an in-dining model to one focusing on curbside takeout and delivery. 
In the last five years, the online food industry has seen growth rates skyrocket globally, proving that consumers prefer to have groceries delivered rather than spend their evenings standing in a long queue. 
The same happens with the grocery stores; they realized that curbside and delivery service, in which customers ordered through mobile apps, was the only viable business model to stay afloat during the outbreak. Customers were able to order groceries with mobile apps for pickup curbside at some grocery store chains. The number of customers ordering groceries online far outnumbered curbside pickups. And technology partners such as 
One of the best app development companies that help entrepreneurs go digital or mobile because they have an understanding of customers' needs. Whether you want to start an on-demand business or digitize current business, Elluminati is the best when it comes to developing a mobile app. 
A top mobile app development company that enables business owners to implement tech solutions in their business.They offer web apps, mobile, and any kind of app-related solutions. Seamgen's skilled team of developers and project managers create innovative app solutions that grab users' attention and generate traffic leading to increased profitability. 
Best application development company that helps businesses to build digital relations with customers. At AnyAlpha, they deliver the most cost-effective, scalable, and advanced solutions that propel massive traffic, generate leads and conversions to your digital business and upscale overall business growth. 
Yes, the list can go endless, but these are the best app development companies that help businesses gain customers' trust and also enhance brand awareness and recognition. 
Categories Where Mobile Apps Have Seen Surge in Downloads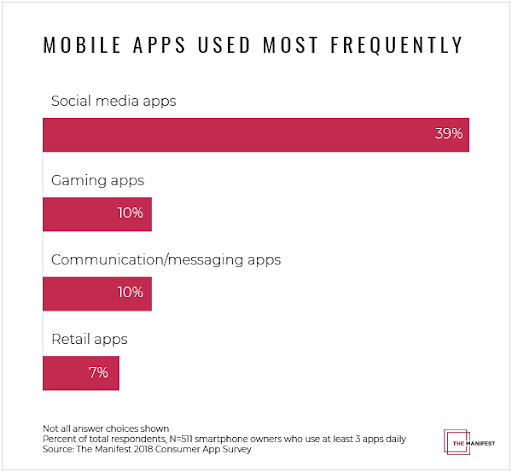 In spite of the pandemic, people were able to maintain an uninterrupted lifestyle due to the increased use of mobile apps. Some industries have reaped more benefits from mobile apps than others despite a multitude of apps now available to manage basic tasks to complex business management. These include,
Entertainment

Business

Gaming

Doorstep delivery (food and groceries)

Healthcare 
These categories have experienced massive growth in terms of revenue and app downloads. Now, let's have a look at some industry giants that benefits from their apps during the pandemic, 
Due to the lockdowns of 2020, Uber Eats generated $4 billion (about R67.5 billion) in revenue versus $1.9 billion in 2019. UberEats is the largest food delivery app that operates across many continents and allows users to order food online. 
Before the Coronavirus, it was popular for friends and families to pay dinner bills using its money transfer app Venmo. As of April 2020, there are 7.4m net new users on Paypal. This is a great achievement for PayPal.
Wal-Mart was also successful in converting more visitors and generating more revenue. Forbes reports that Walmart generated $559 billion in revenue for 2020 despite a pandemic. Walmart right now operates across the world and grabbed 65% of market share only from the USA. 
Netflix, which you use daily, has doubled its subscriber base since the COVID-19 pandemic began. In addition, Netflix has captured global lockdown audiences with amazing shows from worldwide as the most popular streaming app.
In the age of work from home, video conferencing emerged as an indispensable tool. As the pandemic spread, the Zoom app-enabled organizations continued collaborating and discussing. 
Bottom Line
While the current and post-Covid-19 app expectations will look very different for organizations, they are relevant. The ongoing pandemic has led to mobile apps becoming the new interface for brands and businesses. This trend will only gain momentum, and businesses, if they wish to remain competitive in the new COVID-era, simply cannot ignore the lucrative potential of the app market.