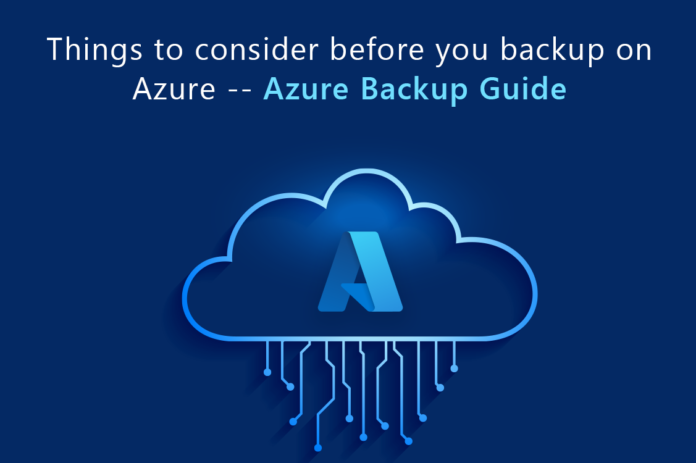 Cloud is everywhere – Every cloud user commonly uses the famous phrase in this modern age. With the heap of data generated daily around the world, the importance of the cloud has increased significantly.
According to the survey, 90% of data has been generated in the last two years, with 2.5 quintillion bytes of data created daily. With so much information at your fingertips, businesses need the antidote of cloud computing to manage, organize, and control the data over the internet.
However, to protect the vast data generated daily from ransomware, corruption, hackers, and accidental deletion, businesses need to take a backup of data on Azure.
The fact cannot be denied that every byte on Azure public clouds gets stored three times. Yes, three times! Still, organizations need back to secure their data from accidental deletion and cyber-attack.
Hence, today in this article, we will discuss Azure back and what to consider before taking a Backup on the cloud.
Azure Backup – 
The recovery and Backup solution offered by Microsoft Azure is generally known as Azure Backup. Azure Backup solutions offered by Microsoft Azure consulting services provider are scalable, secure, and cost-effective, protecting your data and creating a Backup for business workloads, data, and applications.
Moreover, organizations can back up and recover data using Azure Backup from any location, at any time, and on any device. Enterprises can customize their backup plan to meet their unique demands thanks to features like automatic backups, flexible scheduling, incremental backups, and retention policies that it offers.
Many workloads, including virtual machines, SQL databases, Exchange, SharePoint, and more, are supported by Azure Backup. Azure Backup may be used to safeguard data stored on physical servers, on-premises VMs, and Azure virtual machines.
Things to Consider Before Organization Backup on Azure – 
Maintaining data availability and integrity in every organization requires planning a backup strategy. Many backup options provided by Azure can assist businesses in ensuring the security and dependability of their data. However, there are a few essential factors to consider before deploying an Azure backup strategy:
Requirements for Data Retention: Before configuring backups, it's critical to ascertain the duration for which data must be retained. Backups may need to be kept for several years or only a few weeks, depending on the company's demands.
Backup Frequency: Businesses must decide how often they should back up their data. While periodic backups might raise the risk of data loss, frequent backups can increase the cost of storage.
Data Size: A key element in evaluating backup expenses is the volume of data that must be backed up. Businesses should consider their data volume and select an Azure Backup solution that can accommodate it.
Recovery Time Objective (RTO): The RTO is the most extended period an organization can take to restore data following a disaster. This period can change based on the organization's requirements, but it is crucial to consider when selecting an Azure Backup solution.
Recovery Point Objective (RPO): The RPO is the volume of data a company is prepared to lose in the case of a catastrophe. This issue must be considered when selecting a backup solution because it affects both the frequency and size of backups.
Compliance Requirements: Companies could have compliance standards that they must adhere to when backing up their data. Confirming that the selected Azure backup solution offered by Azure cloud consulting company complies with these legal criteria is crucial.
Security: Consideration must be given to protecting the data being backed up. To safeguard the data from illegal access, businesses should select and demand an Azure backup service from Microsoft Azure Consulting Services provider that offers encryption and other security features.
Cost: The Backup solution's price should also be considered. Businesses should select an Azure backup service that offers the required functionality at an affordable price.
Features of Azure Backup – 
No need for Tapes –
The organization does not need tapes and other capital costs to protect data; hence, maintaining an on-site storage facility becomes redundant.
Security and protection on VMs and Azure VMs – 
Azure cloud ensures not only to protect, secure, and safeguard your on-premises virtual machine but also to provide protection on Azure Virtual Machines. 
Long-term Preservation – 
Azure Backups like Azure VM Backups, Application-Level Backup servers, Azure SQL Backups, and much more have significant capabilities to preserve the back for 99 years. So in case the organization and individual are not there for 99 years, data will be available to meet any legal or compliance requirements.
Conclusion – 
In this article, the organization looking for Azure Backup may have a complete overview of things to consider while migrating to Azure cloud backups. Moreover, organizations looking for or migrating their data on Azure for Backup must take the assistance of a Microsoft Azure Migration Services provider or take the opinion of a Microsoft Azure expert MSP.  
The assistance or opinion from an expert can make the Azure Backup journey seamless and help the organization leverage the advantage of the complete suite offered by Azure Backup.
Author Bio
Austin. H. Joy is an Enthusiastic Sr. IT Consultant at Bitscape providing Azure Migration Services. He loves to write and read about the latest Microsoft technology trends. He likes to travel to natural places.