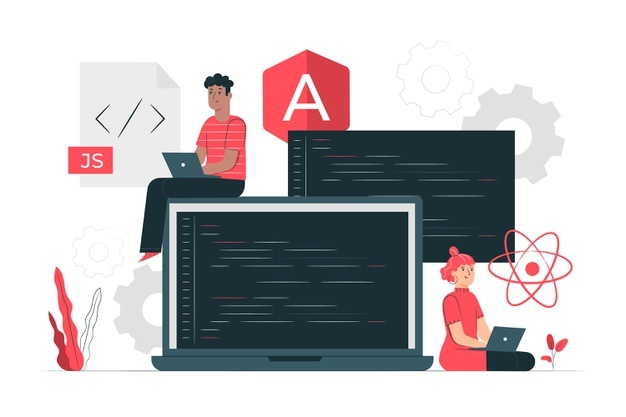 Harvard education, PayPal, Netflix, Intel, and many different companies use AngularJS. Now the question here is why do such giant companies use AngularJS? Because of its several benefits and unique features.  Dependency Injection and Data binding are two of the amazing features of AngularJs. This helps save time, as one does not need to write long codes. And for the company developing their apps with AngularJS, we have a long list of benefits for you. Have a look at it, and for installing them in your applications, you can hire AngularJS developer
AngularJS includes a user-friendly and impressive user frame that accomplishes restricted programming. It offers various functionality like:
Routing
Rich API
Validation
Templating
Plenty of libraries
Custom directives
Dependency injection
Clear app architecture
Supports Mobile App Development
With over 3.2 billion smartphone users across the world, the mobile app industry is thriving. And AngularJS development services can help you in giving your app services on mobile phones too. It has an app development framework called NgModule. This will help you to put anything in your applications, whether it is a web application or a mobile app. This is one of the top reasons why AngularJS is different from the other JavaScript frameworks.
Enables Multi-Platform Support
You can use this JavaScript across a wide range of platforms like Linux and Mac OS. AngularJS is not restricted by any one specific platform, so you can easily migrate your business websites. That means creating a website for Windows OS can be as easy as creating simple HTML files. In addition, you can develop your applications for Android and iPhone easily. For this, you can hire AngularJS developer and migrate or multiply the platforms for your application whenever you want.
Integrates MVC Architecture
AngularJS development integrates the Model View Controller (MVC) structure. It uses this structure to develop web software. MVC architecture allows you to edit and view your website or application across multiple components. This structure provides:
Better performance
Smaller application size
Easy code maintenance
Saves time
Legal License
Usually, open-source project licenses hold up companies adopting open source. But as AngularJS uses an MIT license, this very renowned and permissive software license enables users to reuse AngularJS codes within proprietary software. Additionally, developers have more freedom to code. And all this makes the framework a developer and business-friendly choice.
How does this benefit you? The Angular framework is built with TypeScript, which belongs to Microsoft. It enables developers to code clean codes that result in seamless app performance.
TypeScript facilitates developers to spot and eliminate bugs. Running an e-commerce application will be much easier with bug-free features, right? Developers can build enterprise-grade apps easily using the capacity of JavaScript for managing and maintaining even a large codebase.
Latest TypeScript version 3.4 includes characteristics like:
Type inferring
Syntax changes
Reduced build time
Refactoring services
Autocompletion
And all these features enhance your application's performance.
You can get larger applications developed with AngularJS faster than other JavaScript frameworks. You can hire dedicated AngularJS developers who will provide you with the application stuffed with all your desired features and functionalities. They can go back and forth, work on parts of the code base, and can make you see the changes instantly. Due to this, giants like Facebook rely on the AngularJS framework.
Wait, are you already overwhelmed? Have a look at some more benefits AngularJS has for you.
AngularJS template service
Microsoft ASP.NET controller
React navigation
Project pipeline and prefabricated models
Compilers and utilities
Auto-configuration feature
Flexible configuration
Simple to use
Impressive user interface
New module creation
Massive community support
Single page application building
Wrapping Up
AngularJS Development framework is one of the most popular front-end technologies for both developers and businesses. It provides equal benefits to both of them. Its enhanced user interface makes it a rapidly developing, engaging, robust, and effective framework for your web apps.
AngularJS also allows advanced web app development. In addition, because of all these benefits, it is an outstanding choice that you should opt for when it comes to choosing the best framework to work on or develop on.
You can customize the app according to your requirements. You can even personalize your app according to the colors, font, options, display, etc. You can change the display or even functionalities anytime you want. And now, if you are asking how? You can contact a software solution company and hire dedicated AngularJS developers for getting all the above-mentioned benefits in your business.
Summary:
AngularJS development is surely worth a shot. Why? Because from being extra-ordinarily user-friendly to allowing dual data binding, AngularJS has multiple reasons for being worth a shot. Adapting it will enhance your company's website or application's user experience. Read to know what more it has to offer you.
Author Bio:
Maulik Shah is the CEO of Biztech, and hire dedicated angularjs developers from India. Maulik likes to explore beyond his comfort zone. When it comes to writing for the blog, his contribution is priceless. No one else on the team can bring the deep industry knowledge to articles that he has. However, his door is always open and he is generous with sharing that knowledge.