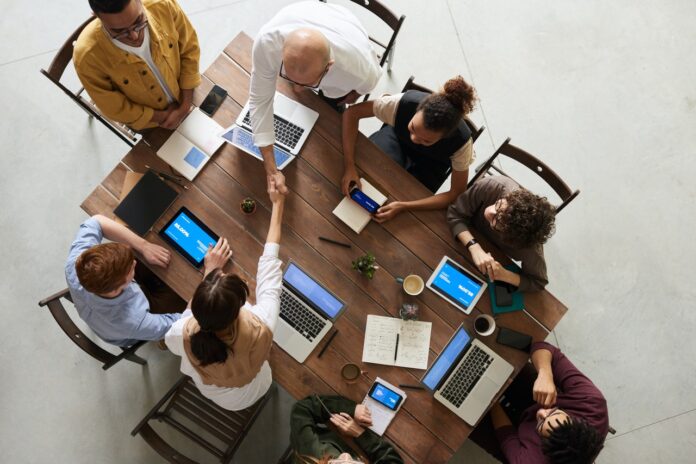 Over the last few decades, technological disruptions have changed how we talk, communicate, make purchases and do business. Every industry today is touched by digitization, and digital transformation has now taken over the charge of financial services. Emerging technologies in financial services have also disrupted the way consumers interact with their financial transactions.
Changing customer expectations and technological advancements are constantly driving the financial services industry. Digital transformation is helping the finance sector fill the gaps between the revolutionary and conventional banking systems by improvising operational efficiency and customer experience.
The banks and other financial institutions are now adopting the latest technology with the help of financial software development companies. This article offers a complete insight into the top technology trends that have revolutionized the finance sector.
How the Financial Industry Has Been Affected By Technological Disruption
Financial institutions today have greatly benefited from the emerging technologies and have now integrated the power of automation into their mode of operations. Let us check out some emerging technology trends that have drastically transformed the finance sector.
1. Data Analytics
Having data is one thing and utilizing it in an effective manner is another matter. The prime role of data analytics in the financial sector is to analyze data to extract actionable insights.
It is a process of mainly understanding the accumulated data for devising business strategies. Data Analytics can be leveraged to detect fraud, attain business insights and also help in the development of a product in the most effective manner. It also helps the financial institutions in gauging their previous performances and planning a strong future strategy.
Big data in finance has led to logical technological innovations. Financial firms are now delivering personalized recommendations to customers, creating efficient processes for providing strong security and delivering better customer service while driving competitive advantage. Big data is helping the banks to get the revenue opportunities by analyzing the customer's financial situations, social media activities and credit information.
2. Blockchain
Blockchain is the future of a shared economy. Blockchain technology is a boon to the finance industry, as it has ensured safety and security. Blockchain is a type of modern-day technology that scans all the transactions in a cost-effective, reliable, and verified way.
This kind of technology has boosted transparency in financial transactions and has reduced human errors drastically. However, blockchain technology is still at a relatively lower adoption rate. It is the technology behind Bitcoin and has been utilized by major banks and financial organizations.
Over the next few years, blockchain will be rapidly adopted by financial organizations as it will become a mainstream solution for payment, loan processing, fraud detection, smart contracts, and more.
3. Artificial Intelligence
Artificial intelligence solutions are now digitally transforming the banking sectors. AI is now utilized in all small, mid-sized and large scale banks and financial institutions. It  has impacted product delivery, back office, marketing, risk management, and security in banking and financial institutions.
Machines leverage simple algorithms for completing every minor task, right from data entry to risk evaluation to loan processing. Other than that, Artificial Intelligence has also streamlined several processes of the banking industry, including data sharing, documentation, customer communication, data analysis, and much more.
Artificial intelligence also plays a great role in risk mitigation and cyber security. AI uses real-time analytics and creates instant alerts when something is detected as a threat. This reduces the chances of actual breaches.
4. Hybrid Cloud Servers & Cloud RPA
Hybrid cloud servers are mainly designed for data storage purposes. It comprises private cloud, public cloud, and on-premise infrastructure. The hybrid platforms are capable of offering financial institutions customization, real-time data integration, and in-depth data analysis.
With the help of hybrid cloud technology, financial and banking institutions can develop both short-term and long-term flexible strategies. These strategies will help them keep up with the constantly changing financial environment.
The hybrid automation also encompasses the RPA solution, which seamlessly integrates the human workforce, thus allowing the financial institutions to leverage both humans and bots for the task they are best suited to. The cloud RPA enables the users to automate any process through the web-based interface accessed in the browser.
The RPA or the Robotic Process Automation helps simplify the whole process of services by storing logs and generating reports with zero errors. It helps in solving complex human problems in a minimal span of time. It executes various pre-programmed functions, which helps the financial institutions in cost and time reduction.
5. Chatbots Are Conversational User Interfaces
Thousands of chatbots have been deployed over the years by different industries helping humans to get their work done faster. The finance industry is also in no way lagging behind. Financial institutions are now making the best use of chatbots to resolve their customer queries.
Chatbots allow the users to interact with a bot that would just converse like a human. A user can ask a range of questions where the interface replies in a conversational manner accordingly. These chatbots are set with pre-programmed keywords in the store, which get triggered once the customer asks a question; the answer to which is already stored in the program.
Chatbots not only help the customers in resolving their queries but also enhance the user experience. This platform is now shaping the relationship between the financial service provider and the customer.
Conclusion
Offering a modern digital experience platform to your customers will offer them more value, as they would get the freedom to do what they want with their data. Although no emerging technology can give you a lifetime guarantee, it has a lot to offer. If you are looking for the best fintech application development services and solutions for your financial organization, then it is essential to explore the options, adopt them and continue to expand with them.
Author Bio:
Richard Parker is an active content writer, reviewer and lifelong student of data analytics. He is enthusiastic about the real world application of data analytics and technology to improve business operations.