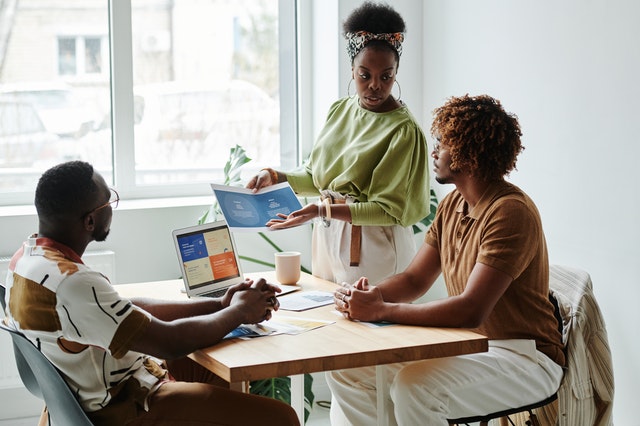 Crafting your ads that entice potential customers can be overwhelming. But with a little bit of research and using the best tech advertising products in the market, it can turn out an easy endeavor. Though there are many ways to create ads, you should ensure the ones you choose can set you apart from your competition.
If you lack the resources and time to have print ads professionally, it can be daunting to get started. But you can craft attention-grabbing advertisements, even when your budget does not allow it. Though several trials and errors can be required to create ads that work, several tips can help you create the best ads to deliver your desired outcomes.
Shoppers come across many ads when they want to buy products or services, whether online or from a brick-and-mortar store. So what can make your prospects choose your brand versus promoting your competitor? The ads you create for your business must revolve around answering this question. They should show your customers and prospects why your product is the better option and why they should overlook what your competitors have to offer. There are several ways to help you create ads to grab the attention of your potential customers.
1. Understanding Your Audience
If you're planning for a memorable online advertisement, ensure it's targeting your customers and prospects. To be successful when targeting custom audiences, you should zero in on the platform, messaging, and optimal advertisement design to develop the right marketing strategy.
A single advertisement cannot target or appeal to every single person. Put this at the back of your mind while considering which audiences are crucial for your online advertising needs. According to https://www.socialmediaexaminer.com/how-to-create-facebook-ad-with-business-manager/, there are several tools to help you create a more relevant audience for your product or brand. You can look for one or more of these tools to build and save the audiences appearing to be the most relevant for your unique business needs.
2. Choosing Your Ad Formats and Platforms
Choose ad formats and ad platforms that can engage your audience. Search engines and social media are some of the top-notch arenas you can use to advertise your business. You can use video, audio, or print ads to reach your target audience through these arenas.
Prices for video ads, audio ads, and print ads all vary. Ensure to do your research to determine the price involved in using these ad formats. If your budget allows, you can choose to use all these forms of formats.
3. Craft a Message
If you've identified your preferred platforms for advertising and your target audience, you're on the right track to creating attention-grabbing ads for your business. Now, what next? Know your purpose for an advertisement campaign to inspire the ads you want to craft for your online business.
Do you want people to click your website or visit your physical store? Is your intention to drive signups for your eBook or software downloads? Know your exact purpose for creating ads to craft a message that will lure the attention of your target audience. The bottom line is to craft a memorable message that will stand out from the completion.
4. Hype up Your Product or Brand
Creating ads that turn prospects into customers is not just about creating a message that only highlights any issues or concerns they face. That will leave them wondering why to consider your brand or product over others in the market. You should ensure that your ads inform your target audience why your product or brand is the solution for their issues or concerns. The ads you create should highlight your brand or product. They should let people know why your online business is unique by highlighting the benefits to expect from using your brand or product. Your ads will be more effective when you highlight more benefits of why people should consider your product or brand.
If you use images for advertisement purposes, ensure they don't have an unnecessary background. Your images can lose their focal point if there is unnecessary background within them. Use a background remover to remove unnecessary background within your advertising images. That will make your images more informative by bringing the attention of your message to the focal position.
5. Use Striking Visuals
Using striking visuals is the best way to make your ads grab attention. Several design tools help you add visuals that will pop into your online ads. Unique typography and vibrant color schemes can help you to achieve this.
6. Include a CTA on Your Ads
Using a CTA can help your target audience to make a decision. A call to action should persuade your target prospects to click on your brand's website, subscribe to your mailing list, or order your product. Ensure your CTA uses enticing, persuasive words to motivate people to make a follow-up.
When you gather more customers through your ads, ensure what you offer meets or surpasses their expectations. Though creating effective advertisements is excellent, you won't get far with your ads if you fail to make your customers happy. Ensure your products offer precisely what your ads say about them if you want your customers to come back for more.