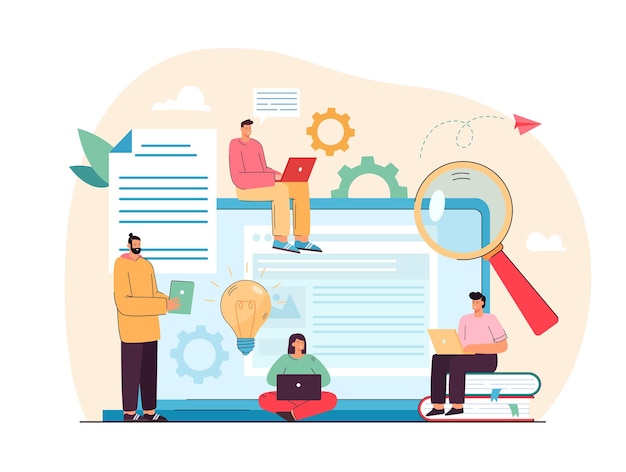 Every year marketing policy is changed according to the time. During the pandemic, the company adopted a new strategy to run its business.
Content marketing strategies depend on a number of factors such as business goals, industry, and product type. With concern about Content marketing strategy, marketers or the business owner should be able to raise these changes.
Here, I am presenting some best Content marketing strategies; you may follow these to develop your content marketing business.
1. Different Approach Style
Pandemic teaches us to adopt different styles to run the business. You should understand the customer's behaviors. For this, you need to research your customers.
Interact with your target audience as humans and not just potential consumers. It will help you to transfer potential customers to lead customers.
You should have the answers to the following questions when you are going to build a content marketing strategy –
Who is your audience?
What challenges and pain points do they have?
What motivates them to take action?
What are your customer's demands?
These answers help you to categorize your content and develop the quality of the content. Always make your content valuable to the customers. How is it possible?
It is easy when you understand the customer's needs and provide the content as per their need. They give value to your content.
Take time to understand why customers want to interact with your business. Don't talk only about your service features; support them genuinely, which will help you to hold your target customers.
2. Different Writing Style
Content is the product that you offer to your customers. You may ask how you can make changes to your product? Change the writing style.
Today, it is not hidden that consumers' preferences have changed. If you want to sell your product to the maximum number of customers, you should change your product's style. In this case, in 2022, Content marketing strategy has changed. It is now a more cohesive structure in writing format.
In your content, you should take time for researching, planning and implementing the information in writing. These help you to make changes in your writing style, and this is one of the important  Content marketing Strategy.
But, what is the importance for the business?
Researching, planning and information can make your content different from others and that will help you fulfill your customer's demands.
You can follow an interactive writing style that can help to engage your audience with the content. The most important thing is that the content should be original. In your content, you must identify the problems at the first stage, then you can discuss the solutions gradually.
If you are a Content Writer, then your research should be about your customer's needs and their thinking.
3. Using Infographics
It has been seen that text content alone no longer holds the audience. you may use infographics in your content. But, yes, the images should be relevant with your content.
It will be more attractive to your consumers. Graphic representation can introduce digestible content to customers. It is a very fruitful Content marketing strategy.
You have to remember that the customer does not have much time to read the whole blog, or maybe the whole blog can bore your customers. In this case, customers always prefer to go to such content that can present valuable information in a low time duration.
Making your content more visual to your customers will help you to get maximum revenue.
To make your content more engaging and attractive, you can take advantage of various formats such as quizzes and videos to change your content layout. Using a variety of formats is one of the trendy Content marketing strategies so that it will be interesting to your audience.
4. Using Short Video
Short videos can easily catch the customer's attention. Video also gives such clarity to the customers that give them the confidence to buy the products from that certain company.
One thing you should remember is that the whole process has been conducted online; there is no physical clarity.  When the customers see the video regarding a business or product, they pay attention to that certain video and spend some time on that.
It is one of the easy ways to share valuable information about the products. You can share product reviews and other necessary information. It is easy to understand the content that you want to share with your customers.
5. Personalization Approach
Content customization is one of the best ways to win the customer's heart. When customers have the two options to choose the products, they always prefer the brand one. You may follow this Content marketing strategy.
The best way is to engage your customers' hearts and minds by providing personalized content that can meet the customer's needs. This technology can help you to understand the customer's needs.
Always remember that customers are one key factor in the market field. Whatever you do, that would be able to fulfill the customer's demands. It is enough to improve a business.
Always be concerned about the customer's feedback and their interactive style and try to understand their background and lifestyle. 80% of customers prefer doing business with brands that can provide a personalized experience.
People love to get recommendations according to their preferences. AI can help you to give this service to your customers.
Wrap Up
Content marketing is the new trend in the market world. When you enter this world, then you should be a pro in this field.
I hope you will get help from this article on Content marketing strategy. I would like to know your feedback.
If you want to share anything, you can connect with me through email, or you can share your words in this comment box.
Your valuable comment will help me to understand your needs.
Also Read: