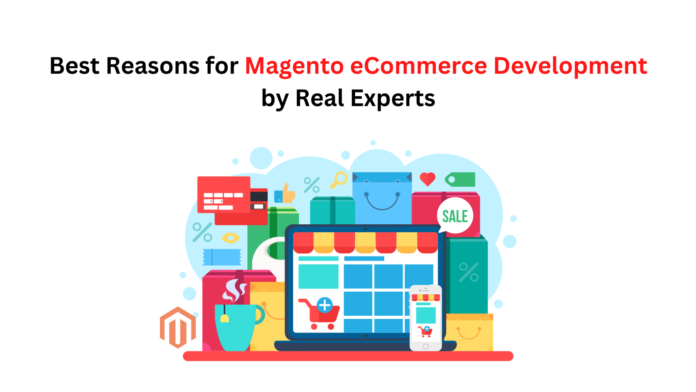 Magento comes with excellent features, a commendable structure, user-friendly navigation, a wide variety of extensions, high scalability, and many others, making it popular among businesses. The increasing number of Magento eCommerce stores signifies the growing popularity of this eCommerce platform.
There are multiple reasons that make it worthwhile to invest in Magento development services for your eCommerce website development. So, without much ado, let's check out the reasons to consider Magento web development for your online store development.
Reasons to Consider Magento Web Development for Your Online Store Development
Security
Security is always a significant concern for every website or web app. It even becomes more critical when we are discussing eCommerce store development. Every eCommerce site has to deal with a lot of users' personal information, including but not limited to their credit card details. 
So, every online store owner must ensure that none of their personal information or any other vital data gets lost. Therefore, as a leading eCommerce platform, the security experts of Magento constantly update the platform, making it efficient for developing secure eCommerce stores. Moreover, Magento makes it easy to implement SSL protection providing additional security to your store.
However, making your website 100% secure from hackers is not feasible, but you can reduce the risks by applying some security measures and by using a secure website development platform. 
So, to develop a secure eCommerce web solution for your business, you can hire a Magento development company for effective development.
High Performance
Magento is again the winner in developing highly-performant eCommerce websites. It is the best platform from the perspective of page loading time, query processing time, and implementing various dynamic and static operations. With minimal server resources, it ensures the optimum performance of your eCommerce site. With its different versions, Magento has set top performance benchmarks. Most of the Magento extensions are developed to improve your site's performance.
SEO-Friendly 
A website that appears low on search engine result pages (SERPs) will fail to catch a large customer base. This is where an SEO-friendly platform plays a major role. 
Magento is packed with various SEO features like sitemaps, positioning layers, tags, descriptions, URL rewrites, and others that make it suitable for developing SEO-friendly online stores. 
It will make your eCommerce store rank higher in SERPs and let your buyers easily find you online. You can leverage the benefits of these SEO features in your online store by investing in Magento website development services. 
Simple Third-Party Integration
Though Magento is a feature-rich eCommerce platform, if you want to enhance the functionalities of your online store, it is also possible to integrate third-party services. 
Magento for eCommerce sites lets you quickly integrate third-party services, including payment gateways, shipping, order tracking, and others.
Suitable For Creating Multi-Vendor eCommerce Marketplaces
Various benefits of this eCommerce platform, like high performance, a lot of extensions, ease of integrations, 50+ payment gateways, great community support, and others, make Magento a well-suited platform for developing multi-vendor eCommerce marketplaces. 
So, you can consider this robust and feature-rich platform for creating compelling online stores for your business. Not just limited to the eCommerce websites, you can invest in Magento development services also for multi-vendor eCommerce marketplace development.
Multi-Lingual and Multi-Currency Support
An eCommerce store covers consumers worldwide. Therefore, it is necessary to make it multi-lingual and multi-currency support.
Besides the various benefits, Magento is also helpful in developing multi-lingual and multi-currency online stores. 
Magento eCommerce development facilitates you to operate your eCommerce website anywhere in the world by enabling it with multi-lingual and multi-currency features. 
It will help you cater to customers from different nations by facilitating them to access the portal by adapting to their local currency and native language. 
Moreover, you can also gain the customer's trust by offering services in their local language that will quickly boost your sales conversions. It will make online shopping handy and processing payments convenient for your site visitors.
Cross-Browser Compatibility
It is possible that your online store visitors are using different browsers through multiple devices. As a result, the theme you choose for developing your eCommerce site must be designed with precise cross-browser support. 
If your theme does not operate properly, your online store will fail to connect with more audiences due to compatibility issues. In contrast, a flawlessly working theme lets you connect with a wide customer base resulting in increasing website impressions and generating more leads. 
If you do not find a cross-browser compatible theme for your site development, you can also invest in Magento development services to effectively serve your online store development purpose.
Also, check out this guide on Magento 2 Multi-Vendor eCommerce Marketplace Development
Conclusion
So, these were the reasons to consider Magento for your online store development. From multitasking to flexibility Magento ticks all the boxes and proves itself the best eCommerce platform for developing online stores. 
Due to its out-of-the-box features, it has gained a lot of attention from business owners for developing online stores. You can leverage the benefits of this eCommerce platform by hiring a Magento development company, as they are experienced enough to develop the best online stores with Magento.