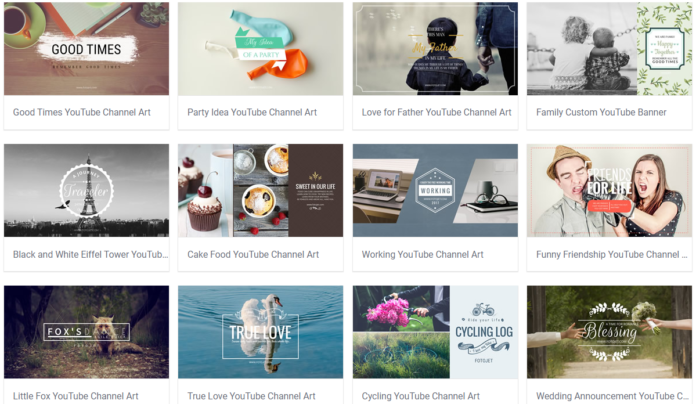 When someone sends me a perfect YouTube video, I always want to know who's behind it. Was it an advertising agency? A small or medium business? A B2B technology company? No matter who it is, if I'm impressed, I'd love to see more of the content creator.
If the channel is really on top of its game, I'll look at its YouTube channel art. This horizontal banner runs across the top of the user's YouTube channel and hopefully displays a combination of good design and brand presence.
But how do they do it?
We've all seen design work that inspires us, but we can have a bad habit of not going any further. What makes something like heavy YouTube banners so great? And how can you create your beautiful work of art? To answer those questions, we found eight great YouTube banner makers with marvelous templates that inspire us as marketers.
Canva
It has a wide variety of templates and allows you to adapt the size. It works on YouTube and other social networks like Facebook, Instagram, and Twitter.
You have to create an account or start with a social network to use it. It is pretty simple and easy to use. Your designs will be stored in your account to use or edit again. Its forte focuses on all the great variety of elements it offers. You can also create a team to tackle your project.
The downside is that some options cannot be used in the free trial, including some high-resolution images available for an extra $1.
BeFunky
This image editor has a fundamental characteristic, and that is to maintain uniformity in each of the photographs that make up a brand branding. In Befunky, you can create custom filters that will make you have visual harmony on digital platforms.
If these are your first steps with design, this portal has beneficial features that you can use:
Creation of specific tones for images and videos.
Image size changes on web pages and social networks.
Edit more than one image at a time.
Create persuasive ads within images.
The versatility of this tool can even awaken your intrinsic creative side.
Pixlr
This tool was responsible for covering all the needs of its users since the creator wants you to "make every moment something beautiful wherever you go."
So you have Pixlr as a desktop and mobile device tool adapted to iOS and Android. It works as a photo editor with functional tools that will make your photos look professional.
And since the objective of this tool is to evolve, if you think that the advanced version of Pixlr is starting to get more complex, you can watch this tutorial here.
FotoJet
FotoJet is another alternative tool to Canva. In parallel with all the already mentioned features that Canva has at its disposal, this page allows you to create designs adapted to social networks, presentations, and collages, among others.
You can decide whether to start designing an image from scratch or create a layout intuitively with the templates it has to offer. FotoJet has features such as fonts, contrast changes, and color, among others.
Fotor
Ideal for beginners, it's simpler than Canva, plus it has plenty of customization tools.
However, the interface is less clear and intuitive than Canva's, and the app is more limited in its number of templates and other options.
Fotor is now cross-platform compatible, plus it offers many very intuitive tools to achieve a professional-quality banner.
Only Mega
It allows the creation of animated banners that are more attractive to the public, but this makes the application more complex to use than the previous ones. It is not for beginners.
Compatible with the most common social networks, it integrates clicking a tag in your ads with buttons within a banner.
Many high-quality free templates are at your disposal and are also compatible with most social networks.
PicMonkey
With a simple interface to design, it has advanced templates and allows the user greater creativity and fairly sharp quality.
The downside is that it only offers a free trial (no free version), the file size is slightly larger than other apps, and the more advanced options are only available in the Premium version.
My Banner Maker
When you have advanced knowledge of design, this tool is very intuitive and easy to use. You will see how in simple steps, you will create a spectacular banner for your channel.
It offers a variety of sizes and accessible formats, as well as ready formats. The service is totally free. However, if you do not have the necessary design knowledge, it won't be easy to achieve a good result.
Here you will find tons of templates to create banners for both your YouTube channel and your social networks and also for your website.
Is there a tool that works for you that we haven't mentioned on this list? Add it in our comments.