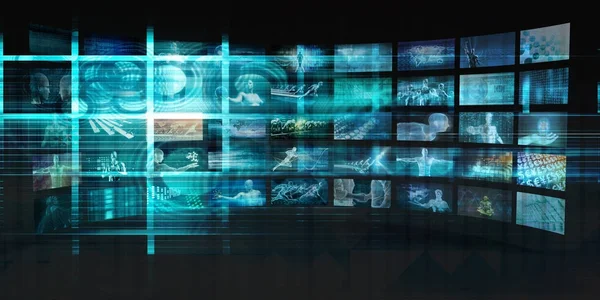 IPTV may improve the quality of your television-watching experience by offering a higher resolution picture, a greater dynamic range, and a wider variety of channels than traditional television can.
The powerful IPTV players for Windows are equipped with built-in authorization for streaming/ watching Live TV, media encoding, video encoding & decoding, fine-tuning audio and playing a wide variety of file types, and much more.
5 Best IPTV Players for Windows in 2023
In the course of our study, we evaluated several programs according to the following criteria: supported platforms, cost, availability of a free trial version, support for codecs, support for M3U links, and compatible video codecs. Now, have a look at the comprehensive list of the 5 reliable IPTV players for PC that have been compiled by us.
VLC For Windows
VLC for Windows is the most effective program for viewing a variety of video codecs. VLC media player, which has the capability for playing a wide variety of file types and codecs, is considered to be one of the finest IPTV players for Windows. The output may be controlled and displayed in accordance with your preferences using the modules that it provides. This IPTV player offers numerous free encoding & decoding libraries, making it possible to handle a wider variety of file types without the requirement for additional proprietary plugins.
VLC media player is capable of playing media from a variety of sources, including as locally stored files, IPTV, and network streams. It may convert media files into a variety of formats, transcode multimedia files, and do other similar tasks. The libavcodec kit that is part of the FFmpeg project as well as the in-built muxers & demuxers that are included with VLC each provide a comprehensive selection of compatible codecs.
Kodi
Kodi is another best option for installing add-ons and add-ons from third-party developers. You are able to stream material from the internet using Kodi and its many add-ons. Amongst other things, you may watch television, movies, shows, and live television. The TV channels library in Kodi offers full-length previews of upcoming episodes and seasons, along with posters and banners, watched tags, and other information.
Users have access to the streaming video material available on websites like as YouTube, Crackle, and others via the use of plug-ins, which may be customized through the use of custom skins to modify the way the program appears. In addition to this, it provides in-built capability for participating in a variety of online multiplayer games. Discovering and playing new games is made easy with Kodi thanks to its extensive library. You may also watch video on Kodi that was obtained through HD DVDs, EPGs, PVRs, IPTV, and a wide variety of other sources.
PowerDVD
PowerDVD is the best program to use if you want to access a large content collection. Watching Internet Protocol Television (IPTV), playing music, accessing local media, and a variety of other activities are all possible with PowerDVD. Because it allows for the streaming of material in HDR, additionally it may provide you with an excellent IPTV-watching experience. It is also compatible with Dolby professional-like audio and has quick play technology, all of which contribute to its status as a superior media player for PC. This IPTV player for Windows PC allows you to efficiently arrange your film collection on dashboards driven by artificial intelligence.
PowerDVD is capable of streaming material with resolutions of up to 8K and 4K, and it is completely compatible with HDR 10. On gear that supports it, you can also view movies in a 360-degree format. This free TV player gives you the opportunity to convert any kind of video clip to MP4 so that it may be viewed on as many different devices as possible.
Plex
Plex is the best option for hosting media files remotely. Plex TV offers a comprehensive assortment of free live TV channels that are available over IPTV and can be viewed from any location in the globe. It is able to dynamically classify information based on a variety of metatags, such as the title, artist, album, genre, year, and popularity gleaned from a variety of web sources. Because of its intuitive interface and compatibility with a wide variety of platforms, it is an excellent IPTV player for Windows that can also be used to manage a personal media server.
Through the use of the internet, it is possible to wirelessly stream movies, music, and images to any device that is compatible. You may also connect a suitable tuner and antenna to your server in order to have access to live over-the-air broadcasts from a distant location and watch them there.
Megacubo
When it comes to using Windows to view IPTV channels, Megacubo is another excellent IPTV player currently available in the market. By accessing the channel lists that other users have contributed to the Community Mode, you might find new material and media to explore. Because it offers the automatic recording of live broadcasts and channels, you can be certain that all of your material will be secure.
Megacubo offers a comprehensive content inventory that is compatible with more than two hundred online television stations and one hundred online radio channels. You are free to add an unlimited number of M3U lists, and Megacubo will analyze all of them and search for the transmission you want inside each one. It offers an intuitive user interface that even inexperienced users who aren't familiar with IPTV may use with ease.
Final Words
With the help of the above-suggested IPTV players, you can easily stream live IPTV content on your Windows PC. Hopefully, you found the article helpful. Please feel free to drop your queries in the comments section below.