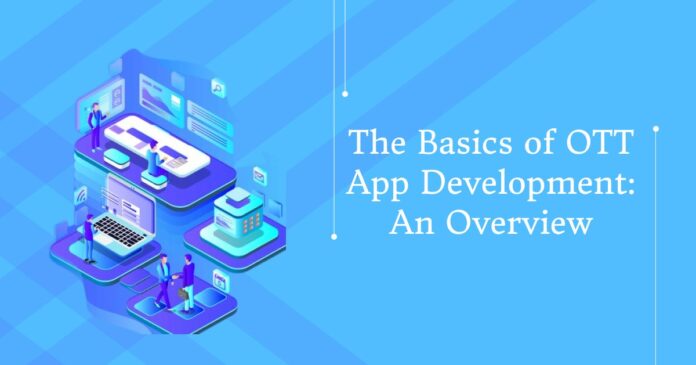 Over the last decades, the media and entertainment industry has undertaken a digital revolution. The demand for rapid streaming media has increased due to higher adaptability for every content. Currently, the audience requires an on-demand personalized content according to individual preferences, which is why OTT apps are growing. In this article, we will discuss the basics of OTT app development. But before that, let's discuss what OTT apps are all about.
What are OTT Apps Mean?
Over-the-top apps refer as a transmission to send the content through an internet link, which uses more traditional methods unlike broadcasters, cable, and IPTV providers.
Users must plug in a gadget or download OTT software or an app to use OTT apps. If you missed a few hours or days of your favourite show, you could watch it again on Prime, Hulu, and Netflix.
Why Do You Make OTT Apps Instead of Traditional Ones?
It's not strange to check the OTT range. Most of the time, the OTT app's weekly range has grown to 20 hours. Here are some reasons you should make an OTT app instead of a regular one.
Information used to measure success
Your OTT app business will be judged based on specific details. So, you can choose a site for video-on-demand because it helps you make smart choices. It focuses on the needs for making your overall video app.
Monetization Models to Upscale Revenue
The suggested way to increase ROI is to make money from videos, which involves making an OTT app. As a pioneering OTT app development company, you can focus on offering paid membership plans or new subscription deals create more money.
A smooth way to send information
Advanced CDN networks can send feeds that are good enough for broadcasting. We don't have to wait for content to load because smooth changes can happen quickly. You can also be sure that you're live and straight movies and VODs will play without delay anywhere in the world.
Spread out your connections to get more people involved
If your video streaming services are flexible, offering VOD in the OTT field is fast and easy. Interacting with your audience on social media makes them more interested and helps you to connect with them faster.
Because of these things, companies can check to see if the way people use OTT apps is changing.
How Do You Make An App for Over-the-Top (OTT) Streaming Video?
To make a new app, you need a team of technology experts who are very skilled and know a lot about the latest technologies. But to make sure that the answer meets your business needs, you need to pay attention to the following steps:
1) Define your area
It's not easy to make content for every area and become successful quickly. Before writing this article, it's essential to consider who might be reading it. It helps to show how your application is innovative and what value it can bring to a specific area.
2) Build Your Content Repository
The most important part of this kind of app is content. Creating and building a content collection of your users' interests, moods, and feelings in mind is essential. It is your app's core and should be updated constantly to keep users interested.
3) Choose a Business Model
The next step in making an app is to choose a company plan that can work. From what we've seen, the top media companies mainly use the following methods to make money from video streaming:
SVOD (Subscription Video on Demand): You can take a subscription fee from users to watch all of your video content whenever they want. Netflix and Amazon Prime are two well-known examples of this business strategy.
TVOD (Transactional Video on Demand): This is a significant pay-per-view approach in which users can sign up for free but must pay to watch and download certain content. The Sky Box Office and Apple's iTunes are two examples of this type of service.
AVOD (Ad- Supported Video on Demand): It is a digital video service strategy that works well for websites with a larger audience. Even though users can get to the main content for free, the range is still based on ads. This kind of model can be seen on YouTube.
Hybrid Models: As its name suggests, the hybrid model is a mix of three business models.
You may want to divide people into different groups when making your own site. Users may:
Want to watch movies for free
They want to watch as many videos as they want
Even though few people want to pay for the content they use
You can choose the plan based on your business needs to make much money from the app.
4) Choose a technology stack
Different tools and platforms are on the market for making OTT platform apps. How you choose a tech stack depends on the idea and goal you want to reach.
You can get in touch with OTT app development company that makes OTT apps. They will understand your thoughts and suggest a tech stack that is right for your application development job.
5) Go for a custom-made video streaming app
Creating an over-the-top game from scratch takes a long time and a lot of money. So, if you want to compete quickly and on a budget in the market, you can focus on using the ready, customizable framework that can quickly fit all your business goals and needs.
How Much Does It Cost to Make An OTT App?
There is no set price for making an OTT app. It all depends on things like the app's features and functions, the app developers' location and experience, the platform on which you launch your app, the technology stack, and how long it takes to make the app as a whole.
You can make an OTT app based on your money and the possible goals of your project.
Conclusion
OTT apps are known all over the world. People now depend on OTT apps to discover different kinds of content. But the number of people who use OTT apps will grow each year. You can use robust streaming model that uses a standard set of features to meet the needs of even the most demanding areas for video interaction.
Based on your business's specific needs, OTT app development company can customize and roll out a good OTT service in weeks. All this is done for much less money and faster than you can imagine.