Playing video games has become a popular choice of entertainment for kids and teens these days. In 2023, the video games market is projected to reach $334 billion in revenue and is expected to reach 3.1 billion users by 2027. While games are fun and teach skills like problem-solving, they also present challenges. Therefore, parents must ensure their kids play games in a balanced and safe manner. Here are tips to help parents guide their children to a positive gaming experience.
Understand the Importance of Screen Time Limits
According to AAP, American Academy of Pediatrics, kids aged 5-18 should play video games for no more than two hours per day. Playing video games for too long can take away from time that could be spent on other positive activities such as reading, playing outside, or even enjoying time with family and friends instead.
To help manage their gaming time, parents can use alarms or specific apps. These apps not only send out reminders or even shut down the game after a certain amount of time has passed but can also track the time spent gaming.
Educate Both Yourself and Your Child About Game Ratings
Game ratings inform us about what's inside a game and if it's suitable for certain age groups. Think of them as special labels on game boxes. The ESRB is the organization that assigns these ratings and games. A game like Minecraft, for instance, is rated E10+. This means that Minecraft is safe for everyone 10 years old and up.
As a parent, it's important to learn what these ratings mean and then discuss them with your kids. When you both understand these ratings, it will help your child choose games that are right for them. Plus, it's an excellent way to teach them about making smart choices and being responsible about what they play.
Promote Online Safety Through Open Dialogues
While the online world is full of opportunities, it also has drawbacks. Children may inadvertently share personal information or interact with suspect individuals. Create a home environment in which children are comfortable discussing their online experiences. Conversations about not disclosing personal information, avoiding strangers, and reporting any suspicious interactions are critical.
Use Monitoring Tools to Get Information
Tools like RescueTime can be useful in today's world. These aren't just for tracking your child's screen time but also for gaining a better understanding of their digital habits. Such tools can reveal which applications your child uses.
If you notice them deviating from study-related tasks or accessing inappropriate content, you can intervene and provide the necessary guidance. It's always better to be informed than to make assumptions about your child's online activities.
Approach the Idea of Keyloggers with Caution
Using a keylogger to monitor your child's chats may appear appealing at first. Instead, parents should proceed with caution. While it allows you to view your child's conversations, it can also be interpreted as a breach of trust and privacy. This could result in strained relations or rebellion. As an alternative, prioritize open communication before considering such invasive measures. Create a trusting relationship in which your child freely shares their experiences and concerns.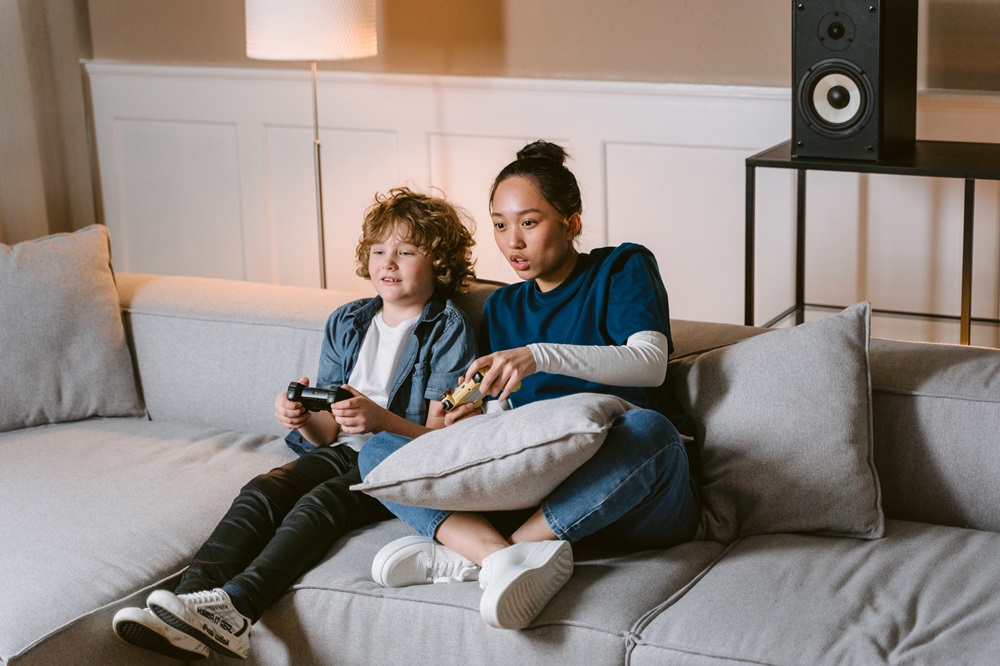 Promote the Concept of Social and Collaborative Play
Gaming can go beyond individual play. Encourage your child to play with friends and siblings. This group-play strategy serves two purposes. First, it encourages social interaction and allows for easy monitoring of gaming content. Second, you can organize family game nights to make gaming a shared experience that brings everyone together.
Keep Up with the Latest Gaming Trends
The gaming world is constantly changing. New platforms and games are always being released, bringing new challenges. By staying informed, you can equip yourself with the knowledge to better guide your child. For example, subscribe to gaming news sites, participate in parent forums, or even attend webinars and conferences.
Embrace Gaming as a Group Activity
Being an active participant is one of the most effective ways to truly understand your child's gaming world. Therefore, participate in games with your child. This shared experience can be used to bond with others while also allowing you to directly monitor game content and interactions. Also, you can discuss in-game decisions and strategies and foster critical thinking through shared gaming sessions.
Balancing the World of Gaming with Proactive Parenting
With all its advantages, gaming can be a rewarding pastime for children. However, proactive parenting is essential to maximizing its benefits and minimizing its drawbacks. By establishing limits, providing ongoing education, and engaging actively, you can guarantee that your child's digital journey is safe, enriching, and enjoyable. Although the gaming world is large and complex, a child's life can benefit from it if they have the correct resources and attitude.