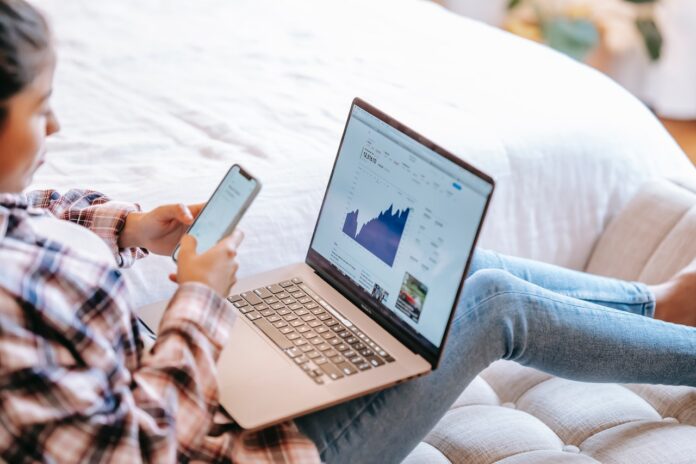 Entrepreneurship is all about creating profits. If you are an entrepreneur looking for some lucrative and smart investment, stock trading apps are the way forward, considering their imminent rise in popularity since the global pandemic.
As per Statista, stock trading apps witnessed a total revenue of $22.8 billion in 2021 and are forecasted to grow by $12.16 billion by 2028. On average, more than 130 million users currently use stock trading apps and influence the financial markets. Thus, one can quickly grasp the growing popularity of stock trading apps and their overall acceptance across the world.
This article will help you understand how stock-trading fintech app development can help you enter this remunerative market and conveniently add to your profit ecosystem.
Understanding Stock Trading Apps
Simply put, a stock trading app is a platform created to conveniently buy and sell securities in the stock market. The app can offer relevant real-time data and market insights into the world of shares and securities. Thus, allowing investors to conduct easy transactions such as buying equity and shares and investing in corporate debentures and secured assets.
Since the app allows users to easily manage and understand the financial nitty-gritty, its brilliance has involuntarily coerced entrepreneurs to invest in its heady heights.
Why Should You Invest in Stock Trading App Development?
Stock trading apps have made accessing the stock market easier for a large chunk of the population worldwide. These apps are technology-driven, so they have fewer charges, which results in a significant reduction in the brokerage fees that had to be paid otherwise.
As an entrepreneur, investing in a stock trading app is one of the finest decisions you can make, considering its rising popularity among the millennial generation.
Stocks are one of the most trending sectors of the world, and the 300% increase in the user base of Robinhood, the most sought-after trading app, supports our theory. Thus, now is an excellent time to jump on this lucrative market with a dedicated stock trading app.
Here are a Few Reasons to Develop a Stock Trading App
Increasing Number of Investors
The number of investors and traders has seen a significant rise worldwide since the advent of stock trading apps. These online applications have made it easier for people to access the stock market and invest in it without needing brokers or advisers who used to charge a hefty amount of money as brokerage to make their investments.
More Revenue
Looking at the records of investors who have taken the help of financial advisors, you'd notice that they receive 5% less revenue than those using online trading services. This can cause a considerable loss for the traders if they wish to invest for a more extended period, as the returns will be lower. Since the traders don't want to cut their overall revenue, onboarding with a personal online trading app is the only right choice for them.
Better Transparency for Financial Investors
A popular reason financial investors prefer to choose stock trading apps is the behaviour of advisors or brokers. Often, investors feel that the advisors are not providing optimal solutions by analysing the data correctly. This creates a rift between the advisors and the investors, which further affects the stakes.
At the same time, the trading apps offer complete transparency to investors to help them make sound investment decisions.
Now that you clearly understand how stock trading apps can benefit you as an entrepreneur, looking at the monarchs of the stock trading app world can help you make a better competitive analysis.
A Few Best Stock Trading Apps That You Should Know Of
Stash
Stash is a budgeting app geared toward new investors looking for easy and safe ways to invest in stocks and other investment options. The application contains several features to help investors manage their funds and encourage savings.
The users can start their investment in individual stocks or ETFs with as little as $5. Not only that, but it also allows them to invest in fractional shares of a company's stock. The app also analyzes their daily activity and provides investment recommendations to make stock management easy for them.
Robinhood
Robinhood is another popular stock trading app that offers free stock trades. The application is straightforward, and some say that the app makes understanding complex trading strategies a piece of cake for beginners.
Robinhood allows users to easily track their own stocks, search for, and trade more.
If the users have an accessible version of the application, they can get access to stocks, options, ETFs, and Bitcoin. However, if they wish to invest in mutual funds, the application will ask them to subscribe to the paid version.
The application also allows users to participate in a company's Initial Public Offering (IPO), which is an excellent deal for them.
Now that you know the largest dominators of the world of stock trading apps let us tell you the various ways of monetizing your stock-trading apps.
Monetization Opportunities with Stock Trading Apps
A stock trading app is capable of handling investment portfolios and easily monitors stocks, mutual funds, EFTs, bonds, etc. The primary monetization strategy with a stock-trading fintech app development is the overall commission based on the interest charges from transactions, money deposits, trading, and more.
Membership Fee
This revenue model allows you to monetize the app based on the membership fee. Usually, the app charges a certain amount of money for the users to sign up and participate in the stock trading process.
Transaction Fee
With this revenue model, you will monetize every user's transaction with the app's help.
Selling Financial Products
The monetization opportunity available with this fintech app development revenue model is selling financial products such as gold bonds, mutual funds, exchange insurance, etc.
Early Notifications
This revenue model offers the app's primary or paid members early notifications on the available stock, helping them make more straightforward and better financial decisions.
Advertisements
This revenue model allows you to monetize by offering advertising opportunities to third parties on your investment app.
Wrapping Up
Investment is a term that was once reserved for the wealthy, but the rise of stock trading apps has made it accessible to everyone out there. This lucrative industry has witnessed an exceptional market share, which is bound to rise at a surprising rate.
A complex process like stock trading app development requires expert knowledge and holistic architecture. A dedicated fintech app development company can help you develop your stock trading app with the right features, technology, and functionalities.
Investing in a stock trading app development in this competitive market requires professional assistance to go above and beyond. One cannot simply find success by offering the world a bare minimum. This is where a reputable financial software development company can help you.