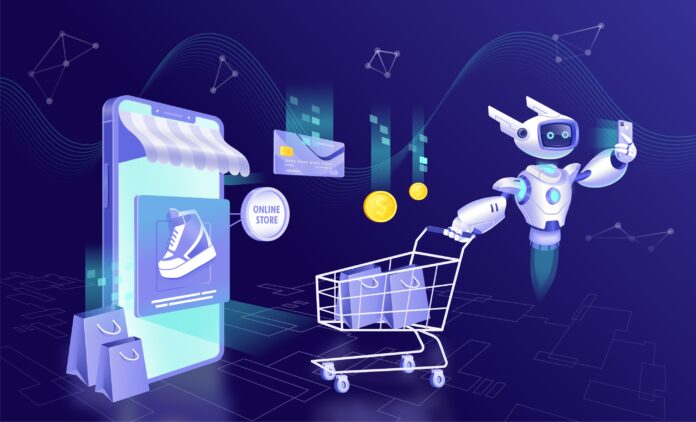 Did you know  Amazon has been saving a whopping $200 million per year. Now, Coca-Cola, the beverage company has improved its production planning saving $100 million. And Maersk, the Danish shipping company saved $1.2 billion, overturning its shipping routes. You must be wondering, how do these brands achieve such operational efficiency and functional scalability?
Well, every e-commerce segment is now adapting AI solutions. You know, the market size of Artificial Intelligence in E-commerce is projected to reach 16.8 Billion by 2030 at a Compound Annual Growth Rate (CAGR) of 15.7%. This is basically just the number which states the use of AI in business, which leads to progressive advancements. So, stick around and we'll unravel the AI and ecommerce magic for you!
The bootstrap venture: AI in Ecommerce    
Do you have any idea that AI could increase your ecommerce sales by up to 30%? Or are you still stuck with the traditional mode which is less productive. For businessmen like you, the role of artificial intelligence in e-commerce business is a secret weapon. If you are not using this game changer, then I am afraid to say you are lagging behind. From crazy movie directors to small business enterprises all are well aware of the concept of AI technology. So the use of ai in ecommerce businesses will be your savior.
Right from when your user starts to browse their favorite products to their feedback after they receive it, there is a lot of process involved. Stages that your user must not be aware about like; shipment tracking, inventory management and forecasting, UX design, Business development, legal compliances, Data analytics, Sales and revenue management. So you see the spectrum of operations going on with an ecommerce platform is just too intricate, and you need AI powered solutions to keep these operations stable. It's to keep your ecommerce business going and churning out maximum output for profitable results.
Applications of AI in Ecommerce
Chatbots
Chatbots play a crucial role and serve seamless presence round the clock. These AI-driven chatbots are like your savior. Right from reading the emotional empathetic interactions and acing the multimodal interaction, it is designed to provide instant responses to your customer queries. As a result which catapults immense trust among your users.
The chatbots have proved their worth in supply chain management, maybe handling routinal or frequently asked questions to help solve customer related problems which may affect your brand's loyalty percentage. The ai-driven virtual assistants ensure the customers save time incase of major setbacks. These setbacks include incorrect order, quality problems, or getting scammed through various fraudulent activities. Speaking of fraudulent activities, let's explore that phase separately.
Fraud Detection
Companies like Amazon use ai as a powerful tool to detect and prevent fraudulent activities. The best way is to use Artificial Intelligence and Machine Learning, which helps in monitoring user behavior and analyzing transaction data. It identifies suspicious patterns like unusual purchase patterns, purchases from unusual locations and many more. As a result it might  ascertain defrauding and deceitful transactions at the time of being processed.
Artificial intelligence helps you in identifying the spam reviews too, which are written just to promote the business ignoring the honesty. At the end of the day, your customers will be attracted towards your product. But once they realize the quality of the product they will start questioning your brand image. On the other side there are competitors who often bribe mass for writing fake negative reviews to mess up the recommendation algorithm of ecommerce platforms. AI served as a valuable tool in identifying the genuine product with the best quality assurance, eliminating the fake and spam reviews, which lead to gaining the trust of customers again.
Personalization
The magical time of weather, when the temperature starts dropping making the atmosphere cooler and suddenly your customers embark on an online shopping expedition. Your customer takes the horizon, gravitating towards a cozy and stylish hoodie. Within a few swift clicks, they add it to their cart and proceed further to place the order. But have you and your customers wondered how did they find the right choice of hoodie for themselves, like how did the hoodie you tailored for someone ended up on their shopping wall? The answer is personalized recommendation and NLP algorithms that work together to make this simple trade possible.
Here's the intriguing twist: in the journey of online shopping, the part of AI which is Natural Language Processing comes as your trusty companion, who embraces your customer's shopping desires. From product recommendations to analyzing customer sentiments, NLP interacts with your customers in every possible way. Using NLP for your ecommerce business can help you determine the right product which your customers are likely to buy. It can even understand your customers in any language and can deliver the required product. This customer experience will eventually affect your sales and put it on an upward trajectory.
Demand pricing
The dynamic pricing or the demand pricing is a roadmap which helps ecommerce businesses to earn maximum profits at its peak. The integral piece of ecommerce which adjusts its pricing according to your customers interests, purchasing pattern, market demands and your competitors. A real game changer  for your e-commerce platform, helping it to attract targeted consumers in a competitive market.
Every ecommerce platform has been integrating the demand pricing with the help of advanced technology AI. By implementing Artificial Intelligence in your business, you can have a better control over the pricing strategy and you can be more precise with the Stock Level Units(SKU). A stock level unit means the amount of goods, raw materials, or disassembled parts required to keep the assembly line and manufacturing going. A minor miscount can lead to the disruption of the product line. Indeed this can help your business to provide your customer a reliable and robust platform with real-time prices.
Inventory Management
So far the things we mentioned must have made you think that AI is some sort of superhero tech. When it comes to Inventory Management, AI for ecommerce can be an efficient tool for your business, who are willing to improve their accuracy and efficacy in the inventory management process. From the research it is found that only 43% of the businesses prefer inventory management. And by using AI you can replenish the lags in your business.
The AI can help your business with an accurate demand forecast. It analyzes the market trends, historical sales data  and adjusts the inventory with particular future demand. Neither overstocking nor understocking will be a problem. It even follows a pattern of real-time forecasting which keeps a track on your customers demands, supplier's scalability and the change in market trends.
The AI can track the real-time inventory levels. By leveraging AI-powered inventory management solutions, you can integrate data from POS Systems, warehouse management systems to overview your business inventory remotely and manage it conveniently.
Now it's clear that stock management is a never-ending process in the business and so is data analytics. The AI can be used in data analytics to evaluate the demand forecast and take informed decisions regarding the inventory management strategies in your business. A boon to this point is, it reveals the barrier to inventory flow optimization.
Conclusion
Artificial Intelligence is rolling tech; it is to slingshot the ecommerce business into the future. It is bringing a whirlwind of change, how businesses transform and how your customers shop online. As the business continues to hop onto the stellar technology AI. By Leveraging AI solutions you along with your customers can  expect ecommerce to become more efficient, customer-centric and unlock new heights in the years to come. And if you want to keep up with the pace of ever-evolving business landscape, seeking guidance from an Artificial Intelligence Development Company is a smart move, as they can provide comprehensive solutions to propel your business forward.