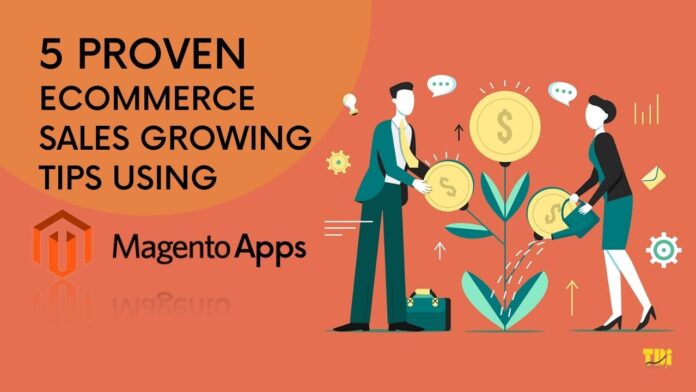 Are you looking for a way to increase your Magento store's eCommerce sales? You've arrived at the right place because the industry is growing at a double-digit rate. And, out of the millions of eCommerce websites, more than 3,00,000 online stores run only on Magento. Due to this, the competition of online retailers is increasing exponentially. With an extensive market share, every business owner wants to expand and increase the sales and revenue of their online store. For this, store owners approach Magento eCommerce development company to know the new sales approach for their stores.
With hundreds of tactics to choose from, it is easy to become confused. There are different marketing strategies, each of which necessitates the use of a unique tip and Magento app. In this blog, we have shared the best methods to increase eCommerce sales.
Most Effective Ways To Increase Your Magento Store's Ecommerce Sales
Want to refine your eCommerce Magento Store? But you have no view of where to begin? Investing in Magento eCommerce development services can be the best option to boost the revenue of your online store. Even you can apply the below top sales strategies that can help you raise your sales.
Suitable Product Recommendations
Do you know Amazon has effectively used this incentive strategy to drive sales? And other eCommerce market leaders have adopted it as a norm. Product recommendations assist buyers in filling their shopping baskets by employing algorithms to forecast and highlight related products that they might be interested. It's an excellent upselling and cross-selling tactic. In fact, in your custom eCommerce website development, you can implement this tactic. However, you must make sure that your product recommendations are tailored to your client's needs and to your sales methods. Your best sellers may not always suit your consumers' needs or be able to persuade them to buy more.
Loyalty Programs for Customers
According to a survey, loyal clients spend 67% more than new customers. Furthermore, 60 percent of returning consumers frequently make further purchases. As a result, the best method to keep consumers and increase eCommerce sales is to establish a customer loyalty program on your Magento site. However, if you want to stand out from the crowd, you should develop a one-of-a-kind loyalty program for your clients. To run a loyalty program effectively, you'll need a good reward management system. It is a complicated and time-consuming process, so you can take help from an eCommerce development company.
Low Rate of Cart Abandonment
Higher cart abandonment rates might be one of the most frustrating aspects of running an online store. Even if you have appealing products, customers may abandon their carts for a variety of reasons and not finish the transaction. To lower cart abandonment rates, you must first understand and address the causes. Customers should be reminded of their abandoned carts so they can return and finish their purchases. In fact, you can have custom eCommerce website development on the Magento platform to reduce the rate of cart abandonment.
Boost Engagement
Long-term and a solid relationship with your customers will help you increase eCommerce sales in your Magento store. Companies are attempting to reach out to their clients via all available platforms, including social media. Furthermore, customers are more prone to believe social proof than what brands say. As a result, genuine client product reviews are valuable to your organization.
Customers may not have time to write a review, rate a product, or comment on an article for a variety of reasons. You must motivate them so that they become more engaged with your brand and give helpful evaluations for future visits.
Promotional Sales Campaigns
Using discount coupons or codes, 93 percent of buyers want decent bargains. With the help of Magento eCommerce development company, you can run a variety of sales promotion campaigns, including discounts, free shipping, special deals, and offers.
However, in order to build an efficient sales advertising campaign, you must make sure that they are appealing to the eye and simple to understand. Customers are also eager to take advantage of as many incentives as possible in a single transaction. As a result, administrators must be ready for advanced promotion applications.
Closing Thoughts
Hence, we have outlined the five most proven and effective techniques to increase the sales of your Magento eCommerce store. We hope this blog helps you in determining the finest sales strategies to grow your sales. Magento is a great eCommerce platform, but it lacks several key capabilities that you'll need to take your business to the next level. We all know that it is a well-known eCommerce platform that offers unique features and services from other platforms. It further helps you in growing your online business. If you are dealing with any issues of optimizing the speed of your online store, you can approach Magento eCommerce development company.