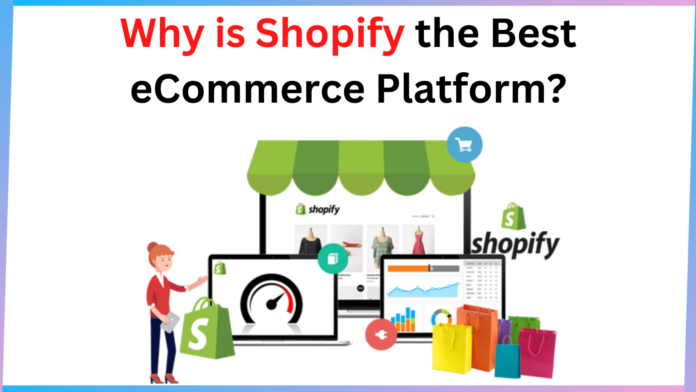 An ever-increasing number of eCommerce platforms makes it difficult to find a relevant one for your online store development. Magento, WooCommerce, Shopify, etc., are prominent names in this aspect. Among them, Shopify is becoming an effective choice among business owners. 
It increases the demand for Shopify development services for developing eCommerce websites. 
From powering millions of businesses worldwide, Shopify has become an all-in-one choice for catering to different business needs for developing online stores. 
Continue your reading to understand what more Shopify offers that make it the best eCommerce platform. 
What Makes Shopify the Best Ecommerce Platform?
Secure and Reliable
You can not deny the importance of security when it comes to web solutions. Even an ordinary site needs to be secure; how can an eCommerce store be behind the game? It has to deal with a lot of sensitive customer information, such as credit card details and personal details of the customers. 
Shopify uses industry-standard SSL/TLS encryption that protects sensitive data like customer details. Moreover, it is PCI-DSS compliant, which secures the payments. Some other factors, like two-factor authentication and automatic backups, make it more helpful in developing secure online stores.
Payment Gateways
Shopify supports various payment gateways, including popular names like PayPal and Stripe. It is also possible to add support for additional payment gateways. Moreover, Shopify offers its own payment gateway, called 'Shopify Payments,' that offer lower credit card fees or no transaction fees.
Platform-Independent
In this digital era, where mobile users are increasing rapidly, the need to make a responsive online store becomes vital. What if your site visitors face a disturbed user interface on their devices? It will not only give a bad site impression to your users but also impact your business growth.
Shopify comes with various responsive themes that let Shopify developers develop a responsive online storefront for their clients. It will facilitate your customers to access your online store on the platform they want. 
Strong Support and Resources
Shopify offers resources and outstanding support that help users to encounter issues while building their online store. There is the availability of 24/7 customer support via phone, email, or live chat. It lets Shopify developers resolve technical issues as early as possible to quickly launch the online store.
Customization
Another significant advantage of opting for Shopify is the customization possibilities it offers. The platform comes with various responsive themes that come with customization options. 
This makes it possible to develop a unique online store tailored to the business owner's specific needs. However, you can also opt for custom Shopify development services to develop the online store of your dreams.
SEO-Friendliness
Shopify is considered to be an SEO-friendly eCommerce platform. It has several built-in SEO features that can help you improve the search engine's visibility of your eCommerce web solution. It makes it possible to customize the URLs and meta tags. 
Additionally, Shopify facilitates integration with popular SEO plugins such as Yoast. However, it is always good to use best practices and stay up-to-date with the latest SEO trends and guidelines.
Scalability
You can use Shopify to develop scalable eCommerce websites or web apps. Regardless of your business type, whether small or large, you can consider Shopify to create an online store that can handle future expansions of your business. Furthermore, Shopify has built-in tools for inventory management, shipping, and tax calculations, which are essential for scaling up businesses.
Conclusion
So, these were some of the major benefits that make Shopify a perfect choice for developing top-notch eCommerce websites. To embark on your eCommerce website development journey, Shopify is the best platform to opt for. Hiring a Shopify development company is best to leverage the benefits of Shopify as they are professionals well-versed in developing the best eCommerce solutions. 
Author Bio
Adam Parker is a web developer at HTMLPanda – a reputable Shopify development company. He loves to read about learning new technologies and sharing information on the internet by writing articles and blogs.